Note: Supplemental materials are not guaranteed with Rental or Used book purchases.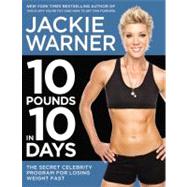 Summary
You know the feeling: you're weeks away from a high school reunion or a tropical paradise vacation, and you want to look your best. How do stars get red carpet ready or lose that baby weight so quickly? Prepare to create your brand new body-- fast! In this book, you'll learn the secret to losing up to 10 pounds in just 10 days, using a unique and effective diet and fitness program. This 60 day plan will feature a 1200 calorie eating plan that rotates every 10 days, complete with menus, grocery lists, and simple non-cook" recipe suggestions. The workout will reveal a number of Jackie's techniques, tricks, and tactics to help slice off excess weight fast, including ways to avoid your body's set point in order to keep dropping pounds; and learning to use a 10-repetition maximum workout and buddy sets. From cardio jump rope to Romanian deadlifts, Jackie will work your body to its core. You'll get fast results and look better than ever!
Table of Contents
Acknowledgments
p. ix
Introduction: The Power of 10
p. 1
Lose 10 Pounds in 10 Days
p. 9
Why 10×10 Really Works
p. 15
The Truth About Your Metabolism
p. 31
The 10×10 Fitness Program: Gearing Up to Work Out
p. 47
The Program
p. 87
Phase 1: The First 10 Days: The 900-Calorie Diet
p. 91
Phase 1: The 10×10 Fitness Program
p. 111
Phase 2: The Second 10 Days: The 1,200-Calorie Diet
p. 159
Phase 2: The 10×10 Fitness Program
p. 177
Phase 3: The Final 10 Days: The 1,500-Calorie Diet
p. 217
Phase 3: The 10×10 Fitness Program
p. 235
Keeping It Off
p. 269
Maintain Your Game!
p. 273
Top Tips
p. 289
Resources
p. 303
References
p. 307
Index
p. 309
Table of Contents provided by Ingram. All Rights Reserved.