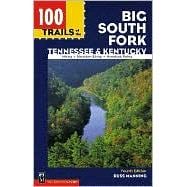 100 Trails of the Big South Fork : Tennessee and Kentucky Hiking, Mountain Biking, Horseback Riding
by
Manning, Russ
Questions About This Book?
What version or edition is this?
This is the 4th edition with a publication date of 4/1/2000.
What is included with this book?
The eBook copy of this book is not guaranteed to include any supplemental materials. Typically only the book itself is included.
Summary
All the trails of the Big South Fork plus adjacent national forests and parks. Great for hikers, mountain bikers, and horseback riders.
Table of Contents
Acknowledgments
9
(2)
Preface
11
(1)
Introduction
12
(14)
Bandy Creek (Map 1)
26
(22)
28
(2)

| | |
| --- | --- |
| | Bandy Creek Campground Loop |

30
(2)
32
(2)
34
(1)

| | |
| --- | --- |
| | South Bandy Creek Trail/North White Oak Loop |

35
(2)
37
(2)

| | |
| --- | --- |
| | Leatherwood Overlook Trail |

39
(1)

| | |
| --- | --- |
| | North Bandy Creek Trail/Katie Trail/Jacks Ridge Loop |

40
(2)
42
(1)
43
(1)
44
(1)
45
(3)
Leatherwood Ford and East Rim (Map 2)
48
(22)

| | |
| --- | --- |
| | Angel Falls/River Trail East |

49
(3)
52
(3)
55
(3)
58
(2)
60
(6)
66
(1)
67
(1)
68
(2)
West Entrance (Map 3)
70
(16)
72
(1)

| | |
| --- | --- |
| | Salt Pine/Laurel Fork Creek Trails to the Middle Creek Area |

73
(2)

| | |
| --- | --- |
| | Laurel Fork Creek Trail to Station Camp Creek |

75
(3)
78
(1)

| | |
| --- | --- |
| | Gar Blevins/North White Oak Overlook Trails |

79
(2)
81
(1)
82
(1)

| | |
| --- | --- |
| | Laurel Fork of North White Oak Creek |

83
(3)
Middle Creek (Map 4)
86
(36)
88
(2)
90
(1)
91
(1)
92
(2)
94
(3)

| | |
| --- | --- |
| | Slave Falls to Jakes Place |

97
(2)
99
(1)
100
(2)
102
(1)
103
(2)
105
(2)
107
(1)
108
(2)
110
(1)
111
(2)

| | |
| --- | --- |
| | Twin Arches/Charit Creek Loop |

113
(2)
115
(1)
116
(1)
117
(2)
119
(1)
120
(2)
Peters Mountain (Map 5)
122
(18)
124
(2)
126
(1)

| | |
| --- | --- |
| | Mark Branch/Gobblers Arch Trails |

127
(2)
129
(1)

| | |
| --- | --- |
| | Burkes Branch/Dry Branch Trails |

130
(1)
131
(4)
135
(1)
136
(2)
138
(2)
Station Camp East (Map 6)
140
(8)
142
(1)
143
(1)

| | |
| --- | --- |
| | Station Camp East Overlook Trail |

144
(1)
145
(3)
O&W Area (Map 7)
148
(6)
149
(3)
152
(2)
Burnt Mill Bridge, Rugby, and Colditz Cove (Map 8)
154
(14)
157
(2)
159
(1)
160
(4)

| | |
| --- | --- |
| | Gentlemens Swimming Hole/Meeting of the Waters Trails |

164
(2)
166
(2)
Slavens Branch (Map 9)
168
(6)
169
(3)
172
(2)
Blue Heron, Bear Creek, and Yamacraw Bridge (Map 10)
174
(24)
176
(2)
178
(2)
180
(1)

| | |
| --- | --- |
| | Catawba Overlook and Big Spring Falls |

181
(2)
183
(1)
184
(2)
186
(2)

| | |
| --- | --- |
| | Yamacraw Bridge to Negro Creek |

188
(2)
190
(1)
191
(2)
193
(2)
195
(1)
196
(2)
Yahoo Falls (Map 11)
198
(12)
199
(2)

| | |
| --- | --- |
| | Yahoo Arch, Negro Creek, and Sheltowee Trace Trails |

201
(3)
204
(6)
Pickett State Park and Forest (Map 12)
210
(22)
211
(2)
213
(1)
214
(1)
215
(2)
217
(1)
218
(1)
219
(4)
223
(2)
225
(2)
227
(1)
228
(1)
229
(1)

| | |
| --- | --- |
| | Buffalo Arch/Parker Mountain Trail |

230
(2)
Selected References
232
(1)
Appendix: Addresses and Telephone Numbers
233
(2)
Index
235