Note: Supplemental materials are not guaranteed with Rental or Used book purchases.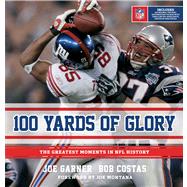 Questions About This Book?
What version or edition is this?
This is the edition with a publication date of 11/8/2011.
What is included with this book?
The New copy of this book will include any supplemental materials advertised. Please check the title of the book to determine if it should include any CDs, lab manuals, study guides, etc.
Summary
The Immaculate Reception. The Ice Bowl. The Music City Miracle. The Catch. For nearly a century, the National Football League has provided fans with pulse-pounding moments on the gridiron. In the tradition of their revolutionary collaboration, And the Crowd Goes Wild, veteran chronicler of broadcast history, Joe Garner, and broadcast icon, Bob Costas team up to bring fans this one-of-a-kind compendium of NFL history -- a lavishly illustrated hardcover book, with gripping text and archival photographs, as well as an original 10-part documentary, produced by an Emmy-Award winning team, hosted by the inimitable Costas and featuring official NFL video highlights. From the great dynasties to the improbable catches, the legendary coaches to the heroic QBs, the most incredible comebacks to the most notorious flubs, 100 Yards of Glory relives -- in text and video -- the most unforgettable moments in the game. Also available as an enhanced ebook, 100 Yards of Gloryis a must have for any football fan.
Excerpts
Foreword by Joe Montana
As a kid, I saw a football field as a "yellow brick road," one that would take me beyond the coal mines and steel mills surrounding me in western Pennsylvania and on to an easier life than the lives of the hardworking people around me, like my parents and grandparents.
 I played basketball and baseball along with football in those days and actually liked basketball the most. But I soon figured out where my future was. Perhaps it was inevitable that, coming from an area that produced so many great quarterbacks, from Johnny Lujack and Johnny U to Joe Namath and Dan Marino, I would wind up behind the center as well.
 The quarterback I rooted for back then was Terry Bradshaw. Seeing all he went through—throwing a lot of interceptions and losing more than he won the first two seasons, yet still climbing to the top—inspired me. I was always a Steelers fan and still am. Oh sure, I'm also a Niners fan, but when you are growing up, the love for your first team is ingrained in your heart, and it never really leaves you.
 That's why I think this book will be so enjoyable to football fans. Whatever team, player, coach, or particular game stands out in their minds, they are likely to find them all here and have the chance to relive their most treasured memories.
 We all have our special football moments as fans. I remember that, for an assignment for a junior high art class, I chose to draw the menacing figure of Dick Butkus I'd seen on a cover of Sports Illustrated. I remember being overwhelmed by the famous photo of quarterback Y. A. Tittle sitting on the turf, blood streaming down his face. I remember the Steel Curtain, Ray Nitschke, Walter Payton, and Jim Brown. There are certain people who just pop up in your head who epitomize the NFL.
 These are the people who will pop up in this book, their storied careers brought back for an older generation that lived through those times and a younger generation that can see them for the first time.
 I remember, as a kid, winning the Super Bowl in my backyard a thousand times with my neighborhood friends. From there, I was happy to get a chance to go to Notre Dame, to be drafted into the NFL, and to wind up with the 49ers, a team with a good coach and a good organization. I took it step by step. I didn't really look too far ahead.
 Now I don't look too far back. I don't live a whole lot in the past. I see my pass to Dwight Clark, the play that clinched the 1981 NFC championship game and became known simply as "the Catch," every now and then because it's replayed a lot on ESPN, but other than that, I try to look forward.
It's still fun to watch the highlights of my career, but that's not the focus of my life anymore. My sons' football careers are the focus of my involvement in football now.
 I try to pass on to my sons what is so great about this sport. But I tell them that they can make what they do on the field easier by spending a lot more time working off the field, looking at film and studying plays. That way, when things happen, they will have already made the decision about what they will do.
 I think it's the most exciting sport of them all. I think every down is challenging physically and mentally. As a quarterback, even if you see the same defense and you run the same play against it, it's never the same. There's always something
different that causes you to have to make a judgment and to do so within a three-second window. Oh, and by the way, to do so while you are dropping back.
 I don't know if people understand what the league has gone through or how the players and owners have struggled to get it to where it is today. I do know it is special to play in the NFL, and it is special to share those memories with people who will never have the opportunity to play themselves. That's why I think fans will love this book.
The Dynasties
The 2000s Patriots
Teamwork is what the Green Bay Packers were all about. They didn't do it for individual glory. They did it because they loved one another. — Vince Lombardi, NFL football coach
In over four decades of Super Bowls, only six games have been decided by three points or less. Bill Belichick's New England Patriots played in four of those games, winning three and in the process establishing themselves as the first dynasty of the 21st century.
  What does it all add up to — those 20–17, 32–29, and 24–21 victories and the fact that in those seasons the team finished just sixth, twelfth, and fourth in points scored?
  Those slight margins show that the Patriots did not win because they had the most talented players, like the 1990s Cowboys or 1970s Steelers. The 2001 team had just four Pro Bowlers, and only Troy Brown was a first-team All-Pro (as a punt returner); the 2003 champions had just three Pro Bowlers and three All-Pros; while the final title team had six Pro Bowlers and two All-Pros. (By contrast, the 1975 Steelers had 11 Pro Bowlers, with five men making the cut for first-team All-Pro, and the 1993 Cowboys had 11 Pro Bowlers and three All-Pros.)
  These Patriots won because they got the most out of the talent they had. To do that required superior coaching from tactical and psychological mastermind Bill Belichick. Linebacker Willie McGinest praised Belichick as "a mad scientist when it comes to breaking down teams. . . . Every week something changes. There's always something new, and there's always a little twist to it."
  "He definitely is the smartest coach I've been around," said safety Rodney Harrison. "There is not one detail he overlooks."
  Not only did Belichick install a brilliant defensive game plan and a solid offensive system, but he imbued his team with an unquenchable desire for winning and found players with an ability to adapt — from play to play and season to season — and to play together as a team despite the chaos wrought by the salary cap and modern free agency.
  The two constants were kicker Adam Vinatieri and quarterback Tom Brady, both of whom seemed like perfect symbols of the Patriots because they played their best at the biggest moments. The team reached that first Super Bowl only because of one memorable drive in the snow against the Raiders in the playoffs — Brady led an epic drive to set up Vinatieri's game-tying field goal. The duo then repeated that magical formula in overtime.
  Meanwhile, the team's primary rusher shifted from Antowain Smith to Kevin Faulk to Corey Dillon across four seasons, while Brady's main receiver went from Brown and David Patten to Deion Branch to David Givens. On defense, linebacker Tedy Bruschi was always among the team's leaders, both in personality and in tackles, while others like Mike Vrabel and Richard Seymour eventually became household names in New England. There was also a steady stream of changing faces. The 2001 leaders in tackles (Lawyer Milloy), interceptions (Otis Smith), and sacks (Bobby Hamilton) were soon gone, and the mainstays of 2003 like Ty Law (who had been with the team since 2001) and Tyrone Pool were not factors in the third championship, by which time they had been replaced by Eugene Wilson.
  It isn't just that the talent is interchangeable. It is that everyone buys into Belichick's "do anything for the team" ethos: When Law and Pool got hurt, receiver Troy Brown switched sides of the football to defensive back — and contributed three interceptions. In two Super Bowls, linebacker Mike Vrabel played tight end and caught a touchdown pass.
  The team's first Super Bowl win, over the St. Louis Rams in 2000, was an epic upset. "The Rams were as good as advertised," linebacker coach Rob Ryan said. "Belichick put the whole plan together. He deserves all the credit in the world."
  The previous year had been Belichick's first in New England, and the Patriots had finished just 5-11. Then the 2001 season began with quarterback coach Dick Rehbein dying of a heart attack and starting quarterback Drew Bledsoe getting knocked out with an injury. Brady had barely played in his rookie year, but he stepped into the breach and led the team to the Super Bowl.
  The team's golden aura following that win created great expectations, and after an off year in 2002, the Patriots fulfilled them with their next two Super Bowl wins. When Brady threw an interception in the fourth quarter deep in Carolina territory in Super Bowl XXXVIII, he and his team never wavered. When Brady came off the field, Belichick recalled, he was not slump-shouldered but instead had "one of the most determined looks of a champion that you'd ever want to see."
  Brady led the team to its third Super Bowl the following year, despite his grandmother dying and his father being hospitalized in the week before the big game.
  "Everybody knows Tom Brady is a proven winner," said receiver Troy Brown. "He may not put up the big five thousand passing yards in a season and all that stuff. [But] he's proven that he's the master at putting up wins."
  By the end of the third title, the team had won nine straight postseason games, with just six turnovers and 25 takeaways. This was fundamental football at its most solid.
  But after a first-round playoff loss in 2005 and a loss in the 2006 AFC championship to the Indianapolis Colts, it seemed that the Patriots' time might be passing. Instead, they went into hyperdrive for 2007 and added receivers Wes Welker and Randy Moss, who caught a total of 210 yards between them in their first season in New England. That year ended in a devastating defeat at the hands of the New York Giants in the Super Bowl, yet it remains worthy of celebration. The Patriots finished 16-0 in the regular season, just the second team in modern NFL history to attain perfection. Belichick had always been thought of as a defense-first coach, but the 2007 team averaged an NFL record 36.8 points per game, Brady finished with a 117.2 passer rating — the second-highest in league history — and he set a record by throwing 50 touchdown passes. Despite the disappointment in the Super Bowl, the season was a monumental achievement.
  All of the Patriots' success can be traced back to the moment when the team took the field for their first Super Bowl in January 2002. After Belichick told the NFL that he wanted to break the custom of individual player introductions in the pregame ceremony, the NFL said no. Belichick, not surprisingly, refused to back down. And so the New England Patriots were introduced as a team. And it was as a team that they won, Tedy Bruschi once said: "When you work together — when you embrace words like 'dignity,' 'integrity,' and 'unselfishness' great things can be accomplished."