Note: Supplemental materials are not guaranteed with Rental or Used book purchases.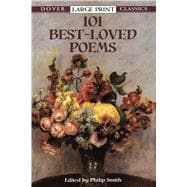 Questions About This Book?
What version or edition is this?
This is the Large edition with a publication date of 4/17/2013.
What is included with this book?
The New copy of this book will include any supplemental materials advertised. Please check the title of the book to determine if it should include any CDs, lab manuals, study guides, etc.
Summary
Large print anthology contains some of the most popular poems in the English language, including Shakespeare's "Shall I compare thee to a summer's day?," Marvell's "To His Coy Mistress," Frost's "The Road Not Taken," as well as works by Blake, Wordsworth, Byron, Shelley, Keats, Browning, Whitman, Dickinson, Yeats, Pound, and many others.
Table of Contents
1
(1)
2
(4)

| | |
| --- | --- |
| | Sir Thomas Wyatt (1503-1542) |

| | |
| --- | --- |
| | The Lover Showeth How He Is Forsaken of Such as He Sometime Enjoyed |

6
(1)

| | |
| --- | --- |
| | Christopher Marlowe (1564-1593) |

| | |
| --- | --- |
| | The Passionate Shepherd to His Love |

7
(1)

| | |
| --- | --- |
| | William Shakespeare (1564-1616) |

| | |
| --- | --- |
| | Sonnet XVIII (``Shall I compare thee to a summer's day?'') |

8
(1)

| | |
| --- | --- |
| | Sonnet LXXIII (``That time of year thou mayst in me behold'') |

9
(1)

| | |
| --- | --- |
| | Sonnet XCIV (``They that have power to hurt and will do none'') |

9
(1)

| | |
| --- | --- |
| | Sonnet CXVI (``Let me not to the marriage of true minds'') |

10
(1)

| | |
| --- | --- |
| | ``Adieu, Farewell Earth's Bliss'' |

11
(1)
12
(1)

| | |
| --- | --- |
| | Holy Sonnet X (``Death be not proud, though some have called thee'') |

13
(1)

| | |
| --- | --- |
| | Holy Sonnet XIV (``Batter my heart, three-person'd God; for, you'') |

14
(1)
14
(1)
15
(1)

| | |
| --- | --- |
| | Robert Herrick (1591-1674) |

| | |
| --- | --- |
| | To the Virgins, to Make Much of Time |

16
(1)
16
(1)

| | |
| --- | --- |
| | George Herbert (1593-1633) |

17
(1)

| | |
| --- | --- |
| | Edmund Waller (1606-1687) |

| | |
| --- | --- |
| | Song (``Go, lovely Rose---'') |

18
(1)
19
(1)
20
(1)

| | |
| --- | --- |
| | Sir John Suckling (1609-1642) |

| | |
| --- | --- |
| | ``Why So Pale and Wan, Fond Lover?'' |

20
(1)

| | |
| --- | --- |
| | Richard Lovelace (1618-1658) |

| | |
| --- | --- |
| | To Lucasta, Going to the Wars |

21
(1)

| | |
| --- | --- |
| | Andrew Marvell (1621-1678) |

22
(2)

| | |
| --- | --- |
| | Henry Vaughan (1622-1695) |

24
(1)

| | |
| --- | --- |
| | Elegy Written in a Country Churchyard |

25
(5)

| | |
| --- | --- |
| | Ode on the Death of a Favourite Cat, Drowned in a Tub of Gold Fishes |

30
(2)

| | |
| --- | --- |
| | William Blake (1757-1827) |

32
(1)
33
(1)
33
(1)
34
(1)
35
(2)
37
(1)

| | |
| --- | --- |
| | William Wordsworth (1770-1850) |

| | |
| --- | --- |
| | Composed upon Westminster Bridge, Sept. 3, 1802 |

38
(1)

| | |
| --- | --- |
| | ``I Wandered Lonely as a Cloud'' |

39
(1)

| | |
| --- | --- |
| | ``The World Is Too Much with Us; Late and Soon'' |

40
(1)

| | |
| --- | --- |
| | Samuel Taylor Coleridge (1772-1834) |

40
(3)
43
(1)
43
(1)

| | |
| --- | --- |
| | George Gordon, Lord Byron (1788-1824) |

44
(1)

| | |
| --- | --- |
| | The Destruction of Sennacherib |

45
(1)

| | |
| --- | --- |
| | ``So We'll Go No More a Roving'' |

46
(1)

| | |
| --- | --- |
| | Percy Bysshe Shelley (1792-1822) |

46
(1)
47
(3)
50
(4)

| | |
| --- | --- |
| | William Cullen Bryant (1794-1878) |

54
(3)

| | |
| --- | --- |
| | On First Looking into Chapman's Homer |

57
(1)
58
(3)
61
(2)
63
(2)

| | |
| --- | --- |
| | ``When I Have Fears That I May Cease to Be'' |

65
(1)

| | |
| --- | --- |
| | Ralph Waldo Emerson (1803-1882) |

| | |
| --- | --- |
| | Hymn: Sung at the Completion of the Concord Monument |

66
(1)

| | |
| --- | --- |
| | Elizabeth Barrett Browning (1806-1861) |

| | |
| --- | --- |
| | Sonnet XLIII (``How do I love thee? Let me count the ways'') |

67
(1)

| | |
| --- | --- |
| | Henry Wadsworth Longfellow (1807-1882) |

67
(2)
69
(2)

| | |
| --- | --- |
| | John Greenleaf Whittier (1807-1892) |

71
(3)

| | |
| --- | --- |
| | Edgar Allan Poe (1809-1849) |

74
(1)
74
(7)
81
(2)

| | |
| --- | --- |
| | Oliver Wendell Holmes, Sr. (1809-1894) |

83
(1)
84
(1)

| | |
| --- | --- |
| | Alfred, Lord Tennyson (1809-1892) |

| | |
| --- | --- |
| | The Charge of the Light Brigade |

85
(2)
87
(1)

| | |
| --- | --- |
| | Robert Browning (1812-1889) |

88
(2)
90
(1)
91
(2)

| | |
| --- | --- |
| | A Noiseless Patient Spider |

93
(1)

| | |
| --- | --- |
| | Matthew Arnold (1822-1888) |

93
(2)

| | |
| --- | --- |
| | George Meredith (1828-1909) |

95
(1)

| | |
| --- | --- |
| | Emily Dickinson (1830-1886) |

| | |
| --- | --- |
| | ``I'm Nobody! Who Are You?'' |

96
(1)

| | |
| --- | --- |
| | ``This Is My Letter to the World'' |

96
(1)

| | |
| --- | --- |
| | ``I Heard a Fly Buzz When I Died'' |

97
(1)

| | |
| --- | --- |
| | ``Because I Could Not Stop for Death'' |

97
(1)

| | |
| --- | --- |
| | Christina Rossetti (1830-1894) |

98
(1)

| | |
| --- | --- |
| | Lewis Carroll (1832-1898) |

99
(1)
100
(2)

| | |
| --- | --- |
| | Gerard Manley Hopkins (1844-1889) |

102
(1)
103
(1)
103
(1)

| | |
| --- | --- |
| | Robert Louis Stevenson (1850-1894) |

104
(1)

| | |
| --- | --- |
| | A. E. Housman (1859-1936) |

| | |
| --- | --- |
| | To an Athlete Dying Young |

105
(1)

| | |
| --- | --- |
| | Rudyard Kipling (1865-1936) |

106
(4)
110
(1)
111
(1)

| | |
| --- | --- |
| | William Butler Yeats (1865-1939) |

| | |
| --- | --- |
| | The Lake Isle of Innisfree |

112
(1)
113
(1)
113
(2)

| | |
| --- | --- |
| | Edwin Arlington Robinson (1869-1935) |

115
(1)
115
(2)
117
(1)

| | |
| --- | --- |
| | Stopping by Woods on a Snowy Evening |

118
(1)

| | |
| --- | --- |
| | Carl Sandburg (1878-1967) |

119
(1)
120
(1)

| | |
| --- | --- |
| | Wallace Stevens (1879-1955) |

121
(1)

| | |
| --- | --- |
| | William Carlos Williams (1883-1963) |

122
(1)

| | |
| --- | --- |
| | The River-Merchant's Wife: A Letter |

123
(1)

| | |
| --- | --- |
| | Marianne Moore (1887-1972) |

124
(2)

| | |
| --- | --- |
| | Edna St. Vincent Millay (1892-1950) |

126
(1)
126
(1)

| | |
| --- | --- |
| | E. E. Cummings (1894-1962) |

| | |
| --- | --- |
| | ``anyone lived in a pretty how town'' |

127
(2)
129
(1)

| | |
| --- | --- |
| | Do Not Go Gentle into That Good Night |

130
(2)
Alphabetical List of Titles
132
(5)
Alphabetical List of First Lines
137