Note: Supplemental materials are not guaranteed with Rental or Used book purchases.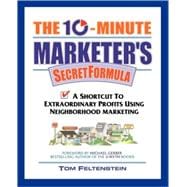 The 10-minute Marketer's Secret Formula: A Shortcut to Extraordinary Profits Using Neighborhood Marketing
ISBN13:
9781600377013
by
Feltenstein, Tom
Summary
The Death of Mass Marketing If you're trying to attract business beyond a 10-minute drive of your enterprise-STOP. It's a waste of time, money and the chance for much bigger profits. That's the eye-opening assertion of Tom Feltenstein, the modern-day father of strategic neighborhood marketing inThe 10-Minute Marketer's Secret Formula: A Shortcut to Extraordinary Profits Using Neighborhood Marketing. Feltenstein, sounding the battle cry of his mentor, McDonald's late founder Kay Kroc, that "it's all local," makes a powerful argument for focusing on your own backyard. He describes how to win against bigger companies, bigger ad budgets and bigger campaigns. Having helped build McDonald's sales through strategic neighborhood marketing one neighborhood at a time, he has the knowledge and experience to back is claim. It's a revolutionary concept today, but it's as old as the general store of a century ago. And it's already being used with tremendous success by an elite group of retailers: Harley-Davidson, Krispy Kreme, McDonald's, Nordstroms, Starbucks and even Wal-Mart. Feltenstein brings it alive in this instructive guidebook essential for any business that depends on generating sales.
Author Biography
Tom Feltenstein is the CEO and founder of Power Marketing Academy, a leading consulting firm that consults and educates businesses in the industries of retail, hospitality, and service. PMA conducts clinics, seminars, strategy sessions, trainings and speaking events. ??A visionary counselor to Fortune 500 companies and franchise organizations, Tom is a renowned keynote speaker, trainer and strategist. As a widely published author, he has written 12 books.??Prior to his distinguished 25 year trajectory as a consultant to Fortune 500 companies, Tom began his career with McDonald's Corporation, rising up to become a senior-level marketing executive under Ray Kroc's tutelage. He later served as senior vice-president for Bozell, an international multi-billion dollar advertising agency. ??He advocates taking care of you internal customers - your employees - so they become your marketing ambassadors. He foretold the end of mass marketing a decade before it became the new buzz. Tom is a people-person who preaches the path to success is the one that affords you the most influence, costs you the least, and offers the biggest payoff: a joyful life of uncommon success.