Note: Supplemental materials are not guaranteed with Rental or Used book purchases.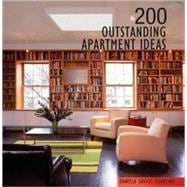 Summary
Innovative design ideas from the world's most beautiful apartments.There has never been more variety of construction and finishing materials suitable for the unique requirements of apartments. Apartment and condominium dwellers can now enjoy an unprecedented number of design options.200 Outstanding Apartment Ideas is a valuable source of inspiration and practical ideas for creating the dream apartment, whether the unit is at the pre-construction stage, already built or occupied. Illustrated with more than 750 color photographs and over 200 floor plans, the book is filled with examples of apartments that feature a wide variety of layouts and materials. Each apartment has been chosen for its outstanding use of space, innovative interior design and superb furnishings. Together they provide a catalog of dream apartments and condominiums.The showcased apartments represent some of the world's finest examples of residential architectural and interior design. Each apartment is presented over several double-page spreads that feature floor layouts plus details about location, architect and date of construction. A directory of architects and designers, complete with websites, rounds out this comprehensive and real-life resource.200 Outstanding Apartment Ideas is a practical resource for those planning to purchase or remodel an apartment or condominium. For those who enjoy architecture and design, it is an ideal choice for browsing.
Table of Contents
Introduction
Living Single
Flatiron Loft
Loft Frankie
Mid Levels
Cube
Loft in Caldes de Montbui
Dwelling in London
Photographer's Apartment
Room Z
Loft Gleimstrasse
Laura's House
Living With Pets
Living In Pairs
Chengdu Yellow
Angler's Bay
Flexible Apartment
O'Neill Apartment
Frears Residence
Bel Air
RP House
Vanke Glass Apartment
Tsai Soingao Residence (3F)
Apartment in Dornbirn
Homage Hill
7 Sculptures
Living With Plants
We Are Family
5th Ave Apartment
Loft in Tel Aviv
West Village
Apartment N
Songao 2F
NY City Residence
Houchhauser Residence
Gray Loft
Upper East Side
Forbes Loft
Apartment in Brussels
Living With Kids
Living In A Dream
Libesking Loft
No-ho Loft
Apartment in Melbourne
Cinema Apartment
Hillingdon Place Apartment
Gershon Loft
Loft for a Young Executive
Olympic Tower Residence
Turning Torso Apartment
Jindi Cartoon Coolpix II
Pink House
Living With Design
High Living
Apartment in South Beach
Gonsalves Apartment
Park West Apartment
The Hammer
Mayfair Penthouse
Los Cerros Apartment
Reina Victoria Apartment
AKM Apartment
Penthouse in Notting Hill
Penthouse in the East Village
Mangrove West Coast
Living With Terraces
Up & Down
Lords Telephone Exchange
Apartment in Milan
Breck Loft
Apartment in Vitoria
1310 East Union
Parent Avenue
Fraternitat Two Level
Apartment RP
Two-level Apartment in Born
Apartment in Manhattan
Apartment in Brooklyn
Phillips-Skaife Residence
Abbot Kinney Lofts
Loft in A Coruņa
Living With Stairs
Second Chance
Remodel in Cuatro Caminos
Remodel in Juan Florez
Horizontal Unit
Glacier
Loft Building in Los Angeles
Ben Avigador Lofts
Cedofeita Apartment
House JM
Baldestrasse Penthouse
Loft in Paris
Remodeled Apartment in Barcelona
Penthouse in Amsterdam
Madison Ave Apartment
Remodelling
Directory
Table of Contents provided by Publisher. All Rights Reserved.
Excerpts
IntroductionThe remodeled urban apartment is gaining a more prominent place in the world of architecture and design just as urban living is gaining popularity and changing the face of cities the world over. In North America the city center has achieved a renewed vitality in the first decade of the 21st century after suffering decades of decline that began in the mid-20th century. Where as in Europe the city center has never gone out of fashion. Its housing, originally built for larger families and characterized by apartments cut up into many small rooms with bathrooms and kitchens the size of closets, is being transformed into apartments with larger, more open plans intended for singles, couples and small families. In Asia economic development is driving a boom in apartment construction in its rapidly growing megacities.People are rediscovering the advantages of city living. Retirees are moving into urban neighborhoods for the cultural riches of theaters, symphonies and museums in a setting that does not require them to use a car. Younger couples are attracted also by the cultural vibrancy and economic opportunities, like the ability to live and work in close proximity. But the old standards of apartment design, where space was divided into walled-off discrete compartments intended to provide privacy for larger family units, are being replaced by a desire for more free-flowing spaces, clean lines and crisp, minimalist design. While traditional kitchens were solely utilitarian spaces, hidden away and intended to be used only by the homemaker, now the kitchen has pride of place in the apartment and is integral to the living and entertaining areas. Bathrooms, another traditionally meager utilitarian space, have become mini-spas, places for relaxation and renewal. And where views are available the contemporary city dweller tries to take advantage of them, removing interior walls that would block such views and opening up new windows where they can.Some of these changes have been driven by the example of loft spaces. Older, 19th-century industrial buildings near city centers, having become superannuated, have been put back into service as residential or live-work units. The cavernous volumes and high ceilings of the industrial spaces, with opportunities for windows for natural light often limited to a single side of a unit, led to the standard open-loft design that is so well known today. This formula was so successful that it has been replicated widely in newly built residential buildings. And even traditional single-floor condos are now remodeled or built new in ways that capture some of the openness of industrial loft spaces.This book explores some of the best examples of contemporary apartment design to illustrate these exciting design trends: labyrinthine old apartments that have been opened up to light and air; rough-hewn industrial spaces reanimated through judicious interventions; cramped little volumes converted into beautiful one-room environments with clever use of space; multifloor spaces where a dynamic interplay between the levels has been introduced; and drab traditional apartments remodeled into evocative dream spaces. The full range of contemporary apartment design is examined through the lens of 200 Outstanding Apartment Ideas.Ian Ayers