Note: Supplemental materials are not guaranteed with Rental or Used book purchases.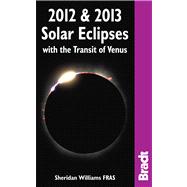 2012 & 2013 Solar Eclipses with the Transit of Venus
ISBN13:
9781841623665
by
Williams, Sheridan
Summary
A total solar eclipse occurs when the Moon moves between the Sun and the Earth, fully blocking out the Sun. A surprisingly moving experience--some viewers feel unrestrained joy at the sight of totality, others feel an equally powerful sense of desolation. In 2012, the eclipse starts in Australia's Northern Territory and crosses Queensland before disappearing over the Pacific. In November 2013, the rare annular-total eclipse, where the Sun may appear as a bright ring around the Moon,appears over Gabon, Congo, Uganda, Kenya, Ethiopia, and Somalia. Experience this celestial moment and by doing so join the elite, 200-year-old 'eclipse-chasers' club. Bradt's Total Solar Eclipse 2012 & 2013is an invaluable companion. Packed with maps, weather conditions, photography tips, health, and safety, this helpful guide has everything to help you make the most out of this spectacular natural event.
Author Biography
Sheridan Williams built his own telescope in 1966 and has since seen nine total eclipses and one annular eclipse. He is a council member of the British Astronomical Association and regularly lectures on astronomy.
Table of Contents
Introduction Chapter 1 Total Solar Eclipse Chapter 2 The Total Solar Eclipse 2012 Chapter 3 The Total Solar Eclipse 2013 Chapter 4 Planning, Preparation and Photography Chapter 5 Conclusion Chapter 6 Further Reading
Excerpts
'A total solar eclipse bypasses the brain, with its scientific understanding, and speaks primitively to the heart. It reminds us of our cosmic insignificance.
Eclipses cause far more perturbation when they were unpredictable – and historians have studied ancient responses to them.
One of the oldest known eclipse tales comes from China and relates to two astronomers, Hsi and Hoe, who became drunk and failed to respond adequately to a total solar eclipse, a crime which was punished by death. If this were true it would mean that the first recorded eclipse occurred between 2159 and 1948BC. But it is almost certainly a myth, perhaps a morality tale aimed at civil servants of the time.
The first person to predict totality with success was thought for a long time to have been Thales of Miletus. He is said to have foretold the year and position of an influential eclipse that plunged a battlefield into darkness during an encounter between the Lydians and the Medes. Chastened by the experience, the two sides laid down their arms and agreed a peace deal. Today astronomers cannot see how Thales could have predicted an eclipse given the limited knowledge at the time. It is generally agreed that, while the solar drama may well have ended a war, probably on 28 May 585BC, it was not actually predicted.'