Note: Supplemental materials are not guaranteed with Rental or Used book purchases.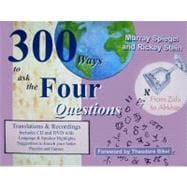 Summary
Worldwide translations of the Four Questions from the Passover Seder, from language experts around the world. Spice up your Seder with interesting stories, connections to genealogy and games. 270+ living languages, 15 ancient languages, 4 sign languages, 25 parodies & constructed languages, all in 368 beautiful pages with images of where the languages are spoken. Includes DVD (full recordings, games, puzzles) and CD (highlights and puzzles).
Author Biography
Dr. Murray Spiegel, with a background in speech research for telecommunications, has established a reputation for innovative Passover Seders. Since leading his first Seder while in graduate school, Murray has led over 30 Seders - no two alike. With his wife Randi, Murray has transformed their house into settings that enrich the Passover story: a Bedouin tent; a jumbo jet taking the Israelites out of Egypt; and an ancient Egyptian tomb. His car even carries the NJ license plate "Pesach." Rickey Stein is a pharmacist with life-long interests in languages and Passover. He is particularly knowledgeable on the various writing systems used by the world's languages. 35 years ago he started translating the Four Questions and hasn't stopped yet.Both Rickey and Murray's Seders have been written up in The New York Times.