Note: Supplemental materials are not guaranteed with Rental or Used book purchases.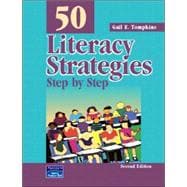 Related Products
Summary
This conveniently organized resource book reflects the latest, most exciting ideas in literature focus units, reading/writing workshop, and thematic instruction. It provides step-by-step instructions for using fifty research based, classroom tested literacy strategies--encompassing reading, writing, listening, speaking, and visualizing--and for each, supportive material helps classroom teachers decide the when, why, and how of optimal use. ACategorical Index of strategies appears on the inside front cover, serving as a handy reference for classroom use, making strategy selection easier and more reliable. New instructional strategies such as interactive writing, story retelling, and word sorts have been included. A supplemental book to assist elementary school teachers in literacy and language arts.
Table of Contents
"All About _____" Books
Alphabet Books
Anecdotal Notes
Anticipation Guides
Author's Chair
Book Boxes
Book Talks
Building Words
Choral Reading
Class Collaborations
Cloze Procedure
Clusters
Cubing
Data Charts
Directed Reading-Thinking Activity
Double-Entry Journals
Exclusion Brainstorming
Goldilocks Strategy
Grand Conversations
Guided Readings
Interactive Writing
K-W-L Charts
Language Experience Approach
Learning Logs
Literacy Centers
Literature Circles
Minilessons
Open-Mind Portraits
Plot Profiles
Prereading Plan
Quickwrites and Quickdraws
Quilts
Read-Arounds
Readers Theatre
Reading Logs
Reciprocal Questioning
Repeated Readings
Reports and Informational Books
Rubrics
Running Records
Shared Reading
Sketch to Stretch
SQ3R Study Strategy
Story Boards
Story Retellings
Tea Party
Venn Diagram
Word Sorts
Word Walls
Writing Groups
Table of Contents provided by Publisher. All Rights Reserved.
Excerpts
Do you need an effective alternative to traditional reading workbook and seatwork activities? Do you want a handy instructional reference with step-by-step guidelines for a student teacher or teaching intern? Here is a conveniently organized resource for all elementary and middle school teachers. These strategies are research based and classroom tested, and can be used in literature focus units, reading and writing workshop, or thematic units. Many new instructional strategies, such as interactive writing, story retelling, and word sorts, have been recommended for classroom use, but locating information about how to implement these strategies can be difficult and time consuming. Each strategy begins with a grid that recommends the most appropriate usage and answers the following questions at a glance: Does the strategy fit best as part of a literature focus unit, for reading and writing workshop, for literature circles, or for reading and writing during the thematic unit? For what grade level does the strategy work best? Does the strategy work best for individuals, pairs, small groups, or the entire class? Of course, these are only recommendations. Once you become comfortable with the basic steps, you may want to experiment and augment these ideas with your own. After the grid, the instructional strategy is described briefly and the benefits of using the strategy are explained. Next, the steps in using that specific literacy strategy are listed. Best of all, applications and examples are provided that describe ways experienced teachers have used the instructional procedure. References allow you to find out more about the strategy on your own and demonstrate that the strategy has been proven successful in helping students develop into capable readers and writers. KEY FEATURES Strategies are arranged alphabetically and numbered for easy reference. Inside the cover of the book is an index that groups the strategies by concept, providing another easy guide to finding the strategy you need. Everything you need to know to implement the strategy effectively and quickly is included in a consistent, easy-to-understand format. Complete step-by-step instructions with illustrations are provided to guide you. Applications and examples are included to demonstrate strategies and to stimulate your own creativity. New!ELL Notes point out the strategies most effective for English language learners. USING THIS BOOK Fifty Literacy Strategies: Step by Stepcan be used as a supplementary textbook in any reading, literacy, or language arts methods course. It can also be used as a core text for inservice training or staff development workshops. Gail E. Tompkins has written several major textbooks:Language Arts: Content and Teaching Strategies,fifth edition;Literacy for the 21st Century: A Balanced Approach,third edition;Teaching Writing: Balancing Process and Product,fourth edition; andLiteracy for the 21st Century: Teaching Reading and Writing in Pre-Kindergarten through Grade 4,all published by Merrill/Prentice Hall. This guide was written to complement each of these textbooks and reflects the same balanced approach that is so popular with professors and preservice and inservice teachers across the country.