Note: Supplemental materials are not guaranteed with Rental or Used book purchases.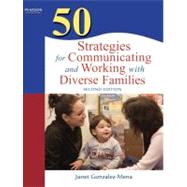 50 Strategies for Communicating and Working With Diverse Families
ISBN13:
9780137002313
by
Gonzalez-Mena, Janet
Related Products
Summary
50 Early Childhood Strategies for Working and Communicating with Diverse Familiesis a practical and easy to use book.#xA0;#xA0;It presents key concepts, discusses them in research-based, accessible prose, and provides useful strategies to facilitate communication and collaboration.#xA0; The book focuses on family-centered care and education for young children and emphasizes partnering with families.#xA0; Many of the strategies in this book address ideas about how to create a climate of trust by communicating in a collaborative way.#xA0; The goal is to create inclusive programs that respect and honor differences in families and individuals.#xA0; Teachers will love the fifty short chapters with information they can apply immediately.#xA0; At the heart of all these strategies lies the welfare of the child. #xA0; FEATURES: Emphasizes the importance of partnerships between teachers and family members. Stresses the integral components of communication between diverse families and teachers or administrators. Raises the important issue of respecting the various diversities and cultures that exist in today's classrooms. Reader-friendly writing style and the alphabetic arrangement of the strategies-interesting, understandable, and easy to find what the student or teacher is looking for. Interwoven, cross-referenced strategies-integrity throughout the book as the relationships between the strategies are highlighted; one strategy often mentions several other strategies that pertain to the same subject. Broad coverage: spans ages 0-8 in a variety of different care and education settings-applies to early childhood educators at all levels-not exclusive to Pre-K; also includes child care, but not exclusively. Goes beyond mere parent involvement and education-closely examines how a partnership may include both, but is different from the more common approaches early childhood educators often take to working with parents; promotes a family-centered approach instead of a child-centered one that is common practice. Photos and artifacts illustrate the messages-these visual images are designed to help readers grasp information and enliven the book. #xA0; New to this Edition! #xA0; Strategies organized by categories, rather than alphabetically. Emphasis on kindergarten and primary grade teachers. Diversity theme at forefront of strategies. New subjects covered include: working with families to maintain home language, holidays in the classroom, media issues, improving child nutrition, children playing outdoors, and dealing with death in the family.
Author Biography
Janet Gonzalez-Mena taught in the California university and community college systems for 35 years. She was on the full-time faculty at Napa Valley College in the Child and Family Studies Department for 15 years until her retirement. Janet started her early childhood career in a cooperative preschool as a parent volunteer back in 1966. She became a preschool teacher and taught in three types of programs including Head Start, a program for Spanish-speaking children and their families and a home-based preschool program. Later she became a director of child care programs and helped open several pilot projects including a therapeutic child care program and an infant-center.
Besides preschool, Janet's special interests include working with parents, diversity, family child care, and infants. In the 1970's she studied with Magda Gerber, an infant expert from Hungary. Recently she has studied at the Pikler Institute in Budapest where Magda came from. Janet has written 4 ECE textbooks, plus a book on diversity and 2 parenting books, including a humorous one that is called Dragon Mom. Presently Janet is involved in helping create a training project called "Strengthening Family and Professional Partnerships" with the National Association for the Education of Young Children. In 2002 she co-authored Bridging Cultures in ECE, a training manual, also for WestEd. She has been on the faculty of WestEd's Program for Infant-Toddler Care training of trainer institutes since 1991. Since 1998 she has been on the faculty of Beginning Together, another training of trainer institute for helping professionals learn to include children with special needs in early care and education programs.
Janet lives in a multicultural family in a state where there is no longer a majority culture. In California, everyone now is a minority. Janet earned a B.A. in English from University of California, Davis (1959) and a M.A. in Human Development from Pacific Oaks College (1976).
Table of Contents
Welcoming Everybody
Appreciating all Kinds of Families
p. 1
Working with Immigrant Families
p. 3
Including Families of Children with Special Needs
p. 6
Creating an Antibias Environment
p. 8
Respecting All Families, Including Those with Same-Sex Parents
p. 11
Partnerships with Families
Building Partnerships
p. 13
Removing Barriers to Partnerships
p. 15
Minimizing Competition with Parents
p. 18
Supporting Attachment
p. 20
Considering Authority
p. 23
Focusing on Family Strengths
p. 25
Helping Parents to Be Advocates for Their Children
p. 28
Encouraging Parents to Become Advocates for all Children
p. 30
Creating a Sense of Community
p. 33
Honoring and Working with Diversity
Understanding and Appreciating Cultural Differences
p. 36
Establishing Culturally Responsive Education and Care
p. 39
Working with Conflicts Around Education and Care Practices
p. 41
Considering Cultural Differences in Guidance and Discipline
p. 43
Working with Families Around what you Believe Are Harmful Practices
p. 45
Thinking about Differing Ideas Related to How Children Learn
p. 47
Managing Conflicts
p. 50
Family Participation and Education
Considering Family Participation
p. 54
Including Parents in the Classroom or Center
p. 58
Focusing on Fathers
p. 61
Taking a Transformative Approach to Parent Education
p. 64
Working with Parents around Holiday Issues
p. 66
Exploring Parents' Role on Decision-Making Boards and Councils
p. 68
Communication
Creating Environments for Communication
p. 71
Empowering Self and Others
p. 73
Communicating Through Writing
p. 75
Holding Ongoing Conversations with Families
p. 78
Looking at Nonverbal Communication Across Cultures
p. 80
Meetings and Conferences
Meeting with Families for the First Time
p. 82
Thinking about Meetings in General
p. 85
Holding Conferences
p. 87
Considering Cross-Cultural Conferences
p. 90
Talking with Families when Concerns Arise
p. 92
Working with Parents around Specific Issues
Helping the Child Enter the School or Program
p. 94
Maintaining Home Language
p. 97
Easing Children Through Transitions
p. 99
Bringing Nature into Children's Lives
p. 101
Addressing Obesity with Nutrition
p. 104
Dealing with Media Issues
p. 106
Maintaining Stability During Divorce
p. 109
Coping with a Death in the Family
p. 111
Finding Community Resources and making Referrals
p. 113
Challenging Conversations
Working with Parents who Constantly Complain
p. 115
Working with Parents who Appear Hostile
p. 117
Talking with Parents about Behavior Changes
p. 119
Referring Families for Abuse or Neglect
p. 121
References
p. 123
Index
p. 129
Table of Contents provided by Ingram. All Rights Reserved.