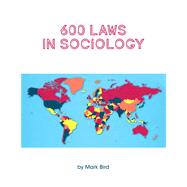 600 Laws in Sociology
by
Bird, Mark
Pearson Learning Solutions
List Price: $40.00
This item is temporarily unavailable from the publisher, but is expected in soon. Place your order now and we will ship it as soon as it arrives.
Questions About This Book?
What version or edition is this?
This is the 1st edition with a publication date of 6/12/2013.
What is included with this book?
The New copy of this book will include any supplemental materials advertised. Please check the title of the book to determine if it should include any CDs, lab manuals, study guides, etc.
Summary
Although it's usually the first definition we think of, the word "law" does not necessarily mean a legal rule; it can also mean "a generalization based on the observation of repeated events." It is in this sense that 600 Laws of Sociology uses the word law, following in the steps of such sociology pioneers as Auguste Comte and Emile Durkheim, who helped create a discipline that explained patterns in human behaviors and societies. 600 Laws of Sociology outlines probabilistic outcomes in all sorts of human interactions—love, marriage, voting, among others—and posits that the predictive accuracy of many areas of sociology can be compared to that of meteorology. In other words, if we know two-thirds of the factors in a marriage, we can predict with 90% accuracy the likelihood that the marriage will end in divorce.
The text ranges far and wide; topics range from global warming to early Christianity. The chapters are succinct: laws are each defined in about five words, then explained in a brief paragraph. In this way the book covers most of the content of most introductory sociology textbooks, while moving the reader from topic to topic with ease. Its innovative approach and strong, persuasive voice should keep students engaged and entertained until the last page.
Table of Contents
Quotes about Science . . . . . . . . . . . . . . . . . . . . . . . . . . . . . . . . . xi
Introduction . . . . . . . . . . . . . . . . . . . . . . . . . . . . . . . . . . . . . . . . xiii
1. Research Laws . . . . . . . . . . . . . . . . . . . . . . . . . . . . . . . . . . . . . . 1
2. Culture Laws . . . . . . . . . . . . . . . . . . . . . . . . . . . . . . . . . . . . . . . . 3
3. Socialization Laws . . . . . . . . . . . . . . . . . . . . . . . . . . . . . . . . . . . . 5
4. Laws of Lying . . . . . . . . . . . . . . . . . . . . . . . . . . . . . . . . . . . . . . . 7
5. Laws of Bureaucracies . . . . . . . . . . . . . . . . . . . . . . . . . . . . . . . . 9
6. Crime Laws . . . . . . . . . . . . . . . . . . . . . . . . . . . . . . . . . . . . . . . . 10
7. Warning Laws of Suicide . . . . . . . . . . . . . . . . . . . . . . . . . . . . . . 13
8. Homicide Laws . . . . . . . . . . . . . . . . . . . . . . . . . . . . . . . . . . . . . 15
9. Laws Explaining Black Crime . . . . . . . . . . . . . . . . . . . . . . . . . . 17
10. Laws of Child Abuse . . . . . . . . . . . . . . . . . . . . . . . . . . . . . . . . . 19
11. U.S. Poverty Laws . . . . . . . . . . . . . . . . . . . . . . . . . . . . . . . . . . . 21
12. Worker Non-Laws in 1848 . . . . . . . . . . . . . . . . . . . . . . . . . . . . . 25
13. Laws of Global Poverty . . . . . . . . . . . . . . . . . . . . . . . . . . . . . . . 28
14. Laws to Reduce Global Poverty . . . . . . . . . . . . . . . . . . . . . . . . 31
15. Laws of Elite Perpetuation . . . . . . . . . . . . . . . . . . . . . . . . . . . . 33
16. Gender Socialization Laws . . . . . . . . . . . . . . . . . . . . . . . . . . . . 35
17. Domestic Violence Laws . . . . . . . . . . . . . . . . . . . . . . . . . . . . . . 38
18. Laws of Prejudice . . . . . . . . . . . . . . . . . . . . . . . . . . . . . . . . . . . 40
19. Authoritarian Personality Laws . . . . . . . . . . . . . . . . . . . . . . . . . 43
20. Laws of Urban Riots . . . . . . . . . . . . . . . . . . . . . . . . . . . . . . . . . 45
21. Laws of Economic Health . . . . . . . . . . . . . . . . . . . . . . . . . . . . . 47
22. Laws of Democracies . . . . . . . . . . . . . . . . . . . . . . . . . . . . . . . . 51
23. Anti-Democratic Laws . . . . . . . . . . . . . . . . . . . . . . . . . . . . . . . . 54
24. Laws of Fascism . . . . . . . . . . . . . . . . . . . . . . . . . . . . . . . . . . . . 58
25. Presidential Voting Laws . . . . . . . . . . . . . . . . . . . . . . . . . . . . . . 60
26. Laws of War . . . . . . . . . . . . . . . . . . . . . . . . . . . . . . . . . . . . . . . 63
27. Laws of Nuclear War . . . . . . . . . . . . . . . . . . . . . . . . . . . . . . . . . 65
28. Laws of Declining Fertility . . . . . . . . . . . . . . . . . . . . . . . . . . . . . 68
29. Teen Pregnancy Laws . . . . . . . . . . . . . . . . . . . . . . . . . . . . . . . . 70
30. Mate Selection Laws . . . . . . . . . . . . . . . . . . . . . . . . . . . . . . . . . 73
31. Laws of Love . . . . . . . . . . . . . . . . . . . . . . . . . . . . . . . . . . . . . . . 76
32. Good Parenting Laws . . . . . . . . . . . . . . . . . . . . . . . . . . . . . . . . 79
33. Divorce Laws . . . . . . . . . . . . . . . . . . . . . . . . . . . . . . . . . . . . . . . 82
34. Successful Marriage Laws . . . . . . . . . . . . . . . . . . . . . . . . . . . . 87
35. Family Trend Laws . . . . . . . . . . . . . . . . . . . . . . . . . . . . . . . . . . 89
36. U.S. Anti-Family Laws . . . . . . . . . . . . . . . . . . . . . . . . . . . . . . . . 91
37. Religious Affl iation Laws . . . . . . . . . . . . . . . . . . . . . . . . . . . . . . 93
38. Laws of Religious Trends . . . . . . . . . . . . . . . . . . . . . . . . . . . . . 95
39. Laws Explaining Early Christianity . . . . . . . . . . . . . . . . . . . . . . 97
40. Education Excellence Laws. . . . . . . . . . . . . . . . . . . . . . . . . . . . 99
41. Education Inequality Laws. . . . . . . . . . . . . . . . . . . . . . . . . . . . 101
42. Anti-Education Laws . . . . . . . . . . . . . . . . . . . . . . . . . . . . . . . . 104
43. Laws for Improving Education . . . . . . . . . . . . . . . . . . . . . . . . . 108
44. Laws of College Benefi ts . . . . . . . . . . . . . . . . . . . . . . . . . . . . . 110
45. Health Care Costs Laws . . . . . . . . . . . . . . . . . . . . . . . . . . . . . 113
46. Life Expectancy Laws . . . . . . . . . . . . . . . . . . . . . . . . . . . . . . . 118
47. Laws from the 2010 Census . . . . . . . . . . . . . . . . . . . . . . . . . . 122
48. Population Migration Laws . . . . . . . . . . . . . . . . . . . . . . . . . . . 124
49. Urban Problem Laws . . . . . . . . . . . . . . . . . . . . . . . . . . . . . . . . 127
50. Laws of $6.00 Gas Benefi ts . . . . . . . . . . . . . . . . . . . . . . . . . . 129
51. Global Warming Laws . . . . . . . . . . . . . . . . . . . . . . . . . . . . . . . 132
52. Water Shortage Laws . . . . . . . . . . . . . . . . . . . . . . . . . . . . . . . 134
53. Laws of Societal Collapse . . . . . . . . . . . . . . . . . . . . . . . . . . . . 138
54. Megatrend Laws in the U.S. . . . . . . . . . . . . . . . . . . . . . . . . . . 140
55. Laws of National Success . . . . . . . . . . . . . . . . . . . . . . . . . . . . 143
56. Laws of U.S. Decline . . . . . . . . . . . . . . . . . . . . . . . . . . . . . . . . 146
Glossary . . . . . . . . . . . . . . . . . . . . . . . . . . . . . . . . . . . . . . . . . 151
References . . . . . . . . . . . . . . . . . . . . . . . . . . . . . . . . . . . . . . . 163