Note: Supplemental materials are not guaranteed with Rental or Used book purchases.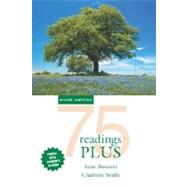 75 Readings Plus (6th Ed)
ISBN13:
9780072370621
by
BUSCEMI S
Questions About This Book?
What version or edition is this?
This is the 6th edition with a publication date of 7/1/2001.
What is included with this book?
The New copy of this book will include any supplemental materials advertised. Please check the title of the book to determine if it should include any CDs, lab manuals, study guides, etc.
Summary
"75 Readings Plus" is a version of the best-selling "75 Readings" that supplies additional guidance for student readers. Both books are rhetorically arranged and collect the most popular essays for first-year writing. The readings represent a wide variety of authors, disciplines, issues, and interests, and at only $28 net, "75 Readings Plus" is an excellent value for students. . .
Table of Contents
Thematic Contents
xiii
To the Instructor
xix
1
(50)
2
(6)
8
(4)

| | |
| --- | --- |
| | Related Reading: Pickering, Faith of the Father, Ch. 4 |

12
(6)

| | |
| --- | --- |
| | Related Reading: Noda, Growing up Asian in America, Ch. 5 |

18
(12)
30
(8)

| | |
| --- | --- |
| | Related Readings: Angelou, Grandmother's Victory, Ch. 1 |

| | |
| --- | --- |
| | Noda, Growing up Asian in America, Ch. 5 |

38
(13)

| | |
| --- | --- |
| | Related Reading: Sanders, The Men We Carry in Our Minds, Ch. 6 |

51
(34)
52
(5)

| | |
| --- | --- |
| | Related Readings: Staples, Black Men and Public Space, Ch. 7 |

57
(4)

| | |
| --- | --- |
| | The Way to Rainy Mountain |

61
(6)

| | |
| --- | --- |
| | Related Reading: Angelou, Grandmother's Victory, Ch. 1 |

| | |
| --- | --- |
| | Alias Benowitz Shoe Repair |

67
(6)
73
(7)
80
(5)
85
(36)
86
(6)
92
(5)

| | |
| --- | --- |
| | Behind the Formaldehyde Curtain |

97
(9)
106
(5)
111
(5)
116
(5)
121
(39)

| | |
| --- | --- |
| | Women's Beauty: Put Down or Power Source? |

122
(4)
126
(6)

| | |
| --- | --- |
| | Related Reading: Kozol, Distancing the Homeless, Ch. 11 |

132
(6)
138
(6)
144
(3)
147
(13)

| | |
| --- | --- |
| | Classification and Division |

160
(54)

| | |
| --- | --- |
| | Predictable Crises of Adulthood |

161
(9)
170
(5)

| | |
| --- | --- |
| | Growing Up Asian in America |

175
(9)

| | |
| --- | --- |
| | Related Readings: Angelou, Grandmother's Victory, Ch. 1 Kingston, No Name Woman, Ch. 1 |

184
(6)
190
(7)

| | |
| --- | --- |
| | Politics: The Art of Bamboozling |

197
(17)

| | |
| --- | --- |
| | Related Reading: Lutz, Doublespeak Ch. 5 |

214
(36)

| | |
| --- | --- |
| | The Rewards of Living a Solitary Life |

215
(3)

| | |
| --- | --- |
| | Grant and Lee: A Study in Contrasts |

218
(5)

| | |
| --- | --- |
| | Talk in the Intimate Relationship: His and Hers |

223
(12)

| | |
| --- | --- |
| | Two Views of the Mississippi |

235
(3)
238
(6)

| | |
| --- | --- |
| | Related Reading: Tannen, Talk in the Intimate Relationship: His and Hers, Ch. 6 |

| | |
| --- | --- |
| | The Men We Carry in Our Minds |

244
(6)

| | |
| --- | --- |
| | Related Readings: Leslie, Don't Get Comfortable, Ch. 1 |

| | |
| --- | --- |
| | Staples, Black Men and Public Space, Ch. 7 |

250
(36)

| | |
| --- | --- |
| | A Few Kind Words for Superstition |

251
(4)
255
(6)

| | |
| --- | --- |
| | The Anthropology of Manners |

261
(9)

| | |
| --- | --- |
| | Related Reading: Kingston, No Name Woman, Ch. 1 |

270
(6)
276
(4)

| | |
| --- | --- |
| | Black Men and Public Space |

280
(6)

| | |
| --- | --- |
| | Related Readings: Baldwin, Fifth Avenue, Uptown, Ch. 2 |

| | |
| --- | --- |
| | Sanders, The Men We Carry in Our Minds, Ch. 6 |

286
(42)

| | |
| --- | --- |
| | How Do You Know It's Good? |

287
(7)

| | |
| --- | --- |
| | Pain Is Not the Ultimate Enemy |

294
(5)

| | |
| --- | --- |
| | Related Reading: Mairs, On Being a Cripple, Ch. 4 |

| | |
| --- | --- |
| | Watching the Grasshopper Get the Goodies |

299
(4)
303
(8)

| | |
| --- | --- |
| | Related Reading: Staples, Black Men and Public Space, Ch. 7 |

| | |
| --- | --- |
| | Where Have All the Parents Gone? |

311
(8)

| | |
| --- | --- |
| | If Hitler Asked You to Electrocute a Stranger, Would You? Probably |

319
(9)
328
(39)
329
(5)
334
(4)

| | |
| --- | --- |
| | ``But a Watch in the Night'': A Scientific Fable |

338
(7)
345
(5)
350
(5)

| | |
| --- | --- |
| | Body Ritual among the Nacirema |

355
(7)
362
(5)
367
(88)
368
(1)
368
(1)

| | |
| --- | --- |
| | The Press Needs a National Monitor (With a response by Don Hewitt: Mea Culpa? Not Mea!) |

368
(5)

| | |
| --- | --- |
| | Related Reading: Fox, Gawk Shows, Ch. 9 |

373
(1)

| | |
| --- | --- |
| | A Step Back to the Workhouse? |

373
(8)

| | |
| --- | --- |
| | Lifeboat Ethics: The Case Against Helping the Poor |

381
(8)

| | |
| --- | --- |
| | Related Readings: Goodman, Watching the Grasshopper Get the Goodies, Ch. 8 |

| | |
| --- | --- |
| | Whitehead, Where Have All the Parents Gone? Ch. 8 |

389
(1)

| | |
| --- | --- |
| | Should This Student Have Been Expelled? |

389
(8)
397
(7)

| | |
| --- | --- |
| | Related Reading: Steinem, Erotica and Pornography, Ch. 4 |

404
(1)

| | |
| --- | --- |
| | Let's Go Veggie! (with a response by Alan Herscovici: Where's the Beef?) |

404
(8)
412
(1)
412
(5)
417
(13)

| | |
| --- | --- |
| | Related Readings: Steinem, Erotica and Pornography, Ch. 4 |

| | |
| --- | --- |
| | Dickerson, Who Shot Johnny? Ch. 10 |

421
(9)
430
(1)

| | |
| --- | --- |
| | Related Readings: Parker, What Is Poverty?, Ch. 4 |

| | |
| --- | --- |
| | Kozol, Distancing the Homeless, Ch. 11 |

430
(5)

| | |
| --- | --- |
| | Related Reading: Steel, White Guilt, Ch. 8 |

435
(6)

| | |
| --- | --- |
| | Bilingual Education: Outdated and Unrealistic |

441
(5)
446
(5)

| | |
| --- | --- |
| | Related Reading: Quammen, Alias Benowitz Shoe Repair, Ch. 2 |

451
(4)
455
(60)

| | |
| --- | --- |
| | Sex, Drugs, Disasters, and the Extinction of Dinosaurs |

456
(9)
465
(13)

| | |
| --- | --- |
| | Related Readings: Parker, What is Poverty? Ch. 4 |

| | |
| --- | --- |
| | Eighner, On Dumpster Diving, Ch. 11 |

| | |
| --- | --- |
| | The Rules of the Game: Rodeo |

478
(8)
486
(7)

| | |
| --- | --- |
| | On Seeing England for the First Time |

493
(10)
503
(12)
Permissions and Acknowledgments
515
(6)
Index of Authors and Titles
521