Note: Supplemental materials are not guaranteed with Rental or Used book purchases.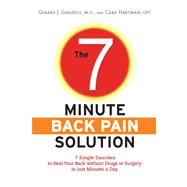 The 7-Minute Back Pain Solution 7 Simple Exercises to Heal Your Back Without Drugs or Surgery in Just Minutes a Day
ISBN13:
9780373892587
by
Girasole, Dr. Gerard
;
Hartman, Cara
Questions About This Book?
What version or edition is this?
This is the edition with a publication date of 3/20/2012.
What is included with this book?
The New copy of this book will include any supplemental materials advertised. Please check the title of the book to determine if it should include any CDs, lab manuals, study guides, etc.
Summary
Banish back pain forever! Are you one of the millions of lower-back-pain sufferers who is desperate for relief? Have you ever been stopped in your tracks by pain so excruciating you were afraid to move? Have you spent countless hours seeing medical professionals? Now, with 7 easy stretches done in just minutes a day, you can finally relieve your back pain and prevent it from happening again. The exercises and tips in this book will teach you how to fight back pain anywhere, anytime, using the equipment you already have--your own muscles. Orthopaedic spine surgeon Dr. Gerard Girasole and personal trainer Cara Hartman have teamed up to develop a proven program that will help you: - Heal by doing the 7 stretches, which will take you no more than 7 minutes. - Strengthen your core, which gives your spine the protection it needs. - Protect your improved core strength to make future injuries much less likely. The detailed photographs and helpful lists in this book will guarantee you see results, while the guide to daily activities will show you how to prevent injuries, whether you're exercising, doing the laundry or commuting to work. Say goodbye to back pain, starting today.
Author Biography
Gerard J. Girasole, M.D., is a board-certified orthopaedic spine surgeon who completed his spinal fellowship at the Hospital for Joint Diseases in New York City. He is a member of the American Academy of Orthopaedic Surgeons and the North American Spine Society and is on the Editorial Board of SpineUniverse, one of the most popular online resources for back pain information. Dr. Girasole practices at The Orthopaedic and Sports Medicine Center in Trumbull, Connecticut. Cara Hartman, CPT, is a back-pain survivor, having lived through years of suffering until she transformed her life by becoming a certified personal trainer and a core conditioning and sports injury specialist. She developed the exercises in the book and has fine-tuned them with Dr. Girasole's expert advice. She lives in Fairfield, Connecticut.
Table of Contents
Introduction
p. vii
Why Your Back Hurts, and How to Stretch and Strengthen Your Back
p. 1
Back Pain Basics
p. 3
The Basics of Stretching, Protection Mode and How to Move When You're in Pain
p. 39
Improving Core Strength
p. 71
The 7-Minute Back Pain Solution and Your Daily Life
p. 91
Managing Your Back Pain at Home
p. 93
Managing Your Back Pain in Bed
p. 121
Managing Your Back Pain at Work
p. 139
Managing Your Back Pain on the Road
p. 157
Managing Your Back Pain and Your Family
p. 175
Managing Your Back Pain and Exercise/Sports
p. 197
Appendix: If You Do Need Medical Treatment for Your Lower Back Pain
p. 233
Acknowledgments
p. 239
Index
p. 241
Table of Contents provided by Ingram. All Rights Reserved.
Excerpts
Louise was sitting in my office, looking anxious. A forty-four-year-old working mother of two, she spent her weekdays at an office and her weekends driving the kids around to a variety of activities. Her back had started aching one bright Sunday, over ten days earlier, after she helped a group of kids clamber up into her minivan after soccer practice.
"When I lifted the soccer bag, I felt a big sort of bad twinge in my back," she told me. "So when I got home, I went right to the medicine cabinet and took some of my leftover pain meds from my recent dental surgery. I stayed in bed the rest of the day, but the pills didn't really help. The next day the pain was so bad, I couldn't go to work. I was lucky my mom was able to come and take care of the kids after school, but I missed a whole week of work, and now my boss is mad at me, because he thinks I'm faking, and my kids are mad at me because I was hurt too bad to pay any attention to them, and my husband is mad because I couldn't do what I usually do around the house." She burst into tears. "And the pain just won't go away. I can't take it anymore."
Louise was a typical patient with low back pain. And like most of my typical patients, she unwittingly made things worse after she felt that initial twinge:
– She didn't know how to treat the pain, so she took prescription meds that were not prescribed for this problem (something no one should ever do!).
– She stayed in bed.
– She hoped the pain would go away by itself.
After I examined Louise and ruled out anything serious, I told her that her pain was due to back strain-and that what had happened to her was not her fault. In fact, it was incredibly common. And I told her that I was giving her permission to move so she could get back to her normal activities.
Like most patients who hear this information, she looked at me in shock. "But I'm afraid to move. It hurts too much!" she said. "Won't that make things worse?"
"No, it won't," I told her. "It will help you heal." Then I sent her home with instructions on how to do the y-Minute Back Pain Solution stretches and told her that if she didn't get better after doing them for several weeks, only then might she be a candidate for a more intense workup.
Louise was very relieved, especially when I told her that she didn't need to see me again if her back got better—but to expect that to take several weeks, at the very least.
WHY IS BACK PAIN SO COMMON?
Louise was glad to know that her back pain wasn't unique, and I explained to her that there are many reasons why our backs hurt so much. Here are the most common:
– You sit all day long. And guess what? The worst possible position for your back is a seated position. Yet most workers spend 90 percent of their time in a chair in a nonergonomic workplace. And they drive a car to and from work. Add to the mix that 90 percent of adults over twenty-one years of age have a job. You do the math! We're talking hundreds of millions of people.
– You don't think or care about taking optimal care of your back until it hurts, and yet when it hurts, you're too afraid to move (which inadvertently makes things worse).
– You aren't in good physical shape.
– You're trying to get in shape, but you can sometimes be a weekend warrior and you can't help but overdo it. This sets up a cycle where you work out too hard, have pain, stop working out, then go right back to the gym or your favorite sport and start hurting again . . . and so on!
– You do work out regularly, but you often push yourself too hard, sometimes working out or playing sports even when you're in pain.
– You rarely, if ever, do the kind of exercises that strengthen all your core muscles properly.
– You rarely, if ever, stretch your muscles before or after a workout, and even if you know you should, you don't, because you don't have the time.
– You love your high heels or shoes that look fabulous but don't quite fit properly.
– You're always on the go, carrying heavy bags or children or both, and then cleaning the house and doing the daily chores for your family.
– You know you aren't in shape, but as soon as there's snow in the driveway, you're out there shoveling.
– It happens!
The good news, of course, is that once you add a regular stretching routine to your daily life, and once you strengthen the core muscles that support your spine, you will not only alleviate your low back pain but also help prevent recurring bouts of it. Like all good machines, you need to warm up your spine and condition your muscles before becoming a champion at what you do, whether it's swimming at the Y, taking care of the garden, running after your kids or playing eighteen holes of golf as a weekend warrior.
So why are backs so prone to bouts of debilitating pain, and how can stretching really help? In order to understand why stretching is so beneficial for back-pain sufferers, you first need to understand a bit about the unique anatomy of your spine and the muscles that surround it. What, precisely, does your "back" entail? What are the normal structures found within, and what can go wrong, and where? Why is the pain so terrible, and what triggers it in the first place?
In the next section, I'll first discuss the basics of your spine's anatomy, showing you how it works in terms of its different components, such as the discs, and in conjunction with the muscles that surround it and comprise your core. Once you see how all these components fit together and work synergistically, it's much easier to visualize what can go wrong, and then figure out how to manage it with the seven-minute stretches you'll learn about in Chapter 2.
UNDERSTANDING YOUR BACK
The unique anatomy of our spines enables us to bend, sit, twist, dance, run, hop, swim, make love, and lean over the crib railing to kiss our babies good night. But we pay for this amazing flexibility, as it also makes it incredibly easy for low back pain to strike.
The Three Sections of Your Spine
Your spinal column is strong and flexible, yet fragile at the same time. How's that for paradoxical?
The spine is made up of bones, muscles, ligaments, joints, nerves, discs and the spinal cord. There are twenty-four vertebrae in your spine, which are in place to house and protect the nerves of your spinal cord found within, and they're cushioned by spongy discs that provide support and spacing for the nerves. Your lower body and your spine are supported by large muscle groups called the paraspinal muscles or erecti muscles of the back. These muscles encase the vertebrae and aid in the range of motion of your spine.
There are three sections or your spine:
– The cervical spine is located in the area of your neck that connects your skull to your shoulder area. There are seven cervical vertebrae, aligned in a reverse C shape to give you neck the proper contour.
– The thoracic spine anchors your rib cage and is fairly immobile. There are twelve thoracic vertebrae.
– The lumbar spine forms your lower back and is aligned with the same contour as the cervical spine to give that nice shape to the small of your back. There are five lumbar vertebrae, numbered L1-L5. The L5 vertebra connects to the top of the sacrum, which is composed of five bones fused together.
As you know, this book is all about what happens only to the lumbar region and its five vertebrae. There can be pain in and problems with the cervical spine and the thoracic spine, of course, but these problems are much less common and are beyond the scope of this book. It goes without saying that if you have pain in those areas of your body, you should see your physician or orthopedic specialist for a proper diagnosis and treatment plan.
Lumbar pain, or low back pain, on the other hand, is overwhelmingly common. This small area is what's responsible for the vast majority of back problems—the kind that can leave you in too much agony to go to work or to function properly.