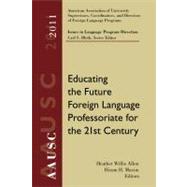 List Price: $67.33

More New and Used
from Private Sellers
Related Products
Summary
Emphasizing the importance of educating the future professoriate for the foreign language profession, this volume presents pedagogical and theoretical frameworks for graduate student development that respond to the changing landscape in the field. Specifically, the volume advances professional development models and practices that take into account the longitudinal nature of teacher education. In doing so, it questions existing educational paradigms that have not prepared graduate students adequately to address the challenges of becoming successful teacher-scholars. The volume provides the reader with specific examples from the field that explore the implications of the latest research on language use, literacy, instructional technology, and curriculum design for graduate student teacher development and gives concrete suggestions for implementing a sustainable and coherent approach to teacher education that addresses the complex components of foreign language study in higher education.
Table of Contents
Acknowledgments
p. v
Editorial Board
p. vi
Annual Volumes of Issues in Language Program Direction
p. vii
Abstracts
p. ix
Introduction
Foreign Language Graduate Student Professional Development-Past, Present, and Future
p. xv
Reconceptualizing Teacher Development for Foreign Language Graduate Students
p. 1
Teaching Language and Culture in a Global Age: New Goals for Teacher Education
p. 3
Reconsidering Graduate Students' Education as Scholar-Teachers: Mind Your Language!
p. 17
Developing Teacher-Scholars in Foreign Language Graduate Education
p. 43
Preparing Graduate Students to Teach: The Role of Literature Faculty
p. 45
A Literacy-Based Approach to Foreign Language Teacher Development
p. 60
Preparing Graduate Student Teachers for Advanced Content-Based Instruction: Exploring Content Through Grammatical Metaphor
p. 82
Envisioning New Forms of Foreign Language Graduate Student Professional Development
p. 105
Beyond the Methods Course: Using Exploratory Practice for Graduate Student Teacher Development
p. 107
The Acceso Project and Foreign Language Graduate Student Professional Development
p. 128
The Relevance of Cultural Linguistics to Foreign Language Graduate Education: From "Language and Culture" to "Language as Culture"
p. 149
Researching Foreign Language Graduate Student Professional Development
p. 169
Evolving Notions of Literacy-Based Foreign Language Teaching: A Qualitative Study of Graduate Student Instructors
p. 171
Investigating Foreign Language Graduate Student Instructors' Perceptions and Use of Technology in the Classroom
p. 192
Video Reflection in Foreign Language Teacher Development
p. 212
Coda: Foreign Language Graduate Student Teacher Development in the Twenty-First Century: Challenges and Opportunities for Collegiate Foreign Language Studies
p. 231
Contributors
p. 238
Table of Contents provided by Ingram. All Rights Reserved.