Note: Supplemental materials are not guaranteed with Rental or Used book purchases.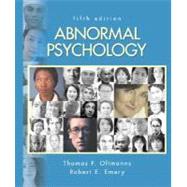 Questions About This Book?
Why should I rent this book?
Renting is easy, fast, and cheap! Renting from eCampus.com can save you hundreds of dollars compared to the cost of new or used books each semester. At the end of the semester, simply ship the book back to us with a free UPS shipping label! No need to worry about selling it back.
How do rental returns work?
Returning books is as easy as possible. As your rental due date approaches, we will email you several courtesy reminders. When you are ready to return, you can print a free UPS shipping label from our website at any time. Then, just return the book to your UPS driver or any staffed UPS location. You can even use the same box we shipped it in!
What version or edition is this?
This is the 5th edition with a publication date of 1/1/2010.
What is included with this book?
The Used copy of this book is not guaranteed to include any supplemental materials. Typically, only the book itself is included.
The Rental copy of this book is not guaranteed to include any supplemental materials. You may receive a brand new copy, but typically, only the book itself.
Summary
This new edition retains the book's engaging and innovative systems approach, integrating the biological, psychological, and social perspectives in one concurrent story. Scientific methods are presented in a clear and non-threatening manner, and are based on the most current research. Chapter topics include personality disorders, eating disorders, substance use disorders, sexual and gender identity disorders, schizophrenic disorders, mood disorders and suicide, treatment of psychological disorders, and more.For psychologists, psychiatrists, and professionals in the mental health field.
Table of Contents
Preface
xix
About the Authors
xxvii

| | |
| --- | --- |
| | Examples and Definitions of Abnormal Behavior |

2
(26)
4
(1)

| | |
| --- | --- |
| | Case Study: A Husband's Paranoid Schizophrenia |

4
(1)

| | |
| --- | --- |
| | Recognizing the Presence of Disorder |

5
(2)

| | |
| --- | --- |
| | Defining Abnormal Behavior |

7
(4)
7
(2)

| | |
| --- | --- |
| | Cultural and Diagnostic Practice |

9
(1)

| | |
| --- | --- |
| | Critical Thinking Matters: Is Sexual Addiction a Meaningful Concept? |

10
(1)

| | |
| --- | --- |
| | Who Experiences Abnormal Behavior? |

11
(4)

| | |
| --- | --- |
| | Case Study: A College Student's Eating Disorder |

11
(1)

| | |
| --- | --- |
| | Frequency in and Impact on Community Populations |

12
(2)

| | |
| --- | --- |
| | Cross-cultural Comparisons |

14
(1)

| | |
| --- | --- |
| | The Mental Health Professions |

15
(2)

| | |
| --- | --- |
| | Psychopathology in Historical Context |

17
(5)

| | |
| --- | --- |
| | The Greek Tradition in Medicine |

17
(1)

| | |
| --- | --- |
| | The Creation of the Asylum |

18
(1)

| | |
| --- | --- |
| | Worcester Lunatic Hospital: A Model Institution |

19
(1)

| | |
| --- | --- |
| | Lessons from the History of Psychopathology |

20
(1)

| | |
| --- | --- |
| | Research Methods: Who Must Provide Scientific Evidence? |

20
(2)

| | |
| --- | --- |
| | Methods for the Scientific Study of Mental Disorders |

22
(6)

| | |
| --- | --- |
| | The Uses and Limitations of Case Studies |

22
(1)

| | |
| --- | --- |
| | Clinical Research Methods |

23
(1)
24
(4)

| | |
| --- | --- |
| | Causes of Abnormal Behavior |

28
(34)
29
(2)

| | |
| --- | --- |
| | Case Study: Meghan's Many Hardships |

30
(1)

| | |
| --- | --- |
| | Brief Historical Perspective: Twentieth-Century Paradigms |

31
(1)
31
(5)

| | |
| --- | --- |
| | The Psychodynamic Paradigm |

32
(2)

| | |
| --- | --- |
| | The Cognitive Behavioral Paradigm |

34
(1)
35
(1)

| | |
| --- | --- |
| | The Problem with Paradigms |

35
(1)
36
(4)
36
(1)

| | |
| --- | --- |
| | Research Methods: Correlations: Does Psychology Make You Smarter? |

37
(1)
38
(1)

| | |
| --- | --- |
| | Developmental Psychopathology |

39
(1)
40
(11)

| | |
| --- | --- |
| | The Neuron and Neurotransmitters |

40
(1)

| | |
| --- | --- |
| | Neurotransmitters and Psychopathology |

41
(1)
41
(3)
44
(1)
44
(1)
45
(1)
46
(4)

| | |
| --- | --- |
| | Critical Thinking Matters: Do Vaccinations Cause Autism? |

50
(1)
51
(4)

| | |
| --- | --- |
| | Human Nature and Temperament |

51
(2)
53
(1)
54
(1)
54
(1)
55
(1)
55
(7)

| | |
| --- | --- |
| | Relationships and Psychopathology |

56
(1)
57
(1)
58
(1)
58
(1)
59
(3)

| | |
| --- | --- |
| | Treatment of Psychological Disorders |

62
(30)
63
(4)

| | |
| --- | --- |
| | Case Study: Why Is Frances Depressed? |

64
(1)

| | |
| --- | --- |
| | Frances and the Four Paradigms |

65
(2)

| | |
| --- | --- |
| | Brief Historical Perspective |

67
(1)
67
(4)

| | |
| --- | --- |
| | Ethnic Minorities in Psychotherapy |

68
(1)

| | |
| --- | --- |
| | Electroconvulsive Therapy |

68
(1)
69
(1)
69
(2)

| | |
| --- | --- |
| | Psychodynamic Psychotherapies |

71
(3)
71
(2)
73
(1)

| | |
| --- | --- |
| | Psychodynamic Psychotherapy |

73
(1)

| | |
| --- | --- |
| | Cognitive Behavior Therapy |

74
(4)

| | |
| --- | --- |
| | Systematic Desensitization |

74
(1)
74
(1)

| | |
| --- | --- |
| | Research Methods: The Experimental Method: Does Therapy Work? |

75
(1)
75
(1)
76
(1)
77
(1)
77
(1)
77
(1)
78
(1)
78
(1)
78
(1)
79
(1)
79
(1)

| | |
| --- | --- |
| | Research on Psychotherapy |

79
(7)

| | |
| --- | --- |
| | Critical Thinking Matters: Are All Therapies Created Equal? |

80
(1)
80
(3)
83
(1)

| | |
| --- | --- |
| | Psychotherapy Process Research |

84
(2)

| | |
| --- | --- |
| | Couples, Family, and Group Therapy |

86
(4)
86
(1)
87
(1)
88
(1)
89
(1)

| | |
| --- | --- |
| | Specific Treatments for Specific Disorders |

90
(2)
90
(2)

| | |
| --- | --- |
| | Classification and Assessment of Abnormal Behavior |

92
(36)
93
(2)

| | |
| --- | --- |
| | Case Study: Obsessions, Compulsions, and Other Unusual Behaviors |

94
(1)

| | |
| --- | --- |
| | Basic Issues in Classification |

95
(1)

| | |
| --- | --- |
| | Categories versus Dimensions |

95
(1)

| | |
| --- | --- |
| | From Description to Theory |

96
(1)

| | |
| --- | --- |
| | Classifying Abnormal Behavior |

96
(6)

| | |
| --- | --- |
| | Brief Historical Perspective |

97
(1)
97
(1)
98
(3)

| | |
| --- | --- |
| | Culture and Classification |

101
(1)

| | |
| --- | --- |
| | Evaluating Classification Systems |

102
(5)

| | |
| --- | --- |
| | Research Methods: Reliability: Do Clinicians Agree? |

103
(1)
104
(1)
104
(1)
105
(1)

| | |
| --- | --- |
| | Problems and Limitations of the DSM-IV-TR System |

106
(1)

| | |
| --- | --- |
| | Basic Issues in Assessment |

107
(2)

| | |
| --- | --- |
| | Purposes of Clinical Assessment |

107
(1)

| | |
| --- | --- |
| | Assumptions About Consistency of Behavior |

108
(1)

| | |
| --- | --- |
| | Evaluating the Usefulness of Assessment Procedures |

108
(1)

| | |
| --- | --- |
| | Types of Assessment Procedures |

109
(1)

| | |
| --- | --- |
| | Critical Thinking Matters: Should We Always Trust Clinical Judgments? |

110
(1)

| | |
| --- | --- |
| | Assessing Psychological Systems |

110
(11)
111
(2)
113
(3)

| | |
| --- | --- |
| | Personality Tests and Self-Report Inventories |

116
(3)

| | |
| --- | --- |
| | Projective Personality Tests |

119
(2)
121
(1)

| | |
| --- | --- |
| | Assessing Biological Systems |

122
(6)

| | |
| --- | --- |
| | Psychophysiological Assessment |

122
(1)
123
(2)
125
(3)

| | |
| --- | --- |
| | Mood Disorders and Suicide |

128
(46)
129
(4)

| | |
| --- | --- |
| | Case Study: An Attorney's Major Depressive Episode |

131
(1)

| | |
| --- | --- |
| | Case Study: Debbie's Manic Episode |

132
(1)
133
(3)
133
(1)
134
(1)
134
(1)
135
(1)

| | |
| --- | --- |
| | Other Problems Commonly Associated with Depression |

135
(1)
136
(3)

| | |
| --- | --- |
| | Brief Historical Perspective |

136
(1)

| | |
| --- | --- |
| | Contemporary Diagnostic Systems |

136
(3)
139
(1)
139
(1)
140
(1)
140
(3)
141
(1)
141
(1)

| | |
| --- | --- |
| | Cross-Cultural Differences |

142
(1)

| | |
| --- | --- |
| | Risk for Mood Disorders Across the Life Span |

142
(1)
143
(13)
144
(2)

| | |
| --- | --- |
| | Social Factors and Bipolar Disorders |

146
(1)
146
(4)
150
(6)

| | |
| --- | --- |
| | Interaction of Social, Psychological, and Biological Factors |

156
(1)
156
(7)
156
(1)

| | |
| --- | --- |
| | Research Methods: Analogue Studies: Do Rats Get Depressed, and Why? |

157
(3)

| | |
| --- | --- |
| | Critical Thinking Matters: Do Antidepressant Drugs Cause Violent Behavior? |

160
(1)
160
(1)

| | |
| --- | --- |
| | Electroconvulsive Therapy |

161
(1)
162
(1)
163
(11)

| | |
| --- | --- |
| | Brief Case Study: An Admiral's Suicide |

163
(1)

| | |
| --- | --- |
| | Classification of Suicide |

164
(1)
165
(1)
166
(1)

| | |
| --- | --- |
| | Common Elements of Suicide |

167
(1)

| | |
| --- | --- |
| | Treatment of Suicidal People |

168
(3)
171
(3)
174
(38)
175
(2)

| | |
| --- | --- |
| | Case Study: A Writer's Panic Disorder with Agoraphobia |

176
(1)
177
(6)
177
(1)
178
(1)
178
(1)
179
(1)

| | |
| --- | --- |
| | Obsessions and Compulsions |

180
(1)

| | |
| --- | --- |
| | Case Study: Ed's Obsessive--Compulsive Disorder |

181
(2)
183
(4)

| | |
| --- | --- |
| | Brief Historical Perspective |

183
(1)

| | |
| --- | --- |
| | Contemporary Diagnostic Systems |

184
(2)

| | |
| --- | --- |
| | ``Lumpers'' and ``Splitters'' |

186
(1)
186
(1)
187
(3)
187
(1)
187
(1)
188
(1)

| | |
| --- | --- |
| | Anxiety Across the Life Span |

188
(1)

| | |
| --- | --- |
| | Cross-Cultural Comparisons |

189
(1)
190
(12)

| | |
| --- | --- |
| | Adaptive and Maladaptive Fears |

190
(1)
190
(2)
192
(5)
197
(4)

| | |
| --- | --- |
| | Critical Thinking Matters: Can a Strep Infection Trigger OCD in Children? |

201
(1)
202
(10)

| | |
| --- | --- |
| | Brief Case Study: Ed's Treatment |

203
(1)

| | |
| --- | --- |
| | Psychological Interventions |

203
(2)

| | |
| --- | --- |
| | Research Methods: Statistical Significance: When Differences Matter |

205
(1)
206
(3)
209
(3)

| | |
| --- | --- |
| | Acute and Posttraumatic Stress Disorders, Dissociative Disorders, and Somatoform Disorders |

212
(38)
213
(1)

| | |
| --- | --- |
| | Acute and Posttraumatic Stress Disorders |

214
(12)

| | |
| --- | --- |
| | Case Study: Sexual Assault and Stephanie's PTSD |

214
(1)
215
(1)

| | |
| --- | --- |
| | Diagnosis of ASD and PTSD |

216
(3)

| | |
| --- | --- |
| | The Trauma of Sexual Assault |

219
(1)

| | |
| --- | --- |
| | Frequency of Trauma, PTSD, and ASD |

219
(2)
221
(2)

| | |
| --- | --- |
| | Prevention and Treatment of ASD and PTSD |

223
(3)
226
(11)

| | |
| --- | --- |
| | Case Study: Dissociative Fugue---Dallae's Journey |

226
(1)

| | |
| --- | --- |
| | Hysteria and the Unconscious |

227
(2)

| | |
| --- | --- |
| | Symptoms of Dissociative Disorders |

229
(1)

| | |
| --- | --- |
| | Diagnosis of Dissociative Disorders |

229
(1)

| | |
| --- | --- |
| | Critical Thinking Matters: Recovered Memories? |

230
(1)

| | |
| --- | --- |
| | Brief Case Study: A New York City Firefighter's Amnesia for September 11 |

231
(1)

| | |
| --- | --- |
| | Brief Case Study: The Three Faces of Eve |

232
(1)

| | |
| --- | --- |
| | Frequency of Dissociative Disorders |

233
(2)

| | |
| --- | --- |
| | Causes of Dissociative Disorders |

235
(1)

| | |
| --- | --- |
| | Research Methods: Retrospective Reports: Remembering the Past |

236
(1)

| | |
| --- | --- |
| | Treatment of Dissociative Disorders |

237
(1)
237
(13)

| | |
| --- | --- |
| | Symptoms of Somatoform Disorders |

238
(1)

| | |
| --- | --- |
| | Diagnosis of Somatoform Disorders |

238
(1)

| | |
| --- | --- |
| | Brief Case Study: Janet's Patient |

239
(2)

| | |
| --- | --- |
| | Brief Case Study: Body Dysmorphic Disorder |

241
(1)

| | |
| --- | --- |
| | Frequency of Somatoform Disorders |

242
(1)

| | |
| --- | --- |
| | Causes of Somatoform Disorders |

243
(2)

| | |
| --- | --- |
| | Treatment of Somatoform Disorders |

245
(1)
246
(4)

| | |
| --- | --- |
| | Stress and Physical Health |

250
(28)
251
(2)

| | |
| --- | --- |
| | Case Study: Bob Carter's Heart Attack |

252
(1)
253
(2)
253
(1)

| | |
| --- | --- |
| | Stress as Appraisal of Life Events |

253
(2)
255
(8)

| | |
| --- | --- |
| | Psychophysiological Responses to Stress |

255
(1)

| | |
| --- | --- |
| | Tend and Befriend: The Female Alternative to Fight or Flight? |

256
(2)
258
(2)
260
(1)

| | |
| --- | --- |
| | Critical Thinking Matters: Resilience |

261
(1)

| | |
| --- | --- |
| | Illness as a Cause of Stress |

262
(1)

| | |
| --- | --- |
| | Diagnosis of Stress and Physical Illness |

263
(1)

| | |
| --- | --- |
| | Brief Historical Perspective |

263
(1)
263
(1)

| | |
| --- | --- |
| | The Role of Psychological Factors in Some Familiar Illnesses |

264
(4)
264
(1)

| | |
| --- | --- |
| | Acquired Immune Deficiency Syndrome (AIDS) |

265
(1)
266
(1)
267
(1)
268
(10)

| | |
| --- | --- |
| | Symptoms of Hypertension and CHD |

268
(1)
268
(1)
268
(2)
270
(2)

| | |
| --- | --- |
| | Research Methods: Longitudinal Studies: Lives Over Time |

272
(1)

| | |
| --- | --- |
| | Prevention and Treatment of CVD |

273
(3)
276
(2)
278
(38)
280
(2)

| | |
| --- | --- |
| | Case Study: A Car Thief's Antisocial Personality Disorder |

281
(1)
282
(3)
282
(1)

| | |
| --- | --- |
| | Cognitive Perspectives Regarding Self and Others |

283
(1)

| | |
| --- | --- |
| | Temperament and Personality Traits |

284
(1)
284
(1)
285
(7)

| | |
| --- | --- |
| | Cluster A: Paranoid, Schizoid, and Schizotypal Personality Disorders |

286
(1)

| | |
| --- | --- |
| | Critical Thinking Matters: Do You Have to Be Paranoid to Survive? |

287
(1)

| | |
| --- | --- |
| | Cluster B: Antisocial, Borderline, Histrionic, and Narcissistic Personality Disorders |

287
(1)

| | |
| --- | --- |
| | Brief Case Study: Borderline Personality Disorder |

288
(1)

| | |
| --- | --- |
| | Cluster C: Avoidant, Dependent, and Obsessive--Compulsive Personality Disorders |

289
(2)

| | |
| --- | --- |
| | A Dimensional Perspective on Personality Disorders |

291
(1)

| | |
| --- | --- |
| | Brief Case Study: Narcissism from the Perspective of the Five-Factor Model |

291
(1)
292
(5)

| | |
| --- | --- |
| | Prevalence in Community and Clinical Samples |

292
(1)
293
(2)

| | |
| --- | --- |
| | Stability of Personality Disorders over Time |

295
(1)
295
(1)

| | |
| --- | --- |
| | Research Methods: Cross-Cultural Comparisons: The Importance of Context |

296
(1)

| | |
| --- | --- |
| | Schizotypal Personality Disorder (SPD) |

297
(3)

| | |
| --- | --- |
| | Brief Case Study: Schizotypal Personality Disorder |

297
(1)
298
(1)
298
(1)
299
(1)

| | |
| --- | --- |
| | Borderline Personality Disorder (BPD) |

300
(5)

| | |
| --- | --- |
| | Brief Case Study: Borderline Personality Disorder |

300
(1)
301
(1)

| | |
| --- | --- |
| | Impulse Control Disorders |

302
(1)
303
(1)
303
(2)

| | |
| --- | --- |
| | Antisocial Personality Disorder (ASPD) |

305
(5)

| | |
| --- | --- |
| | Brief Case Study: Antisocial Personality Disorder |

305
(1)
306
(2)
308
(2)
310
(1)

| | |
| --- | --- |
| | Dependent Personality Disorder (DPD) |

310
(6)

| | |
| --- | --- |
| | Brief Case Study: Dependent Personality Disorder |

311
(1)
311
(1)
312
(1)
312
(1)
313
(3)
316
(28)
317
(2)

| | |
| --- | --- |
| | Case Study: Serrita's Anorexia |

319
(1)
319
(3)

| | |
| --- | --- |
| | Refusal to Maintain a Normal Weight |

319
(1)

| | |
| --- | --- |
| | Disturbance in Evaluating Weight or Shape |

320
(1)
320
(1)

| | |
| --- | --- |
| | Cessation of Menstruation |

320
(1)
321
(1)
321
(1)

| | |
| --- | --- |
| | Comorbid Psychological Disorders |

322
(1)
322
(4)

| | |
| --- | --- |
| | Case Study: Michelle's Secret |

323
(1)
323
(1)

| | |
| --- | --- |
| | Inappropriate Compensatory Behavior |

324
(1)

| | |
| --- | --- |
| | Excessive Emphasis on Weight and Shape |

325
(1)

| | |
| --- | --- |
| | Comorbid Psychological Disorders |

325
(1)
325
(1)

| | |
| --- | --- |
| | Diagnosis of Eating Disorders |

326
(2)

| | |
| --- | --- |
| | Brief Historical Perspective |

326
(1)

| | |
| --- | --- |
| | Contemporary Classification |

326
(2)

| | |
| --- | --- |
| | Frequency of Eating Disorders |

328
(3)
329
(1)

| | |
| --- | --- |
| | Critical Thinking Matters: The Pressure to Be Thin |

330
(1)
330
(1)

| | |
| --- | --- |
| | Causes of Eating Disorders |

331
(6)
331
(1)

| | |
| --- | --- |
| | Eating Disorders in Males |

332
(1)
333
(3)
336
(1)

| | |
| --- | --- |
| | Integration and Alternative Pathways |

337
(1)

| | |
| --- | --- |
| | Treatment of Anorexia Nervosa |

337
(2)

| | |
| --- | --- |
| | Course and Outcome of Anorexia Nervosa |

338
(1)

| | |
| --- | --- |
| | Treatment of Bulimia Nervosa |

339
(2)

| | |
| --- | --- |
| | Antidepressant Medications |

339
(1)

| | |
| --- | --- |
| | Cognitive Behavior Therapy |

339
(1)

| | |
| --- | --- |
| | Interpersonal Psychotherapy |

339
(1)

| | |
| --- | --- |
| | Research Methods: Psychotherapy Placebos: Controlling for Expectations |

340
(1)

| | |
| --- | --- |
| | Course and Outcome of Bulimia Nervosa |

341
(1)

| | |
| --- | --- |
| | Prevention of Eating Disorders |

341
(3)
342
(2)
344
(40)
345
(3)

| | |
| --- | --- |
| | Case Study: Ernest Hemingway's Alcohol Dependence |

347
(1)
348
(10)

| | |
| --- | --- |
| | The Concept of Substance Dependence |

348
(2)
350
(2)
352
(1)
352
(2)
354
(1)

| | |
| --- | --- |
| | Brief Case Study: Feelings After Injecting Heroin |

354
(2)

| | |
| --- | --- |
| | Barbiturates and Benzodiazepines |

356
(1)
356
(1)

| | |
| --- | --- |
| | Hallucinogens and Related Drugs |

357
(1)
358
(4)

| | |
| --- | --- |
| | Brief History of Legal and Illegal Substances |

358
(1)
359
(1)
360
(1)
360
(1)

| | |
| --- | --- |
| | Other Disorders Commonly Associated with Addictions |

361
(1)
362
(4)

| | |
| --- | --- |
| | Prevalence of Alcohol Abuse and Dependence |

363
(1)

| | |
| --- | --- |
| | Prevalence of Drug and Nicotine Dependence |

364
(1)

| | |
| --- | --- |
| | Critical Thinking Matters: Should Tobacco Products Be Illegal? |

365
(1)

| | |
| --- | --- |
| | Risk for Addiction Across the Life Span |

365
(1)

| | |
| --- | --- |
| | Brief Case Study: Ms. E's Drinking |

366
(1)
366
(9)
367
(1)
368
(3)
371
(2)

| | |
| --- | --- |
| | Research Methods: Studies of People at Risk for Disorders |

373
(1)
374
(1)
375
(9)
375
(1)

| | |
| --- | --- |
| | Medications During Remission |

375
(1)

| | |
| --- | --- |
| | Self-Help Groups: Alcoholics Anonymous |

376
(1)

| | |
| --- | --- |
| | Cognitive Behavior Therapy |

377
(1)

| | |
| --- | --- |
| | Brief Case Study: Relapse to Heroin Use |

378
(1)

| | |
| --- | --- |
| | Outcome Results and General Conclusions |

379
(2)
381
(3)

| | |
| --- | --- |
| | Sexual and Gender Identity Disorders |

384
(36)
385
(3)

| | |
| --- | --- |
| | Case Study: Margaret and Bill's Sexual Communication |

386
(1)

| | |
| --- | --- |
| | Brief Historical Perspective |

387
(1)
388
(15)
388
(2)
390
(1)

| | |
| --- | --- |
| | Brief Case Study: Sexual Aversion Disorder |

391
(1)

| | |
| --- | --- |
| | Brief Case Study: Male Erectile Disorder |

392
(2)

| | |
| --- | --- |
| | Research Methods: Hypothetical Constructs: What Is Sexual Arousal? |

394
(1)

| | |
| --- | --- |
| | Brief Case Study: Genital Pain |

395
(1)
396
(2)
398
(1)

| | |
| --- | --- |
| | Brief Case Study: Vaginismus and Alcohol Dependence |

399
(1)
400
(3)

| | |
| --- | --- |
| | Critical Thinking Matters: Does Medication Cure Sexual Dysfunction? |

403
(1)
403
(12)
403
(1)

| | |
| --- | --- |
| | Brief Case Study: Paraphilia |

404
(1)
404
(2)

| | |
| --- | --- |
| | Brief Case Study: Masochism |

406
(4)
410
(1)
411
(2)
413
(2)

| | |
| --- | --- |
| | Gender Identity Disorders |

415
(5)
415
(1)
416
(1)
416
(1)
417
(1)
417
(3)
420
(38)
421
(3)

| | |
| --- | --- |
| | Case Study: A New Mother's Paranoid Schizophrenia |

422
(1)

| | |
| --- | --- |
| | Case Study: Edward's Disorganized Schizophrenia |

423
(1)
424
(5)
424
(1)
425
(1)

| | |
| --- | --- |
| | First Person Account of Delusional Beliefs |

426
(1)
427
(1)

| | |
| --- | --- |
| | Case Study: Marsha's Disorganized Speech and Bizarre Behavior |

427
(2)
429
(5)

| | |
| --- | --- |
| | Brief Historical Perspective |

429
(1)
429
(1)
430
(1)

| | |
| --- | --- |
| | Critical Thinking Matters: Are Symptom-Based Subtypes of Schizophrenia Useful? |

431
(1)

| | |
| --- | --- |
| | Related Psychotic Disorders |

432
(1)
433
(1)
434
(2)
434
(1)

| | |
| --- | --- |
| | First Person Account: A Mother's Observations |

435
(1)

| | |
| --- | --- |
| | Cross-Cultural Comparisons |

435
(1)
436
(13)
436
(7)
443
(1)
444
(2)

| | |
| --- | --- |
| | Research Methods: Comparison Groups: What Is Normal? |

446
(1)

| | |
| --- | --- |
| | Integration and Multiple Pathways |

447
(1)

| | |
| --- | --- |
| | The Search for Markers of Vulnerability |

447
(2)
449
(9)
449
(3)
452
(3)
455
(3)

| | |
| --- | --- |
| | Dementia, Delirium, and Amnestic Disorders |

458
(30)
459
(4)

| | |
| --- | --- |
| | Case Study: A Physician's Developing Dementia |

460
(2)

| | |
| --- | --- |
| | Case Study: Dementia and Delirium--A Niece's Terrible Discoveries |

462
(1)
463
(6)
463
(1)
463
(1)

| | |
| --- | --- |
| | Memory Changes in Normal Aging |

464
(4)
468
(1)

| | |
| --- | --- |
| | Case Study: Alcohol-Induced Persisting Amnestic Disorder--19 Going on 45 |

468
(1)
469
(7)

| | |
| --- | --- |
| | Brief Historical Perspective |

469
(1)

| | |
| --- | --- |
| | Specific Disorders Associated with Dementia |

470
(2)

| | |
| --- | --- |
| | Critical Thinking Matters: How Can Clinicians Establish an Early Diagnosis of Alzheimer's Disease? |

472
(4)

| | |
| --- | --- |
| | Frequency of Delirium and Dementia |

476
(2)
477
(1)

| | |
| --- | --- |
| | Prevalence by Subtypes of Dementia |

477
(1)

| | |
| --- | --- |
| | Cross-Cultural Comparisons |

478
(1)
478
(5)
478
(1)
479
(1)

| | |
| --- | --- |
| | Research Methods: Finding Genes That Cause Behavioral Problems |

480
(3)
483
(5)
483
(1)

| | |
| --- | --- |
| | Environmental and Behavioral Management |

484
(1)
485
(1)
486
(2)

| | |
| --- | --- |
| | Mental Retardation and Pervasive Developmental Disorders |

488
(36)
489
(1)
489
(18)

| | |
| --- | --- |
| | Case Study: Should This Mother Raise Her Children? |

490
(1)

| | |
| --- | --- |
| | Symptoms of Mental Retardation |

491
(2)

| | |
| --- | --- |
| | Research Methods: Central Tendency and Variability: What Do IQ Scores Mean? |

493
(2)

| | |
| --- | --- |
| | Diagnosis of Mental Retardation |

495
(2)

| | |
| --- | --- |
| | Frequency of Mental Retardation |

497
(1)

| | |
| --- | --- |
| | Causes of Mental Retardation |

497
(6)

| | |
| --- | --- |
| | Treatment: Prevention and Normalization |

503
(1)

| | |
| --- | --- |
| | Fugenics: Our History of Shame |

504
(3)

| | |
| --- | --- |
| | Autistic Disorder and Pervasive Developmental Disorders |

507
(17)

| | |
| --- | --- |
| | Case Study: Temple Grandin--An Anthropologist on Mars |

508
(1)
508
(4)

| | |
| --- | --- |
| | Diagnosis of Autism and PDD |

512
(2)

| | |
| --- | --- |
| | Frequency of Autism and PDD |

514
(1)
514
(3)
517
(1)

| | |
| --- | --- |
| | Critical Thinking Matters: The Bogus Treatment Called Facilitated Communication |

518
(3)
521
(3)

| | |
| --- | --- |
| | Psychological Disorders of Childhood |

524
(34)
525
(1)
526
(19)

| | |
| --- | --- |
| | Case Study: Bad Boy, Troubled Boy, or All Boy? |

526
(1)

| | |
| --- | --- |
| | Symptoms of Externalizing Disorders |

527
(2)

| | |
| --- | --- |
| | Diagnosis of Externalizing Disorders |

529
(3)

| | |
| --- | --- |
| | Frequency of Externalizing Disorders |

532
(1)

| | |
| --- | --- |
| | Research Methods: Samples: How to Select the People We Study |

533
(1)

| | |
| --- | --- |
| | Causes of Externalizing Disorders |

533
(3)

| | |
| --- | --- |
| | Brief Case Study: Ms. B's Son |

536
(3)

| | |
| --- | --- |
| | Treatment of Externalizing Disorders |

539
(3)

| | |
| --- | --- |
| | Critical Thinking Matters: ADHD's False Causes and Cures |

542
(3)

| | |
| --- | --- |
| | Internalizing and Other Disorders |

545
(13)

| | |
| --- | --- |
| | Case Study: Turning the Tables on Tormentors |

545
(1)

| | |
| --- | --- |
| | Symptoms of Internalizing Disorders |

546
(3)

| | |
| --- | --- |
| | Diagnosis of Internalizing and Other Disorders |

549
(1)

| | |
| --- | --- |
| | What Are Learning Disorders? |

549
(2)

| | |
| --- | --- |
| | Frequency of Internalizing Disorders |

551
(1)

| | |
| --- | --- |
| | Causes of Internalizing Disorders |

552
(2)

| | |
| --- | --- |
| | Treatment of Internalizing Disorders |

554
(2)
556
(2)

| | |
| --- | --- |
| | Adjustment Disorders and Life-Cycle Transitions |

558
(28)
559
(4)

| | |
| --- | --- |
| | Case Study: Left for Another Man |

560
(1)
561
(1)
561
(2)

| | |
| --- | --- |
| | The Transition to Adulthood |

563
(4)

| | |
| --- | --- |
| | Symptoms of the Adult Transition |

563
(1)

| | |
| --- | --- |
| | Diagnosis of Identity Conflicts |

564
(1)

| | |
| --- | --- |
| | Frequency of Identity Conflicts |

565
(1)

| | |
| --- | --- |
| | Causes of Identity Conflicts |

566
(1)

| | |
| --- | --- |
| | Treatment During the Transition to Adult Life |

566
(1)

| | |
| --- | --- |
| | Brief Case Study: Samantha's Birth Mother |

567
(1)
567
(9)

| | |
| --- | --- |
| | Symptoms of Family Transitions |

567
(3)

| | |
| --- | --- |
| | Diagnosis of Troubled Family Relationships |

570
(1)

| | |
| --- | --- |
| | Frequency of Family Transitions |

570
(1)

| | |
| --- | --- |
| | Causes of Difficulty in Family Transitions |

571
(1)

| | |
| --- | --- |
| | Research Methods: Heritability: Genes and the Environment |

572
(1)

| | |
| --- | --- |
| | Treatment During Family Transitions |

573
(1)

| | |
| --- | --- |
| | Critical Thinking Matters: Divorce Is Genetic?! |

574
(1)

| | |
| --- | --- |
| | Couples Therapy and Family Therapy |

574
(1)

| | |
| --- | --- |
| | Brief Case Study: Jan and Bill: Learning to Listen |

575
(1)

| | |
| --- | --- |
| | Aging and the Transition to Later Life |

576
(10)
576
(1)
577
(2)
579
(1)

| | |
| --- | --- |
| | Brief Case Study: Mrs. J's Loss |

579
(2)
581
(1)
582
(1)

| | |
| --- | --- |
| | Causes of Psychological Problems in Later Life |

582
(1)

| | |
| --- | --- |
| | Treatment of Psychological Problems in Later Life |

583
(1)
584
(2)

| | |
| --- | --- |
| | Mental Health and the Law |

586
(33)
587
(3)

| | |
| --- | --- |
| | Case Study: John Hinckley and the Insanity Defense |

588
(1)
589
(1)

| | |
| --- | --- |
| | Free Will versus Determinism |

589
(1)

| | |
| --- | --- |
| | Rights and Responsibilities |

590
(1)

| | |
| --- | --- |
| | Mental Illness and Criminal Responsibility |

590
(7)
590
(4)

| | |
| --- | --- |
| | The Battered Woman Syndrome as a Defense |

594
(1)

| | |
| --- | --- |
| | Competence to Stand Trial |

595
(1)

| | |
| --- | --- |
| | Sentencing and Mental Health |

596
(1)

| | |
| --- | --- |
| | Mental Health and Civil Law |

597
(12)

| | |
| --- | --- |
| | A Brief History of U.S. Mental Hospitals |

598
(1)

| | |
| --- | --- |
| | Libertarianism versus Paternalism in Treating Mental Patients |

599
(1)
599
(3)

| | |
| --- | --- |
| | Critical Thinking Matters: Violence and Mental Illness |

602
(1)

| | |
| --- | --- |
| | Research Methods: Base Rates and Prediction: Justice Blackmun's Error |

603
(1)

| | |
| --- | --- |
| | The Rights of Mental Patients |

604
(3)
607
(2)

| | |
| --- | --- |
| | Mental Health and Family Law |

609
(5)

| | |
| --- | --- |
| | Children, Parents, and the State |

609
(1)
610
(1)

| | |
| --- | --- |
| | Brief Case Study: A Custody Dispute |

611
(1)
612
(2)

| | |
| --- | --- |
| | Professional Responsibilities and the Law |

614
(5)

| | |
| --- | --- |
| | Professional Negligence and Malpractice |

614
(1)
615
(2)
617
(2)
Glossary
619
(12)
References
631
(40)
Credits
671
(2)
Name Index
673
(7)
Subject Index
680