Note: Supplemental materials are not guaranteed with Rental or Used book purchases.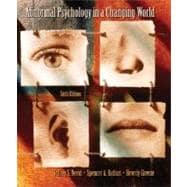 Questions About This Book?
Why should I rent this book?
Renting is easy, fast, and cheap! Renting from eCampus.com can save you hundreds of dollars compared to the cost of new or used books each semester. At the end of the semester, simply ship the book back to us with a free UPS shipping label! No need to worry about selling it back.
How do rental returns work?
Returning books is as easy as possible. As your rental due date approaches, we will email you several courtesy reminders. When you are ready to return, you can print a free UPS shipping label from our website at any time. Then, just return the book to your UPS driver or any staffed UPS location. You can even use the same box we shipped it in!
What version or edition is this?
This is the 6th edition with a publication date of 1/1/2008.
What is included with this book?
The Used copy of this book is not guaranteed to include any supplemental materials. Typically, only the book itself is included.
The Rental copy of this book is not guaranteed to include any supplemental materials. You may receive a brand new copy, but typically, only the book itself.
Summary
This introduction to abnormal psychology is designed to make the material more accessible and inviting to a new generation in a changing world. Noteworthy for its clear and engaging writing style that is accessible to readers, superior pedagogy, many engaging case examples and user-oriented applications, and integration of sociocultural material throughout. The authors adopt an interactionist approach in viewing abnormal behavior in terms of a complex interplay of factors representing psychological, biological, and sociocultural domains. Features personal accounts spanning a wide range of disorders, including depression, schizophrenia, eating disorders, autism, panic disorder, and other mental health problems. The free CD-ROM offers fifteen new segments from the "Speaking Out" series, including interviews with persons who have been diagnosed with major depressive disorder, obsessive compulsive disorder, anorexia, bulimia, PTSD, alcoholism, schizophrenia, autism, ADHD, bipolar disorder, social phobia, hypochondriasis, and personality disorders. Highlights controversial issues in the field (e.g., Recovered Memory Controversy, EMDR: A Fad or a Find), and applications (e.g., How To Cope with a Panic Attack; Suicide Prevention; Rape Prevention; and Anger Management). A comprehensive reference for professionals in the psychology and/or medical fields.
Author Biography
Beverly A. Greene is Professor of Psychology at St. John's University.
Table of Contents
Preface
xi
About the Authors
xix

| | |
| --- | --- |
| | Introduction and Methods of Research |

2
(34)

| | |
| --- | --- |
| | How Do We Define Abnormal Behavior? |

6
(5)

| | |
| --- | --- |
| | Criteria for Determining Abnormality |

6
(4)

| | |
| --- | --- |
| | Cultural Bases of Abnormal Behavior |

10
(1)

| | |
| --- | --- |
| | Historical Perspectives on Abnormal Behavior |

11
(7)
11
(1)

| | |
| --- | --- |
| | Origins of the Medical Model: In ``Ill Humor'' |

11
(1)
12
(1)
12
(1)
13
(1)

| | |
| --- | --- |
| | The Reform Movement and Moral Therapy |

14
(1)
15
(1)

| | |
| --- | --- |
| | The Community Mental Health Movement: The Exodus from State Hospitals |

15
(1)

| | |
| --- | --- |
| | Contemporary Perspectives on Abnormal Behavior |

16
(2)

| | |
| --- | --- |
| | Controversies in Abnormal Psychology |

| | |
| --- | --- |
| | What is Abnormal Behavior? |

18
(2)

| | |
| --- | --- |
| | Research Methods in Abnormal Psychology |

20
(13)

| | |
| --- | --- |
| | Description, Explanation, Prediction, and Control: The Objectives of Science |

20
(1)
21
(1)
22
(1)
22
(1)
23
(1)
24
(3)
27
(1)
28
(2)
30
(3)

| | |
| --- | --- |
| | Thinking Critically About Abnormal Psychology |

33
(1)
34
(2)

| | |
| --- | --- |
| | Contemporary Perspectives on Abnormal Behavior |

36
(32)

| | |
| --- | --- |
| | The Biological Perspective |

38
(5)
38
(4)

| | |
| --- | --- |
| | Evaluating Biological Perspectives on Abnormal Behavior |

42
(1)

| | |
| --- | --- |
| | Controversies in Abnormal Psychology |

43
(1)

| | |
| --- | --- |
| | The Psychological Perspective |

44
(16)
44
(7)
51
(5)
56
(2)
58
(2)

| | |
| --- | --- |
| | The Sociocultural Perspective |

60
(3)

| | |
| --- | --- |
| | Ethnicity and Mental Health |

60
(2)

| | |
| --- | --- |
| | Evaluating the Sociocultural Perspective |

62
(1)

| | |
| --- | --- |
| | The Biopsychosocial Perspective |

63
(3)

| | |
| --- | --- |
| | The Diathesis--Stress Model |

64
(1)

| | |
| --- | --- |
| | Evaluating the Biopsychosocial Perspective |

65
(1)

| | |
| --- | --- |
| | The Case of Jessica---A Final Word |

65
(1)
66
(2)

| | |
| --- | --- |
| | Classification and Assessment of Abnormal Behavior |

68
(33)

| | |
| --- | --- |
| | How Are Abnormal Behavior Patterns Classified? |

70
(7)

| | |
| --- | --- |
| | The DSM and Models of Abnormal Behavior |

70
(7)
77
(1)
77
(1)
77
(1)
78
(3)
79
(1)
80
(1)

| | |
| --- | --- |
| | Controversies in Abnormal Psychology |

| | |
| --- | --- |
| | Should Interviewers Be Replaced by Computers? |

81
(16)

| | |
| --- | --- |
| | Neuropsychological Assessment |

88
(2)
90
(3)
93
(2)

| | |
| --- | --- |
| | Physiological Measurement |

95
(2)

| | |
| --- | --- |
| | Sociocultural and Ethnic Factors in Assessment |

97
(1)
98
(3)
101
(35)

| | |
| --- | --- |
| | Types of Helping Professionals |

102
(1)
102
(2)
104
(13)
105
(3)
108
(1)
109
(2)
111
(2)

| | |
| --- | --- |
| | Cognitive-Behavioral Therapy |

113
(1)
114
(1)

| | |
| --- | --- |
| | Group, Family, and Couple Therapy |

114
(3)

| | |
| --- | --- |
| | Controversies in Abnormal Psychology |

| | |
| --- | --- |
| | Online Therapy: A New Therapeutic Tool or Pandora's Box? |

117
(5)

| | |
| --- | --- |
| | Evaluating Methods of Psychotherapy |

117
(3)

| | |
| --- | --- |
| | Multicultural Issues in Psychotherapy |

120
(2)
122
(5)
123
(2)

| | |
| --- | --- |
| | Ethnic Differences in Response to Psychotropic Medication |

125
(1)

| | |
| --- | --- |
| | Electroconvulsive Therapy |

125
(1)
126
(1)

| | |
| --- | --- |
| | Evaluation of Biological Approaches |

127
(1)

| | |
| --- | --- |
| | Hospitalization and Community-Based Care |

127
(7)

| | |
| --- | --- |
| | Roles for Hospitalization |

128
(1)

| | |
| --- | --- |
| | The Community Mental Health Center |

128
(2)

| | |
| --- | --- |
| | Ethnic Group Differences in Use of Mental Health Services |

130
(2)

| | |
| --- | --- |
| | Racial Stereotyping and the Mental Health System |

132
(1)

| | |
| --- | --- |
| | Evaluation of Deinstitutionalization |

133
(1)
134
(2)

| | |
| --- | --- |
| | Stress, Psychological Factors, and Health |

136
(32)
138
(1)
139
(5)

| | |
| --- | --- |
| | Stress and the Endocrine System |

140
(1)

| | |
| --- | --- |
| | Stress and the Immune System |

140
(2)
142
(1)

| | |
| --- | --- |
| | The General Adaptation Syndrome |

143
(1)

| | |
| --- | --- |
| | Warning Signs of Trauma-Related Stress |

144
(1)
144
(1)

| | |
| --- | --- |
| | Controversies in Abnormal Psychology |

| | |
| --- | --- |
| | Psychological First-Aid Following Trauma: Does It Help? |

145
(2)

| | |
| --- | --- |
| | Acculturative Stress: Making It in America |

146
(1)

| | |
| --- | --- |
| | The Dissociative Experiences Scale |

147
(5)

| | |
| --- | --- |
| | Psychological Factors That Moderate Stress |

149
(3)

| | |
| --- | --- |
| | The Life Orientation Test |

152
(1)

| | |
| --- | --- |
| | Psychological Factors and Physical Disorders |

153
(3)
154
(1)
155
(1)

| | |
| --- | --- |
| | Psychological Methods for Lowering Arousal |

156
(5)
160
(1)
160
(1)
161
(1)
162
(3)

| | |
| --- | --- |
| | Acquired Immunodeficiency Syndrome (AIDS) |

163
(2)
165
(3)
168
(40)

| | |
| --- | --- |
| | Historical Perspectives on Anxiety Disorders |

170
(2)
172
(5)
173
(3)
176
(1)

| | |
| --- | --- |
| | Coping with a Panic Attack |

177
(1)
178
(14)
178
(4)
182
(4)
186
(6)

| | |
| --- | --- |
| | Obsessive--Compulsive Disorder |

192
(4)
193
(2)
195
(1)

| | |
| --- | --- |
| | Generalized Anxiety Disorder |

196
(2)
197
(1)
198
(1)

| | |
| --- | --- |
| | Traumatic Stress Disorders |

198
(5)

| | |
| --- | --- |
| | Features of Traumatic Stress Disorders |

200
(1)
201
(1)
202
(1)

| | |
| --- | --- |
| | Controversies in Abnormal Psychology |

203
(1)

| | |
| --- | --- |
| | Ethnic Differences in Anxiety Disorders |

203
(2)
205
(1)
205
(3)

| | |
| --- | --- |
| | Dissociative and Somatoform Disorders |

208
(32)
210
(10)

| | |
| --- | --- |
| | Dissociative Identity Disorder |

210
(4)
214
(2)
216
(1)

| | |
| --- | --- |
| | Depersonalization Disorder |

217
(2)

| | |
| --- | --- |
| | Culture-Bound Dissociative Syndromes |

219
(1)
219
(1)

| | |
| --- | --- |
| | The Dissociative Experiences Scale |

220
(1)

| | |
| --- | --- |
| | Treatment of Dissociative Disorders |

222
220
(3)

| | |
| --- | --- |
| | Controversies in Abnormal Psychology |

| | |
| --- | --- |
| | Are Recovered Memories Credible? |

223
(1)
224
(2)
226
(12)
227
(1)
228
(2)
230
(1)
231
(1)
231
(1)

| | |
| --- | --- |
| | Koro and Dhat Syndromes: Far Eastern Somatoform Disorders? |

232
(2)
234
(2)

| | |
| --- | --- |
| | Treatment of Somatoform Disorders |

236
(2)
238
(2)

| | |
| --- | --- |
| | Mood Disorders and Suicide |

240
(46)
242
(6)

| | |
| --- | --- |
| | Major Depressive Disorder |

243
(5)

| | |
| --- | --- |
| | Controversies in Abnormal Psychology |

| | |
| --- | --- |
| | Why Are More Women Depressed? |

248
(1)
249
(5)
249
(2)
251
(3)
254
(1)

| | |
| --- | --- |
| | Theoretical Perspectives on Mood Disorders |

254
(13)

| | |
| --- | --- |
| | Stress and Mood Disorders |

255
(1)
256
(1)
257
(1)
258
(1)
259
(6)
265
(2)

| | |
| --- | --- |
| | Something Fishy About This |

267
(1)
267
(1)

| | |
| --- | --- |
| | Treatment of Mood Disorders |

268
(7)
268
(1)
269
(1)
270
(1)

| | |
| --- | --- |
| | Psychological Treatment of Other Mood Disorders |

271
(1)
272
(3)

| | |
| --- | --- |
| | Clinical Practice Guidelines for Depression |

275
(1)
275
(1)

| | |
| --- | --- |
| | Magnetic Stimulation Therapy for Depression |

276
(7)
277
(2)

| | |
| --- | --- |
| | Why Do People Commit Suicide? |

279
(1)

| | |
| --- | --- |
| | Theoretical Perspectives on Suicide |

280
(1)
281
(2)
283
(1)
283
(3)

| | |
| --- | --- |
| | Substance Abuse and Dependence |

286
(44)

| | |
| --- | --- |
| | Classification of Substance-Related Disorders |

287
(6)

| | |
| --- | --- |
| | Substance Abuse and Dependence |

289
(2)

| | |
| --- | --- |
| | Addiction, Physiological Dependence, and Psychological Dependence |

291
(1)

| | |
| --- | --- |
| | Racial and Ethnic Differences in Substance Dependence |

291
(1)

| | |
| --- | --- |
| | Pathways to Drug Dependence |

292
(1)
293
(1)
293
(1)
294
(4)

| | |
| --- | --- |
| | Binge Drinking, a Dangerous Pastime |

298
(11)
302
(4)
306
(3)
309
(7)
309
(2)
311
(3)
314
(1)

| | |
| --- | --- |
| | Psychodynamic Perspectives |

314
(1)

| | |
| --- | --- |
| | Sociocultural Perspectives |

315
(1)
316
(1)

| | |
| --- | --- |
| | Treatment of Substance Abuse and Dependence |

317
(8)
318
(2)

| | |
| --- | --- |
| | Culturally Sensitive Treatment of Alcoholism |

320
(1)

| | |
| --- | --- |
| | Nonprofessional Support Groups |

320
(1)
321
(1)
322
(1)
322
(2)

| | |
| --- | --- |
| | Relapse-Prevention Training |

324
(1)

| | |
| --- | --- |
| | Controversies in Abnormal Psychology |

| | |
| --- | --- |
| | In the Eye of the Storm: The Controlled Drinking Controversy |

325
(3)
328
(2)

| | |
| --- | --- |
| | Eating Disorders, Obesity, and Sleep Disorders |

330
(34)
331
(8)
332
(2)
334
(2)

| | |
| --- | --- |
| | Causes of Anorexia and Bulimia |

336
(3)

| | |
| --- | --- |
| | Controversies in Abnormal Psychology |

339
(2)
341
(3)

| | |
| --- | --- |
| | Treatment of Anorexia Nervosa and Bulimia |

341
(2)
343
(1)

| | |
| --- | --- |
| | Obesity: A National Epidemic |

344
(7)
345
(1)
346
(3)

| | |
| --- | --- |
| | Ethnic and Socioeconomic Differences in Obesity |

349
(2)

| | |
| --- | --- |
| | Facing the Challenge of Obesity |

351
(1)
351
(9)
353
(4)
357
(1)

| | |
| --- | --- |
| | Treatment of Sleep Disorders |

358
(2)

| | |
| --- | --- |
| | To Sleep, Perchance to Dream |

360
(2)
362
(2)

| | |
| --- | --- |
| | Disorders Involving Gender and Sexuality |

364
(36)
366
(4)
369
(1)

| | |
| --- | --- |
| | Homophobia: Social Prejudice or Personal Psychopathology? |

370
(1)
371
(12)

| | |
| --- | --- |
| | Types of Sexual Dysfunctions |

371
(3)
374
(4)

| | |
| --- | --- |
| | Treatment of Sexual Dysfunctions |

378
(5)
383
(8)
384
(6)
390
(1)

| | |
| --- | --- |
| | Controversies in Abnormal Psychology |

| | |
| --- | --- |
| | ``Cybersex Addiction''---A New Psychological Disorder? |

391
(3)
392
(2)
394
(4)
396
(1)
397
(1)

| | |
| --- | --- |
| | Cultural Myths That Create a Climate That Supports Rape |

398
(1)
398
(2)

| | |
| --- | --- |
| | Schizophrenia and Other Psychotic Disorders |

400
(38)
401
(21)
403
(1)
404
(1)
405
(4)
409
(3)

| | |
| --- | --- |
| | Subtypes of Schizophrenia |

412
(2)
414
(8)

| | |
| --- | --- |
| | Controversies in Abnormal Psychology |

| | |
| --- | --- |
| | Is Mental Illness a Myth? |

422
(3)

| | |
| --- | --- |
| | Tying It Together: The Diathesis-Stress Model |

425
(7)
427
(5)
432
(1)
432
(1)

| | |
| --- | --- |
| | Schizophreniform Disorder |

432
(1)
432
(1)
433
(3)

| | |
| --- | --- |
| | Schizophrenia-Spectrum Disorders |

434
(2)
436
(2)
438
(32)

| | |
| --- | --- |
| | Types of Personality Disorders |

439
(8)

| | |
| --- | --- |
| | Personality Disorders Characterized by Odd or Eccentric Behavior |

440
(3)

| | |
| --- | --- |
| | Personality Disorders Characterized by Dramatic, Emotional, or Erratic Behavior |

443
(4)

| | |
| --- | --- |
| | Did Samson Have Antisocial Personality Disorder? |

447
(9)

| | |
| --- | --- |
| | Personality Disorders Characterized by Anxious or Fearful Behavior |

451
(3)

| | |
| --- | --- |
| | Problems with the Classification of Personality Disorders |

454
(2)
456
(1)

| | |
| --- | --- |
| | Psychodynamic Perspectives |

456
(1)

| | |
| --- | --- |
| | Controversies in Abnormal Psychology |

| | |
| --- | --- |
| | Are Personality Disorders Sexist? |

457
(4)
459
(1)
460
(1)
461
(1)

| | |
| --- | --- |
| | ``In Cold Blood'': Peering into the Minds of Psychopathic Murderers |

461
(2)

| | |
| --- | --- |
| | Sociocultural Perspectives |

463
(1)
463
(1)

| | |
| --- | --- |
| | The Sensation = Seeking Scale |

464
(1)

| | |
| --- | --- |
| | Treatment of Personality Disorders |

465
(3)
465
(1)
466
(1)
466
(2)
468
(2)

| | |
| --- | --- |
| | Abnormal Behavior in Childhood and Adolescence |

470
(38)

| | |
| --- | --- |
| | Normal and Abnormal Behavior in Childhood and Adolescence |

471
(3)

| | |
| --- | --- |
| | Cultural Beliefs About What Is Normal and Abnormal |

472
(1)

| | |
| --- | --- |
| | Prevalence of Mental Health Problems in Children and Adolescents |

472
(1)

| | |
| --- | --- |
| | Risk Factors for Childhood Disorders |

473
(1)

| | |
| --- | --- |
| | Pervasive Developmental Disorders |

474
(6)
474
(6)
480
(5)

| | |
| --- | --- |
| | Causes of Mental Retardation |

481
(3)
484
(1)
485
(1)

| | |
| --- | --- |
| | Types of Learning Disorders |

485
(1)
486
(1)

| | |
| --- | --- |
| | Understanding and Treating Learning Disorders |

487
(1)
487
(2)

| | |
| --- | --- |
| | Attention-Deficit and Disruptive Behavior Disorders |

489
(6)

| | |
| --- | --- |
| | Attention-Deficit Hyperactivity Disorder |

489
(3)
492
(1)

| | |
| --- | --- |
| | Oppositional Defiant Disorder |

493
(2)

| | |
| --- | --- |
| | Childhood Anxiety and Depression |

495
(5)

| | |
| --- | --- |
| | Separation Anxiety Disorder |

494
(3)
497
(1)

| | |
| --- | --- |
| | Understanding and Treating Childhood Anxiety Disorders |

497
(1)

| | |
| --- | --- |
| | Understanding and Treating Childhood Depression |

498
(2)

| | |
| --- | --- |
| | Controversies in Abnormal Psychology |

| | |
| --- | --- |
| | Are We Overmedicating Our Kids? |

500
(2)

| | |
| --- | --- |
| | Suicide in Children and Adolescents |

500
(2)
502
(4)
502
(2)
504
(2)
506
(2)

| | |
| --- | --- |
| | Cognitive Disorders and Disorders Related to Aging |

508
(24)
509
(7)
512
(1)
513
(1)
514
(2)

| | |
| --- | --- |
| | Psychological Disorders Related to Aging |

516
(8)

| | |
| --- | --- |
| | Anxiety Disorders and Aging |

516
(1)
517
(1)
518
(1)

| | |
| --- | --- |
| | Dementia of the Alzheimer's Type |

519
(5)
524
(1)

| | |
| --- | --- |
| | Examining Your Attitudes Toward Aging |

524
(1)

| | |
| --- | --- |
| | Dementias Due to General Medical Conditions |

525
(3)

| | |
| --- | --- |
| | Dementia Due to Pick's Disease |

525
(1)

| | |
| --- | --- |
| | Dementia Due to Parkinson's Disease |

525
(2)

| | |
| --- | --- |
| | Dementia Due to Huntington's Disease |

527
(1)

| | |
| --- | --- |
| | Dementia Due to HIV Disease |

527
(1)

| | |
| --- | --- |
| | Dementia Due to Creutzfeldt-Jakob Disease |

527
(1)

| | |
| --- | --- |
| | Controversies in Abnormal Psychology |

| | |
| --- | --- |
| | Genetic Testing: Should People at Risk Be Tested? |

528
(2)

| | |
| --- | --- |
| | Dementia Due to Head Trauma |

528
(1)
529
(1)
530
(2)

| | |
| --- | --- |
| | Abnormal Psychology and the Law |

532
(20)

| | |
| --- | --- |
| | Psychiatric Commitment and Patient's Rights |

534
(3)
535
(2)

| | |
| --- | --- |
| | Controversies in Abnormal Psychology |

| | |
| --- | --- |
| | What Should We Do About the ``Wild Man of West 96th Street''? |

537
(7)
539
(5)
544
(6)

| | |
| --- | --- |
| | Legal Bases of the Insanity Defense |

546
(1)

| | |
| --- | --- |
| | Determining the Length of Criminal Commitment |

547
(1)

| | |
| --- | --- |
| | Perspectives on the Insanity Defense |

548
(1)

| | |
| --- | --- |
| | Competency to Stand Trial |

549
(1)
550
(2)
Glossary
552
(11)
References
563
(40)
Credits
603
(2)
Author Index
605
(10)
Subject Index
615