Note: Supplemental materials are not guaranteed with Rental or Used book purchases.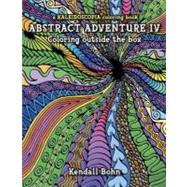 Summary
These wonderfully imaginative abstract images were created free hand by artist Kendall Bohn. "I let each drawing design itself. Each line influences the next from the first line to the last. It is in the nature of intersecting lines to form patterns within shapes. Overlapping shapes create depth. The lines flow outside the edge of the page so the patterns may continue undistorted. A pattern in an abstract form must stay consistently inconsistent to give the design order and reason. The ever changing patterns are common threads that run through the designs making harmonies that, like strings of musical notes, balance the composition. Harmony in abstract images is created through the slight variation of related shapes." This book contains color theories to guide you while coloring outside the box. Colors also create harmonies, discords, patterns and depth. Use these theories to help answer your questions and to bring out the artist in you!
Author Biography
Kendall Bohn received his Bachelor of Fine Arts degree from North Dakota State University. He then went on to apprentice for a sculptor in New York City. Kendall lives and works in NE Minneapolis, MN where you can find him painting, sculpting and thinking up exciting new ideas for his Kaleidoscopia line of coloring books. His works are in permanent collections around the world and in several institutions including Yale University.