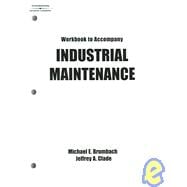 List Price: $77.95
Usually Ships in 2-3 Business Days

More New and Used
from Private Sellers
Questions About This Book?
What version or edition is this?
This is the Workbook edition with a publication date of 9/18/2003.
What is included with this book?
The Used copy of this book is not guaranteed to inclue any supplemental materials. Typically, only the book itself is included.
Related Products
Summary
Workbook to accompany the text, Industrial Maintenance, c2004. Softcover. DLC: Industrial equipment--Maintenance and repair.
Table of Contents
| | |
| --- | --- |
| | Section 1 General Knowledge |

1
(90)
1
(14)

| | |
| --- | --- |
| | Worksheet 1--1 Electrical Safety |

1
(4)

| | |
| --- | --- |
| | Worksheet 1--2 NFPA Standard 704 |

5
(2)

| | |
| --- | --- |
| | Worksheet 1--3 Personal Protective Equipment |

7
(2)

| | |
| --- | --- |
| | Worksheet 1--4 Fire Safety---Part 1 |

9
(2)

| | |
| --- | --- |
| | Worksheet 1--5 Fire Safety---Part 2 |

11
(2)

| | |
| --- | --- |
| | Worksheet 1--6 Proper Fire Extinguisher Use |

13
(2)
15
(12)

| | |
| --- | --- |
| | Worksheet 2--1 Hand Tools: Wrenches |

15
(2)

| | |
| --- | --- |
| | Worksheet 2--2 Hand Tools: Screwdrivers |

17
(2)

| | |
| --- | --- |
| | Worksheet 2--3 Hand Tools: Pliers |

19
(2)

| | |
| --- | --- |
| | Worksheet 2--4 Hand Tools: Hammers |

21
(2)

| | |
| --- | --- |
| | Worksheet 2--5 Hand Tools: Hacksaws |

23
(2)

| | |
| --- | --- |
| | Worksheet 2--6 Hand Tools: Power Tools |

25
(2)
27
(24)

| | |
| --- | --- |
| | Worksheet 3--1 Fasteners: Thread Construction---Part 1 |

27
(2)

| | |
| --- | --- |
| | Worksheet 3--2 Fasteners: Thread Construction---Part 2 |

29
(2)

| | |
| --- | --- |
| | Worksheet 3--3 Fasteners: Thread Series |

31
(2)

| | |
| --- | --- |
| | Worksheet 3--4 Fasteners: Thread Diameter |

33
(2)

| | |
| --- | --- |
| | Worksheet 3--5 Fasteners: Thread Class---Part 1 |

35
(2)

| | |
| --- | --- |
| | Worksheet 3--6 Fasteners: Thread Class---Part 2 |

37
(2)

| | |
| --- | --- |
| | Worksheet 3--7 Fasteners: Taps And Dies---Part 1 |

39
(2)

| | |
| --- | --- |
| | Worksheet 3--8 Fasteners: Taps And Dies---Part 2 |

41
(2)

| | |
| --- | --- |
| | Worksheet 3--9 Fasteners: Fastener Types |

43
(2)

| | |
| --- | --- |
| | Worksheet 3--10 Fasteners: Fastener Grades |

45
(4)

| | |
| --- | --- |
| | Worksheet 3--11 Fasteners: Retaining Ring Fasteners |

49
(2)
51
(40)

| | |
| --- | --- |
| | Worksheet 4--1 Mechanical Drawings: Dimensional |

51
(2)

| | |
| --- | --- |
| | Worksheet 4--2 Mechanical Drawings: Schematic---Part 1 |

53
(2)

| | |
| --- | --- |
| | Worksheet 4--3 Mechanical Drawings: Schematic---Part 2 |

55
(2)

| | |
| --- | --- |
| | Worksheet 4--4 Mechanical Drawings: Schematic---Part 3 |

57
(2)

| | |
| --- | --- |
| | Worksheet 4--5 Mechanical Drawings: Schematic---Part 4 |

59
(2)

| | |
| --- | --- |
| | Worksheet 4--6 Electrical Symbols |

61
(8)

| | |
| --- | --- |
| | Worksheet 4--7 Single-Line Drawings |

69
(2)

| | |
| --- | --- |
| | Worksheet 4--8 Pictorial Diagrams |

71
(4)

| | |
| --- | --- |
| | Worksheet 4--9 Schematic Diagrams |

75
(4)

| | |
| --- | --- |
| | Worksheet 4--10 Ladder Diagrams |

79
(4)

| | |
| --- | --- |
| | Worksheet 4--11 Welding Symbols---Part 1 |

83
(2)

| | |
| --- | --- |
| | Worksheet 4--12 Welding Symbols---Part 2 |

85
(2)

| | |
| --- | --- |
| | Worksheet 4--13 Welding Symbols---Part 3 |

87
(2)

| | |
| --- | --- |
| | Worksheet 4--14 Welding Drawings |

89
(2)

| | |
| --- | --- |
| | Section 2 Mechanical Knowledge |

91
(184)

| | |
| --- | --- |
| | Mechanical Power Transmission |

91
(46)

| | |
| --- | --- |
| | Worksheet 5--1 Flat Belts |

91
(2)

| | |
| --- | --- |
| | Worksheet 5--2 V-Belts: Power Transmission |

93
(2)

| | |
| --- | --- |
| | Worksheet 5--3 V-Belts: Belt Deflection |

95
(2)

| | |
| --- | --- |
| | Worksheet 5--4 V-Belts: Belt Selection |

97
(2)

| | |
| --- | --- |
| | Worksheet 5--5 V-Belts: Double V-Belt Selection |

99
(2)

| | |
| --- | --- |
| | Worksheet 5--6 V-Belts: V-Belt Pitch Length |

101
(2)

| | |
| --- | --- |
| | Worksheet 5--7 Positive-Drive Belts: Pitch |

103
(2)

| | |
| --- | --- |
| | Worksheet 5--8 Positive-Drive Belts: Selection |

105
(2)

| | |
| --- | --- |
| | Worksheet 5--9 Roller Chain Components |

107
(2)

| | |
| --- | --- |
| | Worksheet 5--10 Roller Chain Identification |

109
(2)

| | |
| --- | --- |
| | Worksheet 5--11 Sprockets |

111
(2)

| | |
| --- | --- |
| | Worksheet 5--12 Gears and Gearboxes: Pitch Circle |

113
(2)

| | |
| --- | --- |
| | Worksheet 5--13 Gears and Gearboxes: Pitch Line |

115
(2)

| | |
| --- | --- |
| | Worksheet 5--14 Gears and Gearboxes: Pitch Diameter |

117
(2)

| | |
| --- | --- |
| | Worksheet 5--15 Gears and Gearboxes: Circular Pitch |

119
(2)

| | |
| --- | --- |
| | Worksheet 5--16 Gears and Gearboxes: Diametral Pitch |

121
(2)

| | |
| --- | --- |
| | Worksheet 5--17 Gears and Gearboxes: Gear Ratio |

123
(2)

| | |
| --- | --- |
| | Worksheet 5--18 Gears and Gearboxes: Gear Types |

125
(2)

| | |
| --- | --- |
| | Worksheet 5--19 Pulley Speed Calculations |

127
(2)

| | |
| --- | --- |
| | Worksheet 5--20 Pitch Diameter Calculations |

129
(2)

| | |
| --- | --- |
| | Worksheet 5--21 Speed Calculations: Ratio |

131
(2)

| | |
| --- | --- |
| | Worksheet 5--22 Speed Calculations: Gears |

133
(2)

| | |
| --- | --- |
| | Worksheet 5--23 Gear Rotation |

135
(2)
137
(16)

| | |
| --- | --- |
| | Worksheet 6--1 Bearing Loads |

137
(2)

| | |
| --- | --- |
| | Worksheet 6--2 Bearing Construction |

139
(2)

| | |
| --- | --- |
| | Worksheet 6--3 Bearing Series |

141
(2)

| | |
| --- | --- |
| | Worksheet 6--4 Bearing Type---Part 1 |

143
(2)

| | |
| --- | --- |
| | Worksheet 6--5 Bearing Type---Part 2 |

145
(2)

| | |
| --- | --- |
| | Worksheet 6--6 Bearing Type---Part 3 |

147
(2)

| | |
| --- | --- |
| | Worksheet 6--7 Bearing Type: Part 4 |

149
(2)

| | |
| --- | --- |
| | Worksheet 6--8 Bearing Failure |

151
(2)
153
(24)

| | |
| --- | --- |
| | Worksheet 7--1 Pulley And Sprocket Alignment |

153
(2)

| | |
| --- | --- |
| | Worksheet 7--2 Coupling Alignment: Coupling Flange |

155
(2)

| | |
| --- | --- |
| | Worksheet 7--3 Coupling Alignment: Shims |

157
(2)

| | |
| --- | --- |
| | Worksheet 7--4 Coupling Alignment: Soft Foot |

159
(2)

| | |
| --- | --- |
| | Worksheet 7--5 Coupling Alignment: Horizontal/Vertical |

161
(2)

| | |
| --- | --- |
| | Worksheet 7--6 Coupling Alignment: Misalignments |

163
(2)

| | |
| --- | --- |
| | Worksheet 7--7 Coupling Alignment: Total Indicator Reading |

165
(2)

| | |
| --- | --- |
| | Worksheet 7--8 Dial Indicator Readings |

167
(2)

| | |
| --- | --- |
| | Worksheet 7--9 Coupling Shaft Alignment Methods |

169
(2)

| | |
| --- | --- |
| | Worksheet 7--10 Coupling Shaft Alignment |

171
(2)

| | |
| --- | --- |
| | Worksheet 7--11 Shim Calculation: Dial Indicator Method---Part 1 |

173
(2)

| | |
| --- | --- |
| | Worksheet 7--12 Shim Calculation: Dial Indicator Method---Part 2 |

175
(2)
177
(2)

| | |
| --- | --- |
| | Worksheet 8--1 Lubrication |

177
(2)
179
(12)

| | |
| --- | --- |
| | Worksheet 9--1 Packing Material |

179
(2)

| | |
| --- | --- |
| | Worksheet 9--2 Types of Packing Material |

181
(2)

| | |
| --- | --- |
| | Worksheet 9--3 Stuffing Box Seal---Part 1 |

183
(2)

| | |
| --- | --- |
| | Worksheet 9--4 Stuffing Box Seal---Part 2 |

185
(2)

| | |
| --- | --- |
| | Worksheet 9--5 Mechanical Seals |

187
(2)

| | |
| --- | --- |
| | Worksheet 9--6 Radial Lip Seals |

189
(2)
191
(12)

| | |
| --- | --- |
| | Worksheet 10--1 Pump Types |

191
(2)

| | |
| --- | --- |
| | Worksheet 10--2 Piston Pumps |

193
(2)

| | |
| --- | --- |
| | Worksheet 10--3 Volumetric Efficiency |

195
(2)

| | |
| --- | --- |
| | Worksheet 10--4 Delivery Capability of a Pump |

197
(2)

| | |
| --- | --- |
| | Worksheet 10--5 Power Calculations |

199
(2)

| | |
| --- | --- |
| | Worksheet 10--6 Horsepower Calculations |

201
(2)
203
(28)

| | |
| --- | --- |
| | Worksheet 11--1 Units of Measurement |

203
(2)

| | |
| --- | --- |
| | Worksheet 11--2 Static Head Pressure |

205
(2)

| | |
| --- | --- |
| | Worksheet 11--3 Hydraulic Pressure |

207
(2)

| | |
| --- | --- |
| | Worksheet 11--4 Force, Pressure, and Area |

209
(2)

| | |
| --- | --- |
| | Worksheet 11--5 Fluid Conditioners |

211
(2)
213
(2)

| | |
| --- | --- |
| | Worksheet 11--7 Directional Control Valves |

215
(2)
217
(2)

| | |
| --- | --- |
| | Worksheet 11--9 Single Actuators |

219
(2)

| | |
| --- | --- |
| | Worksheet 11--10 Ansi Symbols |

221
(2)

| | |
| --- | --- |
| | Worksheet 11--11 Ansi Symbol Placement |

223
(2)

| | |
| --- | --- |
| | Worksheet 11--12 Ansi Symbol Recognition |

225
(2)

| | |
| --- | --- |
| | Worksheet 11--13 Cylinders |

227
(2)

| | |
| --- | --- |
| | Worksheet 11--14 Circuit Interpretation |

229
(2)
231
(44)

| | |
| --- | --- |
| | Worksheet 12--1 Piping Tools |

231
(2)

| | |
| --- | --- |
| | Worksheet 12--2 Thread Length |

233
(2)

| | |
| --- | --- |
| | Worksheet 12--3 Moisture Collection (Gas Piping) |

235
(2)

| | |
| --- | --- |
| | Worksheet 12--4 Gas Piping Support |

237
(2)

| | |
| --- | --- |
| | Worksheet 12--5 Waste Disposal |

239
(2)

| | |
| --- | --- |
| | Worksheet 12--6 Drainpipe Angle |

241
(2)

| | |
| --- | --- |
| | Worksheet 12--7 Drainpipe Support |

243
(2)

| | |
| --- | --- |
| | Worksheet 12--8 Plastic Piping |

245
(2)

| | |
| --- | --- |
| | Worksheet 12--9 Water Supply Systems: Copper Piping |

247
(2)

| | |
| --- | --- |
| | Worksheet 12--10 Cast Iron |

249
(2)

| | |
| --- | --- |
| | Worksheet 12--11 Water Supply Systems: Fitting Specifications |

251
(2)

| | |
| --- | --- |
| | Worksheet 12--12 Fitting Types: Branches |

253
(2)

| | |
| --- | --- |
| | Worksheet 12--13 Fitting Applications |

255
(2)

| | |
| --- | --- |
| | Worksheet 12--14 Drawing Types |

257
(2)

| | |
| --- | --- |
| | Worksheet 12--15 Piping Sketches---Part 1 |

259
(2)

| | |
| --- | --- |
| | Worksheet 12--16 Piping Sketches---Part 2 |

261
(2)

| | |
| --- | --- |
| | Worksheet 12--17 Piping Sketches---Part 3 |

263
(2)

| | |
| --- | --- |
| | Worksheet 12--18 Piping Sketches---Part 4 |

265
(2)

| | |
| --- | --- |
| | Worksheet 12--19 Piping Sketches---Part 5 |

267
(2)

| | |
| --- | --- |
| | Worksheet 12--20 Piping Sketches---Part 6 |

269
(2)

| | |
| --- | --- |
| | Worksheet 12--21 Fitting Allowance |

271
(2)

| | |
| --- | --- |
| | Worksheet 12--22 Pipe Connection Methods |

273
(2)

| | |
| --- | --- |
| | Section 3 Electrical Knowledge |

275
(264)
275
(22)

| | |
| --- | --- |
| | Worksheet 13--1 Atomic Structure |

275
(2)

| | |
| --- | --- |
| | Worksheet 13--2 Resistor Color Code---Part 1 |

277
(2)

| | |
| --- | --- |
| | Worksheet 13--3 Resistor Color Code---Part 2 |

279
(2)

| | |
| --- | --- |
| | Worksheet 13--4 Ohm's Law: Finding Current |

281
(2)

| | |
| --- | --- |
| | Worksheet 13--5 Ohm's Law: Finding Voltage |

283
(2)

| | |
| --- | --- |
| | Worksheet 13--6 Ohm's Law: Finding Resistance |

285
(2)

| | |
| --- | --- |
| | Worksheet 13--7 Power Law: Finding Power |

287
(2)

| | |
| --- | --- |
| | Worksheet 13--8 Applying Ohm's Law---Part 1 |

289
(2)

| | |
| --- | --- |
| | Worksheet 13--9 Applying Ohm's Law---Part 2 |

291
(2)

| | |
| --- | --- |
| | Worksheet 13--10 Applying Ohm's Law---Part 3 |

293
(2)

| | |
| --- | --- |
| | Worksheet 13--11 Applying Power Law |

295
(2)
297
(20)

| | |
| --- | --- |
| | Worksheet 14--1 Digital Multimeter: Measuring Current |

297
(4)

| | |
| --- | --- |
| | Worksheet 14--2 Digital Multimeter: Measuring Voltage |

301
(4)

| | |
| --- | --- |
| | Worksheet 14--3 Digital Multimeter: Measuring Resistance |

305
(4)

| | |
| --- | --- |
| | Worksheet 14--4 Oscilloscope: Measuring Voltage |

309
(4)

| | |
| --- | --- |
| | Worksheet 14--5 Oscilloscope: Measuring Frequency |

313
(4)

| | |
| --- | --- |
| | Basic Resistive Electrical Circuits |

317
(24)

| | |
| --- | --- |
| | Worksheet 15--1 Series Circuits---Part 1 |

317
(4)

| | |
| --- | --- |
| | Worksheet 15--2 Series Circuits---Part 2 |

321
(2)

| | |
| --- | --- |
| | Worksheet 15--3 Series Circuits---Part 3 |

323
(2)

| | |
| --- | --- |
| | Worksheet 15--4 Parallel Circuits---Part 1 |

325
(4)

| | |
| --- | --- |
| | Worksheet 15--5 Parallel Circuits---Part 2 |

329
(2)

| | |
| --- | --- |
| | Worksheet 15--6 Parallel Circuits---Part 3 |

331
(2)

| | |
| --- | --- |
| | Worksheet 15--7 Combination Circuits---Part 1 |

333
(4)

| | |
| --- | --- |
| | Worksheet 15--8 Combination Circuits---Part 2 |

337
(2)

| | |
| --- | --- |
| | Worksheet 15--9 Combination Circuits---Part 3 |

339
(2)

| | |
| --- | --- |
| | Reactive Circuits and Power Factor |

341
(16)

| | |
| --- | --- |
| | Worksheet 16--1 R-L Series Circuits |

341
(2)

| | |
| --- | --- |
| | Worksheet 16--2 R-L Parallel Circuits |

343
(2)

| | |
| --- | --- |
| | Worksheet 16--3 R-C Series Circuits |

345
(2)

| | |
| --- | --- |
| | Worksheet 16--4 R-C Parallel Circuits |

347
(2)

| | |
| --- | --- |
| | Worksheet 16--5 R-L-C Series Circuits |

349
(2)

| | |
| --- | --- |
| | Worksheet 16--6 R-L-C Parallel Circuits |

351
(2)

| | |
| --- | --- |
| | Worksheet 16--7 Power Factor Correction |

353
(2)

| | |
| --- | --- |
| | Worksheet 16--8 Three-Phase Power Factor Correction |

355
(2)
357
(8)

| | |
| --- | --- |
| | Worksheet 17--1 Conductor Sizing |

357
(2)

| | |
| --- | --- |
| | Worksheet 17--2 Conductor Color Code |

359
(2)

| | |
| --- | --- |
| | Worksheet 17--3 Raceway Sizing |

361
(4)
365
(10)

| | |
| --- | --- |
| | Worksheet 18--1 Transformers |

365
(2)

| | |
| --- | --- |
| | Worksheet 18--2 Transformer Calculations |

367
(2)

| | |
| --- | --- |
| | Worksheet 18--3 Transformer Connections |

369
(2)

| | |
| --- | --- |
| | Worksheet 18--4 Three-Phase Transformers |

371
(2)

| | |
| --- | --- |
| | Worksheet 18--5 Consumer Distribution System |

373
(2)
375
(30)

| | |
| --- | --- |
| | Worksheet 19--1 DC Generators |

375
(6)

| | |
| --- | --- |
| | Worksheet 19--2 DC Motors |

381
(8)

| | |
| --- | --- |
| | Worksheet 19--3 Three-Phase Motors |

389
(6)

| | |
| --- | --- |
| | Worksheet 19--4 Single-Phase Motors |

395
(10)
405
(6)

| | |
| --- | --- |
| | Worksheet 20--1 Input Devices: Manual |

405
(2)

| | |
| --- | --- |
| | Worksheet 20--2 Input Devices: Automatic |

407
(2)

| | |
| --- | --- |
| | Worksheet 20--3 Output Devices |

409
(2)
411
(26)

| | |
| --- | --- |
| | Worksheet 21--1 Two-Wire Controls |

411
(4)

| | |
| --- | --- |
| | Worksheet 21--2 Three-Wire Controls |

415
(2)

| | |
| --- | --- |
| | Worksheet 21--3 Multiple Start/Stop Stations |

417
(2)

| | |
| --- | --- |
| | Worksheet 21--4 Forward / Reverse Controls |

419
(2)

| | |
| --- | --- |
| | Worksheet 21--5 Speed Control |

421
(2)

| | |
| --- | --- |
| | Worksheet 21--6 Jog Control |

423
(2)

| | |
| --- | --- |
| | Worksheet 21--7 Hand-Off-Automatic Control |

425
(2)

| | |
| --- | --- |
| | Worksheet 21--8 Multiple Motor Starter Control |

427
(2)

| | |
| --- | --- |
| | Worksheet 21--9 Sequential Starting Control |

429
(2)

| | |
| --- | --- |
| | Worksheet 21--10 Various Starting Methods |

431
(4)
435
(2)

| | |
| --- | --- |
| | Basic Industrial Electronics |

437
(32)

| | |
| --- | --- |
| | Worksheet 22--1 Basic Industrial Electronics |

437
(2)

| | |
| --- | --- |
| | Worksheet 22--2 Testing Electronic Devices: Diodes |

439
(2)

| | |
| --- | --- |
| | Worksheet 22--3 Testing Electronic Devices: Transistors |

441
(4)

| | |
| --- | --- |
| | Worksheet 22--4 Testing Electronic Devices: JFET |

445
(4)

| | |
| --- | --- |
| | Worksheet 22--5 Testing Electronic Devices: UJT |

449
(4)

| | |
| --- | --- |
| | Worksheet 22--6 Testing Electronic Devices: SCR |

453
(2)

| | |
| --- | --- |
| | Worksheet 22--7 Testing Electronic Devices: Diac |

455
(2)

| | |
| --- | --- |
| | Worksheet 22--8 Testing Electronic Devices: Triac |

457
(2)

| | |
| --- | --- |
| | Worksheet 22--9 The 555 Timer |

459
(2)

| | |
| --- | --- |
| | Worksheet 22--10 Operational Amplifiers |

461
(2)

| | |
| --- | --- |
| | Worksheet 22--11 Op-Amp Circuits |

463
(2)

| | |
| --- | --- |
| | Worksheet 22--12 Digital Logic Gates |

465
(2)

| | |
| --- | --- |
| | Worksheet 22--13 Truth Tables |

467
(2)

| | |
| --- | --- |
| | Electronic Variable Speed Drives |

469
(16)

| | |
| --- | --- |
| | Worksheet 23--1 Switching Amplifier Field Current Controller |

469
(2)

| | |
| --- | --- |
| | Worksheet 23--2 Switching Amplifier Field Current Controller: Waveforms |

471
(2)

| | |
| --- | --- |
| | Worksheet 23--3 SCR Armature Voltage Controller |

473
(2)

| | |
| --- | --- |
| | Worksheet 23--4 SCR Armature Voltage Controller: Waveforms |

475
(2)
477
(2)

| | |
| --- | --- |
| | Worksheet 23--6 Four Quadrants of Motor Operation |

479
(2)

| | |
| --- | --- |
| | Worksheet 23--7 Variable Voltage Inverter |

481
(2)

| | |
| --- | --- |
| | Worksheet 23--8 Variable Voltage Inverter: Waveforms |

483
(2)

| | |
| --- | --- |
| | Programmable Logic Controllers |

485
(48)

| | |
| --- | --- |
| | Worksheet 24--1 Programmable Logic Controller Input/Output Wiring Diagram |

485
(4)

| | |
| --- | --- |
| | Worksheet 24--2 PLC Program Conversion |

489
(4)

| | |
| --- | --- |
| | Worksheet 24--3 PLC Project #1 |

493
(4)

| | |
| --- | --- |
| | Worksheet 24--4 PLC Project #2 |

497
(4)

| | |
| --- | --- |
| | Worksheet 24--5 PLC Project #3 |

501
(4)

| | |
| --- | --- |
| | Worksheet 24--6 PLC Project #4 |

505
(2)

| | |
| --- | --- |
| | Worksheet 24--7 PLC Project #5 |

507
(2)

| | |
| --- | --- |
| | Worksheet 24--8 PLC Project #6 |

509
(2)

| | |
| --- | --- |
| | Worksheet 24--9 PLC Project #7 |

511
(2)

| | |
| --- | --- |
| | Worksheet 24--10 PLC Project #8 |

513
(2)

| | |
| --- | --- |
| | Worksheet 24--11 PLC Project #9 |

515
(2)

| | |
| --- | --- |
| | Worksheet 24--12 PLC Project #10 |

517
(2)

| | |
| --- | --- |
| | Worksheet 24--13 PLC Project #11 |

519
(2)

| | |
| --- | --- |
| | Worksheet 24--14 PLC Project #12 |

521
(4)

| | |
| --- | --- |
| | Worksheet 24--15 PLC Project #13 |

525
(2)

| | |
| --- | --- |
| | Worksheet 24--16 PLC Project #14 |

527
(2)

| | |
| --- | --- |
| | Worksheet 24--17 PLC Project #15 |

529
(2)

| | |
| --- | --- |
| | Worksheet 24--18 PLC Project #16 |

531
(2)
533
(6)
533
(6)

| | |
| --- | --- |
| | Section 4 Welding Knowledge |

539
(66)
539
(18)

| | |
| --- | --- |
| | Worksheet 26--1 Gas Welding: The Cylinder |

539
(2)

| | |
| --- | --- |
| | Worksheet 26--2 Gas Welding: The Blowtorch |

541
(2)

| | |
| --- | --- |
| | Worksheet 26--3 Gas Welding: Gas Identification |

543
(2)

| | |
| --- | --- |
| | Worksheet 26--4 Gas Welding: Setup Procedures |

545
(2)

| | |
| --- | --- |
| | Worksheet 26--5 Gas Welding: Shutdown Procedures |

547
(2)

| | |
| --- | --- |
| | Worksheet 26--6 Gas Welding: Flame Types |

549
(2)

| | |
| --- | --- |
| | Worksheet 26--7 Gas Welding: Weld Types |

551
(2)

| | |
| --- | --- |
| | Worksheet 26--8 Gas Welding: Joint Types |

553
(2)

| | |
| --- | --- |
| | Worksheet 26--9 Gas Welding: Welding Positions |

555
(2)
557
(24)

| | |
| --- | --- |
| | Worksheet 27--1 Arc Welding: Safety |

557
(2)

| | |
| --- | --- |
| | Worksheet 27--2 Arc Welding: Electrical Quantities |

559
(2)

| | |
| --- | --- |
| | Worksheet 27--3 Arc Welding: Arc Polarity |

561
(2)

| | |
| --- | --- |
| | Worksheet 27--4 Arc Welding: Components |

563
(2)

| | |
| --- | --- |
| | Worksheet 27--5 Arc Welding: Electrode Identification---Part 1 |

565
(2)

| | |
| --- | --- |
| | Worksheet 27--6 Arc Welding: Electrode Identification---Part 2 |

567
(2)

| | |
| --- | --- |
| | Worksheet 27--7 Arc Welding: Striking The Arc |

569
(2)

| | |
| --- | --- |
| | Worksheet 27--8 Arc Welding: Running A Bead |

571
(2)

| | |
| --- | --- |
| | Worksheet 27--9 Arc Welding: Weld Types |

573
(2)

| | |
| --- | --- |
| | Worksheet 27--10 Arc Welding: Joint Types |

575
(2)

| | |
| --- | --- |
| | Worksheet 27--11 Arc Welding: Welding Positions---Part 1 |

577
(2)

| | |
| --- | --- |
| | Worksheet 27--12 Arc Welding: Welding Positions---Part 2 |

579
(2)

| | |
| --- | --- |
| | Section 5 Preventive Maintenance |

| | |
| --- | --- |
| | Preventive Maintenance---Developing and Implementing |

581
(8)

| | |
| --- | --- |
| | Worksheet 28--1 Maintenance Log---Part 1 |

581
(2)

| | |
| --- | --- |
| | Worksheet 28--2 Maintenance Log---Part 2 |

583
(2)

| | |
| --- | --- |
| | Worksheet 28--3 PM Planning |

585
(2)

| | |
| --- | --- |
| | Worksheet 28--4 Maintenance Log |

587
(2)
589
(12)

| | |
| --- | --- |
| | Worksheet 29--1 Bearing Failure |

589
(2)

| | |
| --- | --- |
| | Worksheet 29--2 Gearbox Failure |

591
(2)

| | |
| --- | --- |
| | Worksheet 29--3 Inspection of Seals |

593
(2)

| | |
| --- | --- |
| | Worksheet 29--4 Mechanical PMs: Equipment Information |

595
(2)

| | |
| --- | --- |
| | Worksheet 29--5 Mechanical PMs: Inspection Checklist |

597
(2)

| | |
| --- | --- |
| | Worksheet 29--6 Mechanical PMs: Repair Information |

599
(2)
601
(4)

| | |
| --- | --- |
| | Worksheet 30--1 Electrical PMs: Equipment Information |

601
(2)

| | |
| --- | --- |
| | Worksheet 30--2 Electrical PMs: Inspection Checklist |

603
(2)

| | |
| --- | --- |
| | Worksheet 30--3 Electrical PMs: Repair Information |

605