Note: Supplemental materials are not guaranteed with Rental or Used book purchases.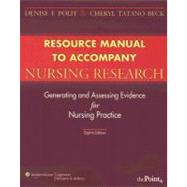 Related Products
Summary
This Resource Manual with its accompanying "Toolkit" CD-ROM is a study guide that provides abundant research tools unlike any on the market! The Resource Manual provides exercises corresponding to each chapter from Polit and Beck's Nursing Research, with a focus on critiquing actual studies. Students will find such comprehensive assets as 11 complete research reports covering a range of nursing research endeavors; full critiques of two systematic reviews providing models for a comprehensive research critique; and a never-before-published funded NINR grant application. The free accompanying Toolkit CD-ROM offers dozens of resources for conducting research that can be downloaded and used directly or adapted. The resources reflect best-practice research material, most of which has been pre-tested and refined in the authors' own research, including such tools as: templates for wording research questions; informed consent forms; a confidentiality pledge for research staff; literature review protocols; content validity forms; and much, much more.
Table of Contents
Foundations of Nursing Research and Evidence-Based Practice
p. 1
Introduction to Nursing Research in an Evidence-Based Practice Environment
p. 2
Translating Research Evidence Into Nursing Practice: Evidence-Based Nursing
p. 7
Generating Evidence: Key Concepts and Steps in Qualitative and Quantitative Research
p. 12
Conceptualizing a Study to Generate Evidence for Nursing
p. 19
Conceptualizing Research Problems, Research Questions, and Hypotheses
p. 20
Finding and Critiquing Evidence: Research Literature Reviews
p. 25
Developing a Theoretical or Conceptual Context
p. 31
Generating Research Evidence Ethically
p. 36
Designing a Study to Generate Evidence for Nursing
p. 43
Planning a Nursing Study
p. 44
Developing an Approach for a Qualitative Study
p. 49
Designing Quantitative Studies
p. 55
Enhancing Rigor in Quantitative Research
p. 60
Undertaking Research for Specific Purposes
p. 66
Developing a Sampling Plan
p. 72
Collecting Research Data
p. 77
Designing and Implementing a Data Collection Plan
p. 78
Collecting Unstructured Data
p. 84
Collecting Structured Data
p. 89
Assessing Measurement Quality in Quantitative Studies
p. 97
Developing and Testing Self-Report Scales
p. 102
Analyzing and Interpreting Research Data
p. 107
Analyzing Qualitative Data
p. 108
Enhancing Quality and Integrity in Qualitative Research
p. 115
Describing Data Through Statistics
p. 120
Using Inferential Statistics to Test Hypotheses
p. 127
Using Multivariate Statistics to Analyze Complex Relationships
p. 135
Designing a Quantitative Analysis Strategy: From Data Collection to Interpretation
p. 141
Building an Evidence Base for Nursing Practice
p. 147
Integrating Research Evidence: Meta-Analysis and Metasynthesis
p. 148
Disseminating Evidence: Reporting Research Findings
p. 155
Writing Proposals to Generate Evidence
p. 159
Research Reports
p. 165
Grant Application
p. 304
Answers to Selected Resource Manual Exercises
p. 345
Answers to Crossword Puzzles
p. 374
Table of Contents provided by Ingram. All Rights Reserved.