Note: Supplemental materials are not guaranteed with Rental or Used book purchases.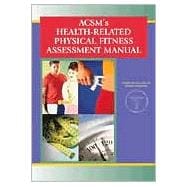 ACSM's Health-Related Physical Fitness Assessment Manual
ISBN13:
9780781734714
by
Unknown
Related Products
Summary
This new text from the American College of Sports Medicine (ACSM) contains information necessary to develop skills for assessing an individual's health-related physical fitness. It provides the reader with a practical how-to-do-it approach for performing these assessment skills effectively, and an understanding of the theory behind and the importance of each skill or assessment. Reported errors associated with each test are also given, and a step-by-step instruction of the skills is provided in order for the reader to gain proficiency through practice. Illustrations and tables supplement the text and enhance learning.
Table of Contents
Preface
v
Credits
vi
Acknowledgments
vii
1
(12)

| | |
| --- | --- |
| | Defining Physical Fitness |

2
(1)

| | |
| --- | --- |
| | Health-Related Physical Fitness |

3
(4)

| | |
| --- | --- |
| | Components of Health-Related Physical Fitness |

4
(1)
4
(1)

| | |
| --- | --- |
| | Test for Components of Health-Related Physical Fitness |

4
(1)

| | |
| --- | --- |
| | Importance of Health-Related Physical Fitness |

4
(1)

| | |
| --- | --- |
| | Measuring Health-Related Physical Fitness |

5
(2)

| | |
| --- | --- |
| | Health-Related Physical Fitness, Exercise, and Physical Activity |

7
(1)

| | |
| --- | --- |
| | Testing and Measurement Primer |

7
(5)

| | |
| --- | --- |
| | Test Choice Considerations |

8
(1)

| | |
| --- | --- |
| | Pretest Instructions, Environment, and Order |

9
(1)

| | |
| --- | --- |
| | Testing Session Organization: Resting Versus Exercise Testing |

9
(1)

| | |
| --- | --- |
| | Test Score Interpretation: Criterion-Referenced Standards Versus Normative Data |

10
(2)
12
(1)
12
(1)
13
(14)

| | |
| --- | --- |
| | Pre-Activity Screening Guidelines |

14
(2)

| | |
| --- | --- |
| | Medical History/Health Habits Questionnaire |

15
(1)

| | |
| --- | --- |
| | Physical Activity Readiness Questionnaire (PAR-Q) |

15
(1)

| | |
| --- | --- |
| | Medical/Health Examination |

15
(1)
16
(6)

| | |
| --- | --- |
| | ACSM Guidelines: Risk Stratification Strata |

16
(1)

| | |
| --- | --- |
| | ACSM Coronary Artery Disease Risk Factor Thresholds Used With Risk Stratification |

16
(3)

| | |
| --- | --- |
| | ACSM Major Signs or Symptoms Suggestive of Cardiopulmonary Disease |

19
(1)

| | |
| --- | --- |
| | ACSM Recommendations for a Medical Examination and Exercise Test Based on Risk Stratification |

20
(1)

| | |
| --- | --- |
| | ACSM Risk Stratification Case Study |

21
(1)
22
(1)

| | |
| --- | --- |
| | Subject Interview/Orientation for Quiet Tests |

22
(1)

| | |
| --- | --- |
| | Explanation of Procedures |

22
(1)

| | |
| --- | --- |
| | Subject Interview/Orientation for Exercise Tests |

23
(1)

| | |
| --- | --- |
| | Explanation of Procedures |

23
(1)

| | |
| --- | --- |
| | Explanation of Other Fitness Tests |

24
(1)
24
(1)
24
(1)
25
(2)

| | |
| --- | --- |
| | Resting and Exercise Blood Pressure and Heart Rate |

27
(16)
28
(1)
28
(1)

| | |
| --- | --- |
| | Cardiovascular Hemodynamics |

28
(1)

| | |
| --- | --- |
| | Measurement of Blood Pressure |

29
(3)
29
(1)
30
(1)

| | |
| --- | --- |
| | Instruments Used for Blood Pressure Measurement |

30
(1)

| | |
| --- | --- |
| | Calibration of an Aneroid Sphygmomanometer |

31
(1)

| | |
| --- | --- |
| | Procedures for Resting Blood Pressure Measurement |

32
(4)

| | |
| --- | --- |
| | Augmentation of Sounds of Korotkoff |

35
(1)

| | |
| --- | --- |
| | Norms for Resting Blood Pressure |

35
(1)

| | |
| --- | --- |
| | Exercise Blood Pressure Measurement |

36
(2)

| | |
| --- | --- |
| | Some Specific Suggestions for Measuring Exercise Blood Pressure |

36
(1)

| | |
| --- | --- |
| | Norms for Exercise Blood Pressure |

37
(1)

| | |
| --- | --- |
| | Blood Pressure Calculations |

38
(1)

| | |
| --- | --- |
| | Measurement of Heart Rate |

38
(2)
38
(1)

| | |
| --- | --- |
| | Norms for Resting Heart Rate |

39
(1)

| | |
| --- | --- |
| | Measurement of Exercise Heart Rate |

40
(1)

| | |
| --- | --- |
| | Rate Pressure Product or Double Product |

40
(1)
41
(1)
41
(1)
41
(2)
43
(30)

| | |
| --- | --- |
| | Defining Body Composition |

44
(1)

| | |
| --- | --- |
| | Health Implications of Obesity |

44
(1)

| | |
| --- | --- |
| | Anthropometry--Body Composition |

44
(24)

| | |
| --- | --- |
| | Procedures for Height and Weight |

47
(1)
47
(1)
48
(2)
50
(3)
53
(13)

| | |
| --- | --- |
| | Bioelectrical Impedance Analysis |

66
(1)
67
(1)

| | |
| --- | --- |
| | Summary of Body Composition Methodology |

68
(3)

| | |
| --- | --- |
| | Calculation of Ideal or Desired Body Weight |

70
(1)

| | |
| --- | --- |
| | Simple Weight Management: Application of Calorie Determination |

71
(1)
71
(1)
71
(2)

| | |
| --- | --- |
| | Muscular Fitness: Muscular Strength, Muscular Endurance, and Flexibility |

73
(14)

| | |
| --- | --- |
| | Defining Muscular Strength |

74
(1)

| | |
| --- | --- |
| | Defining Muscular Endurance |

74
(1)

| | |
| --- | --- |
| | Common Assessments for Muscular Strength |

74
(3)
74
(1)

| | |
| --- | --- |
| | 1-Repetition Maximum (RM) Bench Press Test |

75
(2)
77
(1)

| | |
| --- | --- |
| | Common Assessments for Muscular Endurance |

77
(3)

| | |
| --- | --- |
| | Partial Curl-Up and Push-Up Tests |

77
(2)
79
(1)
80
(3)

| | |
| --- | --- |
| | Sit and Reach Test (Trunk Flexion) |

81
(1)
82
(1)

| | |
| --- | --- |
| | Recommended Equipment for Additional Tests |

83
(1)
84
(1)
85
(2)

| | |
| --- | --- |
| | Cardiorespiratory Fitness Measurement: Step Tests and Field Tests to Predict Cardiorespiratory Fitness |

87
(8)

| | |
| --- | --- |
| | The Continuum of Measurement of CRF |

88
(1)

| | |
| --- | --- |
| | Importance of Measurement of CRF |

88
(1)
89
(1)
89
(2)

| | |
| --- | --- |
| | Queens College Step Test Procedures |

90
(1)

| | |
| --- | --- |
| | Field Tests for Prediction of Aerobic Capacity |

91
(1)

| | |
| --- | --- |
| | Walk/Run Performance Tests |

91
(1)

| | |
| --- | --- |
| | Standards for Maximum Oxygen Uptake: VO2max |

92
(1)
93
(1)
93
(1)
94
(1)

| | |
| --- | --- |
| | Laboratory Submaximal Exercise Testing: YMCA Cycle Ergometer Test, Astrand Cycle Ergometer Test, and the Bruce Submaximal Treadmill Test |

95
(20)

| | |
| --- | --- |
| | Defining Submaximal Testing |

97
(1)

| | |
| --- | --- |
| | Submaximal Cycle Ergometry Calculations |

97
(1)
98
(1)

| | |
| --- | --- |
| | Advantages of Cycle Ergometry in Exercise Testing |

98
(1)

| | |
| --- | --- |
| | Disadvantages of Cycle Ergometry in Exercise Testing |

99
(1)

| | |
| --- | --- |
| | Submaximal Prediction of Cardiorespiratory Fitness (CRF) |

99
(1)
99
(1)

| | |
| --- | --- |
| | Sources of Error in Submaximal Prediction |

100
(1)

| | |
| --- | --- |
| | Submaximal Exercise Testing |

100
(2)

| | |
| --- | --- |
| | Test Termination Criteria |

100
(1)
100
(1)

| | |
| --- | --- |
| | General Procedures for Laboratory Submaximal Exercise Testing |

101
(1)

| | |
| --- | --- |
| | YMCA Submaximal Cycle Ergometer Test Procedures |

102
(6)
102
(2)

| | |
| --- | --- |
| | YMCA Submaximal Cycle Ergometer Protocol |

104
(2)

| | |
| --- | --- |
| | Prediction of CRF or Maximal Aerobic Capacity (VO2max) From YMCA Results |

106
(2)

| | |
| --- | --- |
| | Astrand Submaximal Cycle Ergometer Test Procedures |

108
(3)

| | |
| --- | --- |
| | Prediction of Maximal Aerobic Capacity (VO2max) From Astrand Results |

109
(2)

| | |
| --- | --- |
| | Bruce Submaximal Treadmill Exercise Test Procedures |

111
(2)
113
(1)
113
(1)
114
(1)
115
(14)

| | |
| --- | --- |
| | What Is the Purpose of a Maximal GXT? |

116
(1)

| | |
| --- | --- |
| | Who Should Have a Maximal GXT (and Current Medical Examination) Before Starting a Moderate (or Vigorous) Exercise Program? |

116
(1)

| | |
| --- | --- |
| | Should a Physician Be Present to `Supervise' the Maximal GXT? |

117
(1)

| | |
| --- | --- |
| | What Are the Personnel Needs for Conducting the Maximal GXT? |

117
(1)

| | |
| --- | --- |
| | Which Protocol(s) and Procedures Should Be Used With a Maximal GXT? |

117
(8)
117
(2)
119
(1)

| | |
| --- | --- |
| | Balke-Ware Treadmill Protocol |

120
(1)
120
(1)
120
(2)
122
(3)

| | |
| --- | --- |
| | What Are the Maximal GXT Contraindications and Test Termination Criteria? |

125
(1)

| | |
| --- | --- |
| | Prediction of Maximal Aerobic Capacity (VO2max) From Bruce Protocol Performance? |

125
(2)

| | |
| --- | --- |
| | VO2max From Total Test Time (TT) |

125
(1)

| | |
| --- | --- |
| | Prediction Equation Using Total Test Time Cubed (TT3) |

126
(1)

| | |
| --- | --- |
| | MET Cost Estimates of Each Minute |

127
(1)
127
(1)
128
(1)
128
(1)

| | |
| --- | --- |
| | Interpretation of Assessment Results: Case Studies |

129
(18)
130
(1)
130
(8)

| | |
| --- | --- |
| | Medical History (Health History Questionnaire) |

130
(1)

| | |
| --- | --- |
| | Health Behavior Habits (Health History Questionnaire) |

131
(2)

| | |
| --- | --- |
| | Pre-Activity Screening (ACSM Risk Stratification Table) |

133
(1)

| | |
| --- | --- |
| | Body Composition Data (Anthropometry Data Form) |

133
(2)

| | |
| --- | --- |
| | Muscular Strength, Muscular Endurance, Flexibility Data Form |

135
(1)

| | |
| --- | --- |
| | Cardiorespiratory Fitness Data |

136
(2)
138
(1)
138
(9)

| | |
| --- | --- |
| | Health-Related Physical Fitness Forms |

139
(6)
145
(2)
Appendix A Conversions
147
(2)
Appendix B Risk Stratification Cases
149
(12)
Appendix C Forms
161
(14)
Index
175