Note: Supplemental materials are not guaranteed with Rental or Used book purchases.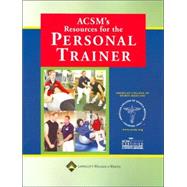 ACSM's Resources for the Personal Trainer
ISBN13:
9780781787451
by
Unknown
Summary
This valuable resource is the official ACSM preparatory tool for The ACSM Certified Personal Trainer(SM) exam. It provides essential, foundational expertise for professionals involved in developing and implementing an individualized approach to exercise leadership in healthy populations and/or those individuals with medical clearance to exercise. It covers the fundamental knowledge, skills, and abilities (KSAs) used to improve, maintain, and/or optimize health-related components of physical fitness and performance. This resource includes information on writing appropriate exercise recommendations, leading and demonstrating safe and effective methods of exercise, and motivating individuals to begin and to continue with their healthy behaviors.
Table of Contents
1
(2)

| | |
| --- | --- |
| | Exercise Physiology and Related Exercise Science |

3
(34)

| | |
| --- | --- |
| | Bone, Skeletal Muscle, and Connective Tissue |

4
(6)

| | |
| --- | --- |
| | Structure and Function of Joints in Movement |

4
(1)
5
(2)

| | |
| --- | --- |
| | Anatomical Locations Definitions |

7
(1)

| | |
| --- | --- |
| | Common Movement Terms Definitions |

7
(1)
8
(1)
9
(1)

| | |
| --- | --- |
| | Muscle Sense Organs/Myotatic Stretch Reflex |

9
(1)

| | |
| --- | --- |
| | Anatomy of the Cardiovascular System |

10
(3)
10
(1)

| | |
| --- | --- |
| | Tissue Coverings and Layers of the Heart |

| | |
| --- | --- |
| | Chambers, Valves, and Blood Flow of the Heart |

11
(1)

| | |
| --- | --- |
| | Anatomical Sites for Peripheral Pulses |

12
(1)
12
(1)

| | |
| --- | --- |
| | Anatomy of the Respiratory System |

13
(2)
13
(1)

| | |
| --- | --- |
| | Distribution of Ventilation |

13
(1)
13
(1)
14
(1)
14
(1)

| | |
| --- | --- |
| | Distribution of Blood Flow |

15
(1)
15
(3)
15
(1)
15
(1)

| | |
| --- | --- |
| | Forces Acting during Human Movement |

16
(1)

| | |
| --- | --- |
| | Application to Human Movement |

17
(1)

| | |
| --- | --- |
| | Aerobic and Anaerobic Metabolism |

18
(1)

| | |
| --- | --- |
| | Adenosine Triphosphate (ATP) |

18
(1)

| | |
| --- | --- |
| | Creatine Triphosphate (CP) |

18
(1)
18
(1)
18
(1)
19
(1)

| | |
| --- | --- |
| | Normal, Acute Responses to Cardiovascular Exercise |

19
(2)
19
(1)
19
(1)
20
(1)

| | |
| --- | --- |
| | Arteriovenous Oxygen Difference |

20
(1)
20
(1)
20
(1)
20
(1)

| | |
| --- | --- |
| | Maximal Oxygen Consumption |

20
(1)

| | |
| --- | --- |
| | Normal, Chronic Physiological Adaptations Associated with Cardiovascular Exercise |

21
(2)
21
(1)

| | |
| --- | --- |
| | Cardiovascular Adaptations |

21
(1)

| | |
| --- | --- |
| | Arteriovenous Oxygen Difference |

| | |
| --- | --- |
| | Systolic and Diastolic Blood Pressure |

| | |
| --- | --- |
| | Gender-Specific Improvement |

22
(1)

| | |
| --- | --- |
| | Program Variation/Periodization of Cardiovascular Training |

22
(1)

| | |
| --- | --- |
| | Normal, Acute Responses to Resistance Training |

23
(1)

| | |
| --- | --- |
| | Heart Rate and Blood Pressure |

23
(1)

| | |
| --- | --- |
| | Stroke Volume and Cardiac Output |

23
(1)

| | |
| --- | --- |
| | Normal, Chronic Physiological Adaptations Associated with Resistance Training |

23
(6)
24
(1)

| | |
| --- | --- |
| | Muscle Fiber Transformation |

24
(1)
24
(1)
25
(1)

| | |
| --- | --- |
| | Neural Adaptations with Resistance Training |

25
(1)

| | |
| --- | --- |
| | Cardiovascular Adaptations |

25
(1)

| | |
| --- | --- |
| | Heart Rate and Blood Pressure |

26
(1)

| | |
| --- | --- |
| | Program Variation/Periodization for Resistance Training |

27
(1)

| | |
| --- | --- |
| | Classical Periodization Model |

| | |
| --- | --- |
| | Nonlinear Periodization Model |

| | |
| --- | --- |
| | Muscular Strength and Endurance |

28
(1)

| | |
| --- | --- |
| | Physiologic Principles Related to Warm-up and Cool-down |

29
(1)
29
(2)

| | |
| --- | --- |
| | Short-Duration, High-Intensity Exercise |

29
(1)
29
(1)
30
(1)
30
(1)
30
(1)
31
(6)

| | |
| --- | --- |
| | Cardiovascular Detraining |

31
(1)

| | |
| --- | --- |
| | Stroke Volume and Heart Size |

| | |
| --- | --- |
| | Heart Rate during Maximal and Submaximal Exercise |

31
(1)

| | |
| --- | --- |
| | Muscular Adaptations that Persist with Detraining |

32
(1)

| | |
| --- | --- |
| | Reduced Training Rather than Detraining |

32
(1)

| | |
| --- | --- |
| | Deconditioning and Bed Rest: Induced Effects on Bone Health |

32
(1)
32
(1)
32
(1)

| | |
| --- | --- |
| | Deconditioning and Bed Rest: Musculoskeletal Response |

32
(1)

| | |
| --- | --- |
| | Consequences on Reduced Use (Unloading) on Skeletal Muscle |

32
(1)
33
(4)

| | |
| --- | --- |
| | Exercise Prescription and Programming |

37
(20)

| | |
| --- | --- |
| | General Principles of Fitness |

38
(1)

| | |
| --- | --- |
| | Principles of Exercise Adaptation |

38
(1)

| | |
| --- | --- |
| | Medical Clearance and Supervision |

38
(1)
38
(1)

| | |
| --- | --- |
| | Components of an Exercise Session |

38
(1)

| | |
| --- | --- |
| | Conditioning for Health versus Fitness |

39
(1)

| | |
| --- | --- |
| | Muscular Strength and Endurance |

39
(5)

| | |
| --- | --- |
| | Resistance Training Program Considerations |

39
(2)

| | |
| --- | --- |
| | Health and Fitness Status |

| | |
| --- | --- |
| | Types of Resistance Training Equipment |

| | |
| --- | --- |
| | Guidelines for Developing Muscular Fitness |

41
(1)
41
(1)

| | |
| --- | --- |
| | Resistance Training for Special Populations |

41
(3)

| | |
| --- | --- |
| | Exercise Recommendations for Flexibility and Range of Motion |

44
(4)

| | |
| --- | --- |
| | Who Should and Should Not Stretch? |

44
(1)
44
(1)

| | |
| --- | --- |
| | Frequency and Duration of Training Devoted to Flexibility |

45
(1)

| | |
| --- | --- |
| | Techniques Used to Gain Flexibility |

45
(1)

| | |
| --- | --- |
| | Active Assistive Stretching |

| | |
| --- | --- |
| | Proprioceptive Neuromuscular Facilitation |

| | |
| --- | --- |
| | Dynamic, Phasic, or Ballistic Stretching |

46
(2)

| | |
| --- | --- |
| | Specificity of Exercise Training and Testing |

48
(3)

| | |
| --- | --- |
| | Energy Systems and Fiber Type |

48
(1)

| | |
| --- | --- |
| | Endurance and Strength Training |

| | |
| --- | --- |
| | Effects of Endurance Training on Strength |

| | |
| --- | --- |
| | Specificity of Muscle Group |

48
(1)

| | |
| --- | --- |
| | Specificity of Movement Pattern |

49
(1)

| | |
| --- | --- |
| | Body Position and Movement Pattern |

| | |
| --- | --- |
| | Static versus Dynamic Contractions |

| | |
| --- | --- |
| | Concentric versus Eccentric Contractions |

| | |
| --- | --- |
| | Intensity, Frequency, and Duration of Contractions |

| | |
| --- | --- |
| | Specificity and Other Components of Fitness |

50
(1)

| | |
| --- | --- |
| | Cardiorespiratory Endurance |

| | |
| --- | --- |
| | Medical Complications of Exercise |

51
(6)

| | |
| --- | --- |
| | Cardiovascular Complications of Exercise |

51
(1)

| | |
| --- | --- |
| | Complications in Those with Coronary Heart Disease |

| | |
| --- | --- |
| | Complications in Those with Cardiac Structural Defects |

| | |
| --- | --- |
| | Anomalous Coronary Artery |

| | |
| --- | --- |
| | Complications of Exercise Testing |

52
(2)

| | |
| --- | --- |
| | Contraindications to Exercise Testing |

| | |
| --- | --- |
| | Indications to Stop an Exercise Test |

| | |
| --- | --- |
| | Follow-up after Terminating an Exercise Test |

| | |
| --- | --- |
| | Noncardiovascular Complications of Exercise |

54
(1)

| | |
| --- | --- |
| | Hydration-Related Complications |

| | |
| --- | --- |
| | Complications in Special Populations |

55
(2)
57
(14)

| | |
| --- | --- |
| | Principles for Changing Health Behavior |

58
(3)

| | |
| --- | --- |
| | Health Behavior Change Model |

58
(3)

| | |
| --- | --- |
| | Other Incentives and Disincentives |

61
(1)

| | |
| --- | --- |
| | Exercise Professional Qualities |

| | |
| --- | --- |
| | Methods for Changing Health Behaviors |

61
(5)
61
(1)
62
(4)

| | |
| --- | --- |
| | Psychological Components of Successful Behavior Change |

| | |
| --- | --- |
| | Strategies to Improve Behavioral Change Outcomes |

| | |
| --- | --- |
| | Practical Recommendations to Enhance Exercise Adherence |

| | |
| --- | --- |
| | Recruit Physician Support of the Exercise Program |

| | |
| --- | --- |
| | Minimize Injuries and/or Complications with a Moderate Exercise Prescription |

| | |
| --- | --- |
| | Advocate Exercising with Others |

| | |
| --- | --- |
| | Emphasize Variety and Enjoyment in the Exercise Program |

| | |
| --- | --- |
| | Provide Positive Reinforcement through Periodic Testing |

| | |
| --- | --- |
| | Recruit Support of the Program Among Family and Friends |

| | |
| --- | --- |
| | Include an Optional Recreational Game to the Conditioning Program Format |

| | |
| --- | --- |
| | Establish Regularity of Workouts |

| | |
| --- | --- |
| | Use Progress Charts to Record Exercise Achievements |

| | |
| --- | --- |
| | Recognize Participant Accomplishments through a System of Rewards |

| | |
| --- | --- |
| | Provide Qualified, Enthusiastic Exercise Professionals |

| | |
| --- | --- |
| | Population-Specific Barriers to Physical Activity |

66
(5)

| | |
| --- | --- |
| | Function 1: Developing Rapport and Conveying Empathy |

66
(1)

| | |
| --- | --- |
| | Expressing Empathy through Active Listening |

| | |
| --- | --- |
| | Function 2: Assessing Readiness to Change |

67
(1)

| | |
| --- | --- |
| | Function 3: Facilitating Change |

68
(3)

| | |
| --- | --- |
| | The Certified Personal Trainer's Role |

| | |
| --- | --- |
| | Using Feedback Appropriately |

| | |
| --- | --- |
| | Health Appraisal, Fitness Exercise Testing |

71
(20)

| | |
| --- | --- |
| | Preparticipation Health Appraisal in the Nonmedical Setting |

72
(2)
73
(1)
73
(1)

| | |
| --- | --- |
| | Cardiorespiratory Assessment of Apparently Healthy Populations |

74
(3)
75
(1)

| | |
| --- | --- |
| | Submaximal Exercise Testing |

75
(1)

| | |
| --- | --- |
| | Considerations with Submaximal Exercise Testing |

| | |
| --- | --- |
| | Individual Monitoring and Abnormal Responses |

76
(1)
77
(1)

| | |
| --- | --- |
| | Assessment of Muscular Strength and Endurance |

77
(3)
78
(1)
78
(1)

| | |
| --- | --- |
| | Measurement of Muscular Strength |

78
(1)

| | |
| --- | --- |
| | Measurement of Muscular Endurance |

79
(1)

| | |
| --- | --- |
| | Measuring Muscle Endurance Statically |

| | |
| --- | --- |
| | Measuring Muscle Endurance Dynamically |

| | |
| --- | --- |
| | Flexibility and Range of Motion |

80
(2)
80
(1)

| | |
| --- | --- |
| | Visual Estimate versus Measured ROM |

| | |
| --- | --- |
| | Active versus Passive Movement |

80
(1)

| | |
| --- | --- |
| | Group and Field Flexibility Screening |

80
(2)
82
(1)

| | |
| --- | --- |
| | Identifying Risk Factors for Activity |

82
(1)
82
(9)
83
(2)

| | |
| --- | --- |
| | Bioelectrical Impedance Analysis |

85
(1)
85
(1)
86
(1)

| | |
| --- | --- |
| | Resources for Body Composition Assessment |

87
(1)

| | |
| --- | --- |
| | Details Regarding Anthropometric Data |

87
(1)

| | |
| --- | --- |
| | Assessment throughout the Life Cycle |

88
(3)

| | |
| --- | --- |
| | Safety, Injury Prevention, and Emergency Procedures |

91
(9)

| | |
| --- | --- |
| | Benefits and Risks Associated with Exercise |

92
(1)
92
(1)

| | |
| --- | --- |
| | Recommendations to Reduce the Incidence and Severity of Complications during Exercise |

92
(1)

| | |
| --- | --- |
| | Ensure Medical Clearance and Follow-up |

92
(1)

| | |
| --- | --- |
| | Provide On-site Medical Supervision, If Necessary |

92
(1)

| | |
| --- | --- |
| | Establish an Emergency Plan |

93
(1)
93
(1)

| | |
| --- | --- |
| | Initially Encourage Mild-to-Moderate Exercise Intensity |

93
(1)

| | |
| --- | --- |
| | Emergency Procedures and Exercise Safety |

93
(1)
94
(1)
94
(1)

| | |
| --- | --- |
| | Risk Factors for Musculoskeletal Injury |

94
(1)

| | |
| --- | --- |
| | Exercise-Related Injuries |

95
(3)

| | |
| --- | --- |
| | Treatment for Exercise-Related Injuries |

95
(1)

| | |
| --- | --- |
| | Specific Injuries/Conditions |

96
(2)

| | |
| --- | --- |
| | Dizziness and Syncope (Fainting) |

| | |
| --- | --- |
| | Hypoglycemia and Hyperglycemia |

98
(1)
98
(2)
100
(1)

| | |
| --- | --- |
| | Contraindicated and High-Risk Exercises |

100