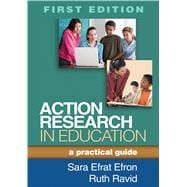 Questions About This Book?
What version or edition is this?
This is the edition with a publication date of 3/29/2013.
What is included with this book?
The New copy of this book will include any supplemental materials advertised. Please check the title of the book to determine if it should include any CDs, lab manuals, study guides, etc.
The eBook copy of this book is not guaranteed to include any supplemental materials. Typically only the book itself is included.
Summary
This accessible, pragmatic text shows educators step by step how to conduct classroom- and school-based studies to improve instructional practices. The book presents methods and strategies for implementing each stage of the action research cycle, providing balanced coverage of qualitative, quantitative, and mixed methods approaches. Readers learn how to: select and define a research topic; develop a literature review; choose a design; formulate data collection strategies; design and/or evaluate assessment tools; and interpret, analyze, and report study results. Helpful examples and vignettes depict a variety of real-world teaching and learning situations, school subjects, and age groups (PreK/n-/12). Pedagogical features include: exercises and activities in every chapter checklists, guidelines, and templates that enable busy educators to self-assess the progress and quality of their studies example boxes illustrating the components of an action research report summary tables highlighting key aspects of different research strategies chapter summaries and suggestions for further reading.
Author Biography
Sara Efrat Efron, EdD, is Professor of Education at National Louis University, where she teaches courses in qualitative research, curriculum studies, and foundations of education, to preservice, inservice, and doctoral students. Dr. Efron's areas of interest include teacher research, the role of the teacher's personal voice, and moral democratic education. Ruth Ravid, PhD, is Professor Emerita of Education at National Louis University. Her areas of interest include educational research, action research, assessment, and school-university collaboration. Dr. Ravid is the author of several books, including Practical Statistics for Educators.
Table of Contents
1. Introduction to Action Research * What Is Educational Research? * Practitioners as Researchers * Historical Perspectives * The Unique Characteristics of Action Research * Chapter Summary * Chapter Exercises and Activities * Additional Readings 2. Choosing and Learning about Your Research Topic * Choosing Your Research Topic * Framing the Research Problem Statement Box 2.1. Research Problem Statement of a Sixth-Grade Teacher Conducting Research to Determine the Success of Applying Differentiated Instruction in Her Classroom * Developing the Literature Review Step 1. Locating Sources for the Literature Review Step 2. Reading Literature to Identify Themes Step 3. Constructing a Literature Review Outline Step 4. Writing the Literature Review Introduction Main Section of the Review Box 2.2. An Example of an Opening Paragraph from the Main Section of the Literature Review Box 2.3. An Example of a Paragraph from the Literature Review Box 2.4: An Opening Paragraph from the Literature Review: Moving from the General to the More Specific Summary and Concluding Remarks * Formulating Specific Research Question(s) Questions in Qualitative Action Research Questions in Quantitative Action Research Questions in Mixed-Methods Action Research Examples of Research Problems: From the General to the Specific * Chapter Summary * Chapter Exercises and Activities * Additional Readings 3. Approaches to Action Research * Educational Research Approaches * Qualitative Educational Research Assumptions about School Reality Research Purpose Researcher Role Research Process Common Qualitative Methods Case Study Research Ethnographic Research Narrative Research Critical Research * Quantitative Educational Research Assumptions about School Reality Research Purpose Researcher Role Research Process Common Quantitative Methods Experimental research Causal-Comparative (Ex Post Facto) Research Correlational Research Descriptive Research * Mixed-Methods Research Assumptions about School Reality Research Purpose Researcher Role Research Process Common Mixed Methods Embedded-Design Research Two-Phase Research Integrated Research * Choosing an Approach for Your Research Project Action Research Framework Personal Worldview Research Question * Chapter Summary * Chapter Exercises and Activities * Additional Readings 4. Developing a Plan of Action * Considering Your Role as a Researcher Box 4.1. A Researcher Role Statement * Establishing the Research Scope * Identifying the Research Site and Participants Research Site Box 4.2. An Excerpt from a Research Site Section Research Participants Box 4.3. A Description of Research Participants * Choosing Data Collection Procedures * Ensuring the Study's Validity and Trustworthiness Qualitative Studies Quantitative Studies Mixed-Methods Studies * Developing Ethical Guidelines Obtaining Permission to Conduct the Study Confidentiality of Data Collected Informed Consent Box 4.4. Sample Letter of Introduction Box 4.5. Sample Informed Consent Form Respect toward the Research Site Safety of the Participants Accurate Interpretation and Presentation of the Data * Creating a \u201cTo-Do\u201d List * Finalizing the Research Plan * Chapter Summary * Chapter Exercises and Activities * Additional Readings 5. Data Collection Tools * Observation Qualitative Observation The Process of Conducting Qualitative Observation Observation Protocol Observation Steps Behavior Log Photographs, Videotapes, and Audiotapes Quantitative Observation Tally Sheets Checklists Rating Scales * Interview Unstructured, Semistructured, and Structured Interviews Unstructured Interviews Semistructured Interviews Structured Interviews The Interview Process Developing the Interview Questions Conducting the Interview Before the Interview During the Interview After the Interview Focus Group Interview Online Interview * Surveys The Process of Conducting Surveys Writing the Survey Items: Types of Questions and Response Choices Suggestions for Writing Survey Questions Structured Responses Unstructured (Open-Ended) Responses * Artifacts and Documents Official and Personal Artifacts and Documents Teacher Journals * Summary of Data Collection Tools * Chapter Summary * Chapter Exercises and Activities * Additional Readings 6. Using Assessment Data in Action Research * Understanding Standardized Commercial Achievement Tests Norm-Referenced Commercial Tests Criterion-Referenced Commercial Tests * Writing Instructional Objectives Preparing a Table of Test Specifications * Constructing Teacher-Made Traditional Assessment Tools Writing Test Items Selection-Type Items Supply-Type Items Evaluating Traditional Teacher-Made Assessment Tools Content Validity and Reliability of Tests Looking at Students' Response Choices * Using Teacher-Made Authentic Assessment Tools Performance Assessment Curriculum-Based Measurement Using Rubrics to Assess Students' Performance Using Portfolios to Assess Students' Performance * Final Comments about Classroom Assessment * Chapter Summary * Chapter Exercises and Activities * Additional Readings 7. Data Analysis and Interpretation * Qualitative Data Analysis Preparation for Analysis Transforming Data into Readable Text Sorting the Data into Files Creating a Data File Organizer Immersing Yourself in the Data Analysis of the Data Using Predetermined Categories Using Emerging Categories Synthesis and Interpretation of the Data Identifying Patterns Creating a Concept Map Supporting the Findings with Evidence Validating the Interpretation Presentation of Data Analysis and Interpretation Reporting on the Analysis Process Reporting the Findings and Their Meanings * Quantitative Data Analysis Entering, Organizing, Graphing, and Tabulating Data Coding and Entering Data in Preparation for Data Analysis Creating Frequency Distributions Graphing Data Tabulating Data Computing Measures of Distribution Centers Mode Median Mean Outliers Computing Measures of Distribution Variability Range Standard Deviation Analyzing the Data Measures of Association Measures of Differences Evaluating the Statistical Findings Statistical Significance Practical Significance Presenting the Findings * Mixed-Methods Data Analysis Embedded Design Two-Phase Design Triangulation Design * Reporting the Study's Results, Conclusions, and Implications * Chapter Summary * Chapter Exercises and Activities * Additional Readings 8. Writing, Sharing, and Implementing the Research Findings * Writing a Formal Action Research Report Introduction Literature Review Methodology Participants and Site Data Collection Procedures Researcher Role Data Analysis Findings and Results Discussion and Implications References Appendix * Developing Alternative Formats for Reporting on Action Research Poster Presentation Research Portfolio Electronic Media Performance Presentation * Sharing the Research Findings * Implementing the Research Findings * Completing the Action Research Project * Becoming a Part of the Research Community * Chapter Summary * Chapter Exercises and Activities * Additional Readings