Note: Supplemental materials are not guaranteed with Rental or Used book purchases.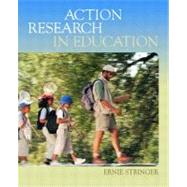 Summary
Informed by the author's years of field research, teaching, and consulting, this readable, accessible book will assist novice researchers to understand qualitative, action research. Up-to-date coverage based on the work of earlier researchers clearly delineates the place of action research in the current research methodology scene; and speaks directly to the needs of those involved on a daily basis with classrooms and schools. Defines action research and clarifies its nature, providing a clear description of the relationship between qualitative and quantitative research. Offers step-by-step procedures for planning, implementing, and evaluating the kind of research projects that help people use their own understanding and expertise to work systematically through a data gathering process, and, ultimately, find a solution to the problem they are investigating. Includes an entire chapter addressing design, ethics, and validity-examines sampling, informed consent, permissions, credibility, the index of engagement (excitement, interest, apathy, resistance), and other factors. Featuers an entire chapter on Data Gathering -details the techniques of information gathering from a variety of sources-interviews, surveys, records, artifacts, and others. Includes a discussion of the relationship between action research and common educational practices. For novice researchers and educators.
Table of Contents
The Purposes of Action Research
Understanding Action Research: Paradigms and Methods
Initiating a Study: Research Design
Gathering Information (Data Gathering)
Giving Voice: Data Analysis in Interpretive Research
Reporting: Communicating Research Processes and Outcomes
Taking Action: Passion, Purpose, and Pathways
Case Studies: Action Research Reports, Presentations, and Performances
Online Resources
Table of Contents provided by Publisher. All Rights Reserved.
Excerpts
Research--A Personal History Research has been part of my life since my childhood. At school I "researched" topics for class, carefully gathering material and sorting through it to select the most relevant information with which to formulate papers or presentations. In a high school physics class, I engaged in a small experiment with my teacher and classmates on a sports field. We used an empty can and a stopwatch to estimate the speed of sound. At that time, I also became fascinated by theories and experiments in cosmology and particle physics, which began a life-long fascination with explanations of the nature of the physical universe. As I write this book, I am struggling to read and understandFire in the Mind(Johnson, 1995), which seeks to elucidate the ways scientists try to explain the puzzling phenomena coming to them from the infinitely regressive micro-world of particle physics, and to juxtapose these explanations with theories emerging from their investigations of deep space--the cosmos. These first forays into the field of research expanded dramatically when I entered university and teacher training. In these contexts, I explored material derived from a wide range of experiments in the behavioral sciences, providing information about intelligence, personality, learning processes, child development, teaching strategies, and a host of related topics. This information helped me to grasp some of the fundamental features of human life--to know how and why people behaved as they did--and enabled me to understand more clearly how I could teach children effectively. This knowledge, sometimes laboriously acquired in education, psychology, and sociology classes, provided a wealth of information that still informs my educational practices. I've learned to understand the varying capabilities, capacities, and behaviors of young children as they grow into adulthood. I understand more clearly the conditions under which learning takes place and the different factors influencing educational achievement. As an experienced educator, I now draw from a considerable stock of knowledge as I organize the teaching/learning processes with the diverse groups of students who enter my classes. When I entered graduate school, my first research methods classes showed how these experiments were constructed and enacted and showed me how survey research, sometimes called quasi-experimental research, could further extend my understanding of the very complex problems involved in educating diverse populations. I learned how to perform research investigating the effects of factors like social class, gender, culture, and language on educational achievement, and to structure investigations exploring their relationship to employment, income, health status, and so on. Not only were my research skills increasing dramatically, but I was able to link knowledge available from research studies to theories of education, human behavior, and the social world. Research, therefore, has informed my educational practices and made them increasingly sophisticated and effective. I have become aware, however, of the limitations of the often abstract and highly generalized nature of much of the information I derive from the research literature. Much of it is compelling and makes a great deal of sense within the sophisticated and complex explanations contained with the theories of the academic disciplines--psychology, sociology, anthropology. But I have also learned that much of this theory is often irrelevant and lacks meaning or utility when applied to many of the deep-seated and long-term problems people experience in classrooms and schools. Although I became aware of these limitations as a graduate student at the University of Illinois, the full force of this paradox became apparent in the early 1980s when I started to engage in work in Aboriginal communities in remote regions of Australia.