Note: Supplemental materials are not guaranteed with Rental or Used book purchases.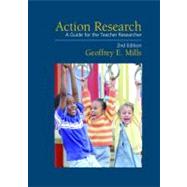 Action Research : A Guide for the Teacher Researcher
ISBN13:
9780130422545
by
Mills, Geoffrey E.
Summary
Born of the author's own experience working with teachers and principals, this book provides a step-by-step outline of how to "do" action research--backed by the most extensive theory and research coverage on the market today. The author guides future educators through the action research process via numerous concrete illustrations and a wealth of on-line resources; positioning it as a fundamental component of teaching, alongside curriculum development, assessment, and classroom management. This book guides readers through the writing process from getting started to getting published. It covers how and when to use computer software to assist with qualitative data analysis and ensures understanding of the crucial importance of thorough data collection to the success of any research. For professionals in the field of teaching.
Table of Contents
1. Understanding Action Research.
2. Deciding on an Area of Focus.
3. Data Collection Techniques.
4. Data Collection Considerations: Validity, Reliability, Generalizability, and Ethics.
5. Data Analysis and Interpretation.
6. Action Planning for Educational Change.
7. Sharing, Critiquing, and Celebrating Action Research On-Line.
8. Writing Up Action Research.
Appendix I: Action Research in Action: A Case Study of Curtis Elementary.
Appendix II: Descriptive Statistics and Action Research.
Appendix III: Displaying Data Visually.
Index.

Excerpts
The Role of Action Research in Effecting Educational Change Action research has the potential to be a powerful agent of educational change. Action research helps to develop teachers and administrators with professional attitudes that embrace action, progress, and reform rather than stability and mediocrity. In addition, the action research process fosters a democratic approach to decision making while, at the same time, it empowers individual teachers through participation in a collaborative, socially responsive research activity. Commitment to action research positions teachers and administrators as learners rather than experts. Those committed to action research will willingly undertake continued professional development because they believe that there is a gap between the real world of their daily teaching practices and their vision of an ideal one. Incorporating action research into preservice teacher education programs and professional development programs for inservice teachers will help make action research an ongoing component of a professional teacher's practice. Such action will ultimately help teachers to incorporate action research alongside other critical components of teaching, such as curriculum development, authentic assessment strategies, classroom management strategies, teaching strategies, and caring for children. Such actions will encourage teachers to embrace change. It is my hope that this book will, in some small part, help us all to move forward in difficult times. Action research is an invitation to learn, a means to tackle tough questions that face us individually and collectively as teachers, and a method for questioning our daily taken-for-granted assumptions as a way to find hope for the future. Conceptual Framework and organization of the Text This book has emerged over a number of years and is based on my experience of doing and teaching action research. During this time, I have had the opportunity to work with some outstanding teachers and principals who were committed to looking systematically at the effects of their programs on the lives of children. This book's organization has grown out of these experiences and has been field tested by numerous students and colleagues. Each chapter opens with an action research vignette that illustrates the content that will follow. These vignettes, most of which have been written by teachers and principals with whom I have worked, illustrate who does action research and what action research looks like in practice. The order of these chapters roughly matches the action research process, an approach that I have found very successful when teaching action research. Contents of this New Edition Chapter 1 defines action research and provides historical and theoretical contexts for the rest of the book. The chapter also reviews various models of action research and concludes with the four-step process (identifying an area of focus, collecting data, analyzing and interpreting data, and action planning) and the dialectic, model upon which this book is based. The remaining chapters mirror these steps. Chapter 2 helps action researchers choose an "area of focus." Guidelines for selecting an area of focus are offered along with new and expanded step-by-step directions for how to do a literature review using on-line resources "such as ERIC. The chapter culminates with an action research plan that provides a practical guide for moving teacher researchers through the action research process. Chapter 3 offers a comprehensive discussion on qualitative data collection that covers the "3 Es" of data collection: experiencing, enquiring, and examining. New to this edition are more coverage of interviewing guidelines and a data collection matrix for researcher use. Chapter 4 addresses important data collection considerations, such as validity, reliability, and generalizability, to ensure that the da