Note: Supplemental materials are not guaranteed with Rental or Used book purchases.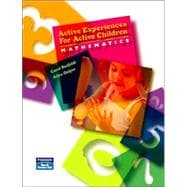 Related Products
Summary
Based on the theories of John Dewey, the constructivist view of children's learning, and current curriculum guidelines for mathematics, this latest book in the authors' Active Experiences series provides six clear, concise, and usable guides for turning mathematics instruction into activities that three-to-five year olds will find engaging. They involve group work, investigations, and projects; are grounded in children's interests and needs; and, build, one upon the other to form a coherent learning curriculum. Additionally, each conforms to the most recent standards of the National Council of Teachers of Mathematics (NCTM) and the National Association for the Education of Young Children (NAEYC). Review of children's literature illustrates the numerous ways to use child-appealing stories, poems, and pictures to teach mathematics. A full chapter on resources provides information for lesson planning and more, pre-screened for relevance to book-sanctioned activities. Thorough treatment of the home-school connection discusses the authors' views on collaboration between teachers and families. Coverage of ";setting up"; the mathematics area of a classroom-addresses both indoor and outdoor spaces, health/safety issues, organizing for inclusions, and making spaces visually appealing. Ideal for professionals in childcare, preschool, Head Start, and other early learning environments.
Author Biography
Carol Seefeldt is Professor Emeritus of human development at the Institute for Child Study, University of Maryland, College Park.
Table of Contents
| | |
| --- | --- |
| | PART ONE Theory of Active Experiences |

1
(48)

| | |
| --- | --- |
| | Experiences and Education: Putting Dewey's Theory Into Practice |

3
(10)
4
(3)
5
(1)

| | |
| --- | --- |
| | Initiative, Choices, and Decision Making |

5
(1)
6
(1)

| | |
| --- | --- |
| | Content with Integrity and Meaning |

7
(1)
7
(2)
7
(1)
8
(1)

| | |
| --- | --- |
| | Interactions with Teachers and Other Adults |

9
(1)
9
(1)
9
(1)
10
(2)
11
(1)
11
(1)
12
(1)

| | |
| --- | --- |
| | Active Children---Active Environments |

13
(16)

| | |
| --- | --- |
| | The Essentials: Health, Safety, Inclusion, and Beauty |

15
(3)
15
(1)
15
(2)
17
(1)
18
(5)
18
(1)

| | |
| --- | --- |
| | Math or Manipulative Areas |

18
(1)
19
(1)
19
(1)
20
(1)
20
(1)
21
(1)
21
(1)
22
(1)
22
(1)
22
(1)
23
(1)
23
(2)

| | |
| --- | --- |
| | Math/Science and Nature Discovery Areas |

23
(1)
24
(1)
24
(1)
24
(1)
25
(1)
25
(2)
27
(2)

| | |
| --- | --- |
| | Building Connections to Home and Community Through Active Experiences |

29
(10)
31
(1)

| | |
| --- | --- |
| | Inside the School Building |

31
(1)

| | |
| --- | --- |
| | Outside in the Natural Environment |

31
(1)

| | |
| --- | --- |
| | Out into the Neighborhood and Community |

32
(1)

| | |
| --- | --- |
| | Basic Guidelines for Meaningful Field Experiences |

32
(1)

| | |
| --- | --- |
| | Building Connections with the Neighborhood and Community |

33
(3)

| | |
| --- | --- |
| | The Neighborhood as a Mathematics Laboratory |

34
(1)

| | |
| --- | --- |
| | Other Neighborhood Resources |

35
(1)

| | |
| --- | --- |
| | The Home-School Connection |

36
(2)
38
(1)

| | |
| --- | --- |
| | Experiences and Mathematical Content |

39
(10)
40
(2)
40
(1)
41
(1)

| | |
| --- | --- |
| | Knowledge of Subject Matter---Mathematics |

42
(1)
43
(1)

| | |
| --- | --- |
| | Bringing Knowledge of Children and Mathematics Together |

44
(1)

| | |
| --- | --- |
| | Expanding and Extending Firsthand Experiences |

45
(1)
46
(3)

| | |
| --- | --- |
| | PART TWO Guides to Active Experiences |

49
(90)

| | |
| --- | --- |
| | Young Children Develop Ideas of Number and Counting |

51
(18)
52
(3)
52
(1)
52
(1)
53
(1)
53
(1)

| | |
| --- | --- |
| | The Home-School Connection |

54
(1)

| | |
| --- | --- |
| | Evaluating and Assessing Children's Learning |

54
(1)
55
(10)

| | |
| --- | --- |
| | Children Will Develop the Disposition to Count and Use Mathematical Concepts in Their Everyday Lives |

55
(3)

| | |
| --- | --- |
| | Children Will Learn the Names of Numerals and to Write Them |

58
(2)

| | |
| --- | --- |
| | Children Will Learn to Count Sequentially |

60
(1)

| | |
| --- | --- |
| | Children Will Have Meaningful Opportunities to Count Using One-to-One Correspondence |

61
(1)

| | |
| --- | --- |
| | Children Will Begin to Use Number Operations in Connection with Their Daily Activities |

62
(1)
63
(1)

| | |
| --- | --- |
| | Extending and Expanding to the Primary Grades |

64
(1)

| | |
| --- | --- |
| | Documenting Children's Learning |

64
(1)
65
(4)

| | |
| --- | --- |
| | Young Children Learn the Basic Concepts of Algebra |

69
(16)
70
(5)
70
(1)
71
(1)
71
(1)
71
(3)

| | |
| --- | --- |
| | The Home-School Connection |

74
(1)

| | |
| --- | --- |
| | Evaluating and Assessing Children's Learning |

74
(1)
75
(5)

| | |
| --- | --- |
| | The Search for Patterns and Relationships |

75
(1)

| | |
| --- | --- |
| | Sorting, Classifying and Ordering Objects by Size, Number, and Other Properties |

76
(1)

| | |
| --- | --- |
| | Addition and Subtraction of Whole Numbers, Using Objects, Pictures, and Symbols |

77
(1)
78
(1)

| | |
| --- | --- |
| | Extending and Expanding to the Primary Grades |

78
(1)

| | |
| --- | --- |
| | Documenting Children's Learning |

79
(1)
80
(5)

| | |
| --- | --- |
| | Young Children Learn the Basic Concepts of Geometry |

85
(14)
86
(4)
86
(1)
86
(1)
86
(1)
87
(2)

| | |
| --- | --- |
| | The Home-School Connection |

89
(1)

| | |
| --- | --- |
| | Evaluating and Assessing Children's Learning |

89
(1)
90
(5)
90
(2)
92
(1)

| | |
| --- | --- |
| | Extending and Expanding to the Primary Grades |

93
(1)

| | |
| --- | --- |
| | Documenting Children's Learning |

94
(1)
95
(4)

| | |
| --- | --- |
| | Young Children Learn the Basic Concepts of Measurement |

99
(16)
100
(5)
100
(1)
100
(1)
101
(1)
102
(1)

| | |
| --- | --- |
| | The Home-School Connection |

103
(1)

| | |
| --- | --- |
| | Evaluating and Assessing Children's Learning |

104
(1)
105
(5)
105
(3)

| | |
| --- | --- |
| | Extending and Expanding to the Primary Grades |

108
(1)

| | |
| --- | --- |
| | Documenting Children's Learning |

109
(1)
110
(5)

| | |
| --- | --- |
| | Data Description, Organization, Representation, and Analysis |

115
(12)
116
(3)
116
(1)
116
(1)
116
(1)
117
(1)

| | |
| --- | --- |
| | The Home-School Connection |

117
(1)

| | |
| --- | --- |
| | Evaluating and Assessing Children's Learning |

118
(1)
119
(8)

| | |
| --- | --- |
| | Children Will Collect, Organize, and Sort Data |

119
(1)

| | |
| --- | --- |
| | Children Will Begin to Label Information and Develop an Understanding of Scale |

120
(1)

| | |
| --- | --- |
| | Children Will Organize Data Through Graphs, Tables, Lists, and So On |

121
(4)

| | |
| --- | --- |
| | Children Will Gain Meaning from Graphs, Tables, Lists, and So On |

125
(1)
126
(1)

| | |
| --- | --- |
| | Extending and Expanding to the Primary Grades |

126
(1)

| | |
| --- | --- |
| | Documenting Children's Learning |

126
(1)
127
(12)
128
(2)
128
(1)
128
(1)
129
(1)
129
(1)

| | |
| --- | --- |
| | The Home-School Connection |

129
(1)

| | |
| --- | --- |
| | Evaluating and Assessing Children's Learning |

130
(1)
130
(7)
130
(1)

| | |
| --- | --- |
| | Children Will Gain Skills in Asking Mathematical Questions |

131
(1)

| | |
| --- | --- |
| | Children Will Gain Skills in Predicting Mathematical Outcomes |

132
(1)

| | |
| --- | --- |
| | Children Will Gain Skills in Observing |

133
(1)

| | |
| --- | --- |
| | Children Will Gain Skills in Comparing and Contrasting |

134
(1)

| | |
| --- | --- |
| | Children Will Gain Skills in Reflecting |

135
(1)

| | |
| --- | --- |
| | Children Will Reach Conclusions |

136
(1)

| | |
| --- | --- |
| | Extending and Expanding to the Primary Grades |

136
(1)

| | |
| --- | --- |
| | Documenting Children's Learning |

136
(1)
137
(2)
References
139
(4)
Resources
143
(4)
Index
147