Note: Supplemental materials are not guaranteed with Rental or Used book purchases.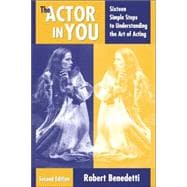 Actor in You : Sixteen Simple Steps to Understanding the Art of Acting
ISBN13:
9780205359219
by
Benedetti, Robert
Summary
The Actor in You serves as an introduction to beginning acting by helping students realize that they already possess the basic skills of an actor. This text enhances the student's appreciation of the art of acting by helping them realize that they already possess, in principle, the following skills: the ability to play a role, the ability to fulfill the sense of drama and to structure dramatic scenes, and the capacity to express emotion. Without losing its simplicity, directness, and enjoyable writing style, this revised and enlarged edition has benefited from helpful suggestions by teachers who have used it successfully in the classroom. Drawing exercises and examples from students' everyday lives and from well-known films and television programs, Benedetti succeeds in deducing dramatic principles from those experiences and then applying them to everyday life for artistic purpose. Still organized in sixteen steps meant to correspond to the weeks of a typical semester or school year, The Actor in You provides a direct, concise presentation and explanation of fundamentals for beginning students.
Table of Contents
Preface.
I. UNDERSTANDING ACTING.
1. What Does an Actor Do?
2. Action in Life and in Performance.
3. Internal and External Action.
4. Understanding Emotion and Character.
5. The Actor's State of Mind.
II. PREPARING YOURSELF TO ACT.
6. Tension, Effort, and Relaxation.
7. Creating Together.
III. PREPARING TO REHEARSE.
8. Dramatic Function.
9. The Character's World.
10. The Elements of Characterization.
IV. REHEARSAL.
11. The Character's Needs.
12. The Character's Mind.
13. Objectives and Actions.
14. Beats, Scene, and Play Structure.
15. Through-Line and Superobjective.
16. Final Rehearsals.
Afterword: Your Sense of Purpose.
Appendix A: Sample Scenes.
Appendix B: Useful Plays and Scene Anthologies.
Glossary.
Index.