Note: Supplemental materials are not guaranteed with Rental or Used book purchases.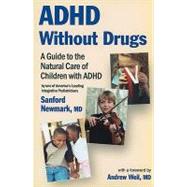 ADHD Without Drugs: A Guide to the Natural Care of Children With ADHD
by
Newmark, Sanford
Summary
For 20 years, Dr. Sandy Newmark has specialized in successfully treating children diagnosed as having "ADHD" using methods other than psychostimulant medications. Now he has put his best advice into this book for all parents, educators and other physicians to read. He explains how to treat the whole child, not just the symptoms of ADHD, using safe and natural methods. For any child diagnosed with ADHD, even those already taking medication, this book will prove invaluable for their health, happiness, and success.
Table of Contents
Foreword
p. 1
Introduction
p. 3
What Is ADHD - and Why Is There So Much of It?
p. 6
The Neurobiology of ADHD
p. 19
The ADHD Evaluation
p. 31
The Importance of Good Nutrition; or, When Did Pop Tarts Become Breakfast?
p. 45
Practical Guidelines for Feeding Your Child
p. 65
ADHD and Food Sensitivities
p. 75
Omega-3 Fatty Acids and ADHD
p. 94
The Minerals: Iron, Zinc, and Magnesium in ADHD
p. 109
Herbs for ADHD
p. 121
Neurofeedback and Other Mind-Body Therapies
p. 134
The Alternative Therapies: Traditional Chinese Medicine, Homeopathy, and Energy Medicine
p. 146
Behavioral Interventions: Supporting Your Child at Home
p. 164
Working with Schools and Teachers
p. 182
Medications for ADHD: When Are They Necessary and How Should They Be Used?
p. 199
Summary
p. 218
Footnote References
p. 220
Environmental Toxins
p. 230
Resources
p. 235
Table of Contents provided by Ingram. All Rights Reserved.