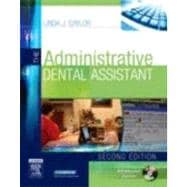 The Administrative Dental Assistant
by
Gaylor, Linda
Elsevier Science Health Science div
Questions About This Book?
Why should I rent this book?
Renting is easy, fast, and cheap! Renting from eCampus.com can save you hundreds of dollars compared to the cost of new or used books each semester. At the end of the semester, simply ship the book back to us with a free UPS shipping label! No need to worry about selling it back.
How do rental returns work?
Returning books is as easy as possible. As your rental due date approaches, we will email you several courtesy reminders. When you are ready to return, you can print a free UPS shipping label from our website at any time. Then, just return the book to your UPS driver or any staffed UPS location. You can even use the same box we shipped it in!
What version or edition is this?
This is the 2nd edition with a publication date of 11/8/2006.
What is included with this book?
The Used copy of this book is not guaranteed to include any supplemental materials. Typically, only the book itself is included.
The Rental copy of this book is not guaranteed to include any supplemental materials. You may receive a brand new copy, but typically, only the book itself.
Summary
Now in full color, The Administrative Dental Assistant is revised to reflect the latest information on operating a dental office. It's logically organized to cover all of the various tasks an administrative dental assistant encounters. It includes up-to-date CDT-5 Dental Codes, new HIPAA (Health Insurance Portability and Accountability Act) and OSHA (Occupational Safety and Health Administration) guidelines, plus current examples of key equipment, forms, and computer technology. A companion CD-ROM simulates dental practice management, offering opportunities to enter and update patient data, post payment and treatment procedures using dental codes, submit e-claims for payment, evaluate reports, and schedule appointments.
Table of Contents
| | |
| --- | --- |
| | Orientation to the Dental Profession |

1
(20)
2
(1)

| | |
| --- | --- |
| | Your Role as the Administrative Dental Assistant |

2
(2)

| | |
| --- | --- |
| | Types of Administrative Assistants |

4
(2)
4
(1)
4
(1)
4
(1)
4
(1)
5
(1)
5
(1)
5
(1)
5
(1)

| | |
| --- | --- |
| | Personal Traits of an Administrative Dental Assistant |

6
(1)
6
(1)

| | |
| --- | --- |
| | Members of the Dental Healthcare Team |

6
(2)
6
(1)
7
(1)
8
(1)

| | |
| --- | --- |
| | Health Insurance Portability and Accountability Act of 1996 |

8
(4)
8
(1)

| | |
| --- | --- |
| | Administrative Simplification |

9
(1)

| | |
| --- | --- |
| | Transactions and Code Sets |

9
(1)

| | |
| --- | --- |
| | Electronic Data Interchange |

9
(1)

| | |
| --- | --- |
| | Standards for Privacy of Individually Identifiable Health Information |

10
(1)

| | |
| --- | --- |
| | Standards for Security of Individually Identifiable Health Information |

11
(1)

| | |
| --- | --- |
| | National Provider Identifier Standard |

12
(1)

| | |
| --- | --- |
| | Occupational Safety and Health Administration (OSHA) |

12
(1)
12
(1)
12
(1)
13
(1)
13
(1)
13
(1)
13
(2)

| | |
| --- | --- |
| | Professional Organizations |

15
(6)

| | |
| --- | --- |
| | American Dental Assistants Association |

15
(2)

| | |
| --- | --- |
| | HOSA (Health Occupations Students of America) |

17
(4)
21
(30)
22
(1)

| | |
| --- | --- |
| | Basic Dental Office Design |

22
(4)
22
(1)
23
(3)
26
(10)

| | |
| --- | --- |
| | Basic Structures of Face and Oral Cavity |

26
(5)

| | |
| --- | --- |
| | Basic Anatomic Structures and Tissues of the Teeth |

31
(1)
32
(1)
33
(1)
34
(1)
34
(2)
36
(2)

| | |
| --- | --- |
| | Universal Numbering System |

36
(1)

| | |
| --- | --- |
| | International Standards Organization Designation System |

36
(1)

| | |
| --- | --- |
| | Symbolic Numbering System (Palmer System) |

37
(1)
38
(4)
38
(1)
38
(1)
38
(4)
42
(4)

| | |
| --- | --- |
| | Basic and Preventive Dental Procedures |

42
(1)
43
(1)
43
(1)
44
(1)
44
(1)
44
(2)

| | |
| --- | --- |
| | Basic Chairside Dental Assisting Duties |

46
(5)

| | |
| --- | --- |
| | Seating and Dismissing a Patient |

46
(1)
46
(1)

| | |
| --- | --- |
| | Occupational Safety and Health Administration (OSHA) |

46
(1)
46
(5)

| | |
| --- | --- |
| | Communication Skills and Telephone Techniques |

51
(16)
52
(1)

| | |
| --- | --- |
| | Elements of the Communication Process |

52
(1)
52
(2)
52
(1)
53
(1)

| | |
| --- | --- |
| | Nonverbal Cues From the Dental Healthcare Team |

53
(1)

| | |
| --- | --- |
| | Interpersonal Communication |

54
(1)

| | |
| --- | --- |
| | Barriers to Effective Communication |

55
(2)
55
(1)
55
(1)
55
(1)
56
(1)
56
(1)
57
(1)

| | |
| --- | --- |
| | Responsibilities of the Sender |

57
(1)

| | |
| --- | --- |
| | Responsibilities of the Receiver |

57
(1)
58
(9)

| | |
| --- | --- |
| | Developing a Positive Telephone Image |

60
(1)
61
(1)
62
(1)

| | |
| --- | --- |
| | Placing Outgoing Telephone Calls |

62
(5)
67
(24)
68
(1)
68
(3)
68
(1)
68
(1)
69
(1)
70
(1)

| | |
| --- | --- |
| | Letter Style (Appearance) |

71
(2)
71
(1)
71
(1)
71
(1)
72
(1)
72
(1)
73
(1)
73
(1)
74
(5)

| | |
| --- | --- |
| | Types of Correspondence Used in Dentistry |

79
(2)
80
(1)

| | |
| --- | --- |
| | Letters Between Professionals |

81
(1)

| | |
| --- | --- |
| | Correspondence Between Staff Members |

81
(1)
81
(1)
82
(5)
82
(1)
83
(1)
84
(3)
87
(1)
87
(4)
91
(14)
92
(1)

| | |
| --- | --- |
| | Psychology: Humanistic Theory |

92
(1)

| | |
| --- | --- |
| | Maslow: Hierarchy of Needs |

92
(1)

| | |
| --- | --- |
| | Rogers: Fully Functioning Human Beings |

92
(1)

| | |
| --- | --- |
| | Humanistic Theory in the Dental Office |

93
(1)
93
(5)
93
(1)
94
(2)

| | |
| --- | --- |
| | Confirmation of Initial Impression Stage |

96
(1)
97
(1)

| | |
| --- | --- |
| | Managing Patient Expectations |

98
(1)
98
(3)
99
(1)
99
(1)
100
(1)

| | |
| --- | --- |
| | Providing Outstanding Customer Service |

101
(4)
101
(1)

| | |
| --- | --- |
| | Personal Strategies for Providing Exceptional Patient Care |

101
(4)

| | |
| --- | --- |
| | Dental Healthcare Team Communications |

105
(12)
106
(1)

| | |
| --- | --- |
| | Dental Practice Procedural Manual |

106
(1)
107
(4)
107
(1)

| | |
| --- | --- |
| | Organizational Communications |

107
(1)
107
(3)

| | |
| --- | --- |
| | Organizational Barriers to Communication |

110
(1)
111
(1)
111
(1)
111
(1)
111
(1)
111
(1)
112
(5)
113
(1)
113
(1)
113
(4)
117
(36)
118
(1)

| | |
| --- | --- |
| | Components of the Clinical Record |

118
(3)
121
(23)
122
(1)
122
(1)
122
(1)
122
(22)

| | |
| --- | --- |
| | Clinical Records Risk Management |

144
(4)

| | |
| --- | --- |
| | Maintaining Clinical Records |

145
(1)

| | |
| --- | --- |
| | Procedures for Specific Tasks |

145
(3)

| | |
| --- | --- |
| | Computerized Management of Clinical Records |

148
(5)
149
(4)
153
(16)
154
(1)
154
(4)
154
(3)
157
(1)
158
(1)
158
(1)
158
(1)
158
(2)
158
(2)

| | |
| --- | --- |
| | Patient and Insurance Information |

160
(1)
160
(1)
160
(1)
160
(1)
160
(1)
161
(2)
161
(1)
161
(1)
161
(1)
162
(1)
162
(1)
162
(1)
162
(1)
163
(1)

| | |
| --- | --- |
| | Preparing the Clinical Record |

163
(1)
164
(1)
164
(1)
164
(1)

| | |
| --- | --- |
| | Cross-Referencing (Numeric Indexing) |

164
(1)

| | |
| --- | --- |
| | Preparing Business Documents |

164
(5)
164
(1)
164
(1)
164
(1)
164
(1)
164
(1)

| | |
| --- | --- |
| | Putting Records and Documents into Their Final Place |

165
(1)
165
(1)

| | |
| --- | --- |
| | Retention and Transfer of Records |

165
(4)

| | |
| --- | --- |
| | Dental Patient Scheduling |

169
(16)
170
(1)
170
(9)

| | |
| --- | --- |
| | Selecting the Appointment Book (Manual and Electronic) |

170
(3)
173
(3)
176
(3)

| | |
| --- | --- |
| | Results of Poor Scheduling |

179
(1)
179
(1)
180
(5)
180
(1)

| | |
| --- | --- |
| | Maintain Daily Schedule Sheets |

180
(1)

| | |
| --- | --- |
| | Establish a Daily Routine |

181
(4)
185
(12)
186
(1)

| | |
| --- | --- |
| | Classification of Recalls |

186
(1)

| | |
| --- | --- |
| | Methods for Recalling Patients |

187
(10)

| | |
| --- | --- |
| | General Information Needed for a Recall System |

187
(1)

| | |
| --- | --- |
| | Prescheduled Recall System |

187
(2)
189
(1)
189
(1)

| | |
| --- | --- |
| | Combination Recall System |

190
(1)

| | |
| --- | --- |
| | Computerized Recall Systems |

190
(7)

| | |
| --- | --- |
| | Dental Insurance Processing |

197
(32)
198
(1)

| | |
| --- | --- |
| | Types of Dental Insurance |

198
(6)
198
(5)
203
(1)
203
(1)
203
(1)
203
(1)

| | |
| --- | --- |
| | Preferred Provider Organization |

203
(1)

| | |
| --- | --- |
| | Health Maintenance Organization |

203
(1)
204
(1)

| | |
| --- | --- |
| | Individual Practice Association |

204
(1)
204
(1)
204
(1)

| | |
| --- | --- |
| | Organizing Insurance Coverage for Each Patient |

205
(6)
205
(1)
205
(1)
205
(6)

| | |
| --- | --- |
| | Types of Insurance Information Required |

211
(1)
211
(1)
211
(1)
212
(1)
212
(1)
212
(1)

| | |
| --- | --- |
| | Preauthorization/Pretreatment |

212
(1)

| | |
| --- | --- |
| | Methods of Filing Insurance Claims |

212
(1)
212
(1)

| | |
| --- | --- |
| | Superbills and Encounter Forms |

213
(1)

| | |
| --- | --- |
| | Electronically Submitted Forms |

213
(1)
213
(1)

| | |
| --- | --- |
| | Insurance Tracking Systems |

214
(1)

| | |
| --- | --- |
| | Other Types of Insurance Coverage |

215
(1)
215
(1)
215
(1)
215
(1)
215
(1)
215
(1)

| | |
| --- | --- |
| | Completing a Dental Claim Form |

215
(1)

| | |
| --- | --- |
| | Sections of the ADA Dental Claim Form |

216
(9)

| | |
| --- | --- |
| | Fraudulent Insurance Billing |

225
(4)
225
(4)
229
(14)
230
(1)

| | |
| --- | --- |
| | Inventory Management Systems |

230
(4)

| | |
| --- | --- |
| | Computerized Inventory Management Systems |

230
(1)

| | |
| --- | --- |
| | Manual Inventory Management Systems |

230
(4)

| | |
| --- | --- |
| | Inventory Management System Protocol |

234
(1)

| | |
| --- | --- |
| | Types of Supplies, Products, and Equipment |

234
(1)

| | |
| --- | --- |
| | Consumable Supplies and Products |

234
(1)
234
(1)
234
(1)

| | |
| --- | --- |
| | Selecting and Ordering Supplies, Products, and Equipment |

234
(4)

| | |
| --- | --- |
| | Selecting Supplies and Products |

234
(1)

| | |
| --- | --- |
| | Purchasing Major Equipment |

235
(1)
235
(1)

| | |
| --- | --- |
| | Information to Consider Before Placing an Order |

236
(1)

| | |
| --- | --- |
| | Receiving Supplies and Products |

237
(1)
237
(1)

| | |
| --- | --- |
| | Occupational Safety and Health Administration (OSHA) |

238
(5)

| | |
| --- | --- |
| | Financial Arrangement and Collection Procedures |

243
(14)
244
(1)

| | |
| --- | --- |
| | Designing a Financial Policy |

244
(1)

| | |
| --- | --- |
| | Elements of a Financial Policy |

244
(1)
244
(1)
244
(1)
244
(1)
244
(3)
244
(1)
245
(1)
245
(1)
245
(2)

| | |
| --- | --- |
| | Financial Policy Communications |

247
(1)

| | |
| --- | --- |
| | Managing Accounts Receivable |

247
(10)
247
(1)
247
(3)

| | |
| --- | --- |
| | Monitor the Accounts Receivable Report |

250
(1)
250
(7)

| | |
| --- | --- |
| | Bookkeeping Procedures: Accounts Receivable |

257
(18)
258
(1)

| | |
| --- | --- |
| | Components of Financial Records Organization |

258
(2)
258
(1)

| | |
| --- | --- |
| | Methods of Recording Transactions |

258
(2)
260
(2)
262
(3)

| | |
| --- | --- |
| | Daily Routine for Managing Patient Transactions |

265
(6)
265
(1)
265
(1)
265
(1)

| | |
| --- | --- |
| | Complete End of the Day Procedures |

266
(4)

| | |
| --- | --- |
| | Routine for Managing Financial Transactions |

270
(1)
271
(4)
271
(1)
271
(4)

| | |
| --- | --- |
| | Bookkeeping Procedures: Accounts Payable |

275
(26)
276
(1)

| | |
| --- | --- |
| | Organizing an Accounts Payable System |

276
(1)

| | |
| --- | --- |
| | Verification of Expenditures |

276
(1)
276
(2)

| | |
| --- | --- |
| | Payment Authorization and Transfer |

276
(1)

| | |
| --- | --- |
| | Completing a Deposit Slip |

277
(1)
277
(1)

| | |
| --- | --- |
| | Reconciling a Bank Statement |

278
(8)

| | |
| --- | --- |
| | Information Listed on a Bank Statement |

278
(1)

| | |
| --- | --- |
| | Items Needed for Reconciling the Account |

278
(1)

| | |
| --- | --- |
| | Steps in Reconciling the Account |

279
(7)

| | |
| --- | --- |
| | Computerized Check Writing |

286
(1)
286
(12)

| | |
| --- | --- |
| | Creating the Payroll Record |

286
(5)
291
(1)
291
(1)
291
(4)

| | |
| --- | --- |
| | Payroll Taxes: Reports and Deposits |

295
(3)

| | |
| --- | --- |
| | Employer Identification Number |

298
(1)
298
(1)
298
(3)
301
(14)
302
(1)

| | |
| --- | --- |
| | Electronic Business Equipment |

302
(2)
302
(1)
303
(1)
303
(1)
304
(1)
304
(1)
304
(3)
304
(3)

| | |
| --- | --- |
| | Electronic Communication Devices |

307
(1)

| | |
| --- | --- |
| | Intraoffice Communications |

307
(1)
307
(1)
308
(1)
308
(1)

| | |
| --- | --- |
| | Business Office Environment |

309
(6)

| | |
| --- | --- |
| | Questions to Consider When Organizing a Business Office |

309
(2)
311
(4)

| | |
| --- | --- |
| | Computerized Dental Practice |

315
(22)
316
(1)

| | |
| --- | --- |
| | Levels of Function of Dental Practice Management Software |

316
(3)
316
(2)
318
(1)
318
(1)

| | |
| --- | --- |
| | Selecting a Software Package |

319
(1)

| | |
| --- | --- |
| | Functions To Consider When Selecting a Software Package |

319
(3)
319
(1)
320
(1)
320
(1)
320
(1)
320
(1)
321
(1)
321
(1)
321
(1)

| | |
| --- | --- |
| | Database Management and Word Processing |

322
(1)
322
(1)

| | |
| --- | --- |
| | Basic Operation of a Software Package |

322
(1)

| | |
| --- | --- |
| | Role of the Administrative Dental Assistant |

323
(6)

| | |
| --- | --- |
| | Recording Patient Demographics |

323
(1)
323
(1)

| | |
| --- | --- |
| | Maintaining Patient Records |

323
(1)
323
(2)
325
(4)

| | |
| --- | --- |
| | Processing Insurance Claims |

329
(1)

| | |
| --- | --- |
| | Scheduling Electronically |

329
(1)
329
(1)

| | |
| --- | --- |
| | Daily Procedures With a Computerized System |

329
(8)
330
(1)
331
(1)

| | |
| --- | --- |
| | Posting Mail Payments Procedure |

331
(1)
332
(1)
332
(5)
337
(16)
338
(1)

| | |
| --- | --- |
| | Career Opportunities for Administrative Dental Assistants |

338
(1)
338
(1)
338
(1)

| | |
| --- | --- |
| | Management and Consulting Firms |

338
(1)
339
(1)

| | |
| --- | --- |
| | Future Career Opportunities |

339
(1)

| | |
| --- | --- |
| | Steps for Developing Employment Strategies |

339
(14)

| | |
| --- | --- |
| | Assessing Yourself and Your Career Options |

339
(1)
339
(1)
340
(3)
343
(1)
343
(6)
349
(2)
351
(1)
351
(2)
Glossary
353
(14)
Bibliography
367
(2)
Index
369