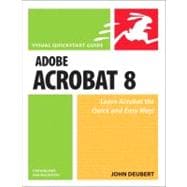 Adobe Acrobat 8 for Windows and Macintosh : Visual QuickStart Guide
by
Deubert, John
Summary
The fastest, easiest way to learn Adobe Acrobat 8, the latest upgrade and expansion to Adobe's cornerstone productivity application.
Author Biography
John Deubert is a longtime Acrobat enthusiast, worked with JavaScript in Acrobat since 1999. John has taught classes on PostScript and Acrobat throughout the world since 1985. He is the author of Creating Adobe Acrobat Forms and Extending Acrobat Forms with JavaScript, both from Adobe Press.
Table of Contents
Starting with Acrobat
p. 1
Viewing a document
p. 19
Saving and printing files
p. 41
Making PDF files
p. 57
Adding comments to a document
p. 73
Reading commented documents
p. 97
Reviewing PDF documents
p. 111
Manipulating pages
p. 121
Adding and changing text and graphics
p. 131
Adding simple navigation features
p. 149
Creating an Acrobat presentation
p. 161
Organizing documents
p. 177
Creating forms with Acrobat Pro
p. 185
Password protection
p. 205
Digital signatures
p. 213
Converting paper to PDF
p. 231
Table of Contents provided by Blackwell. All Rights Reserved.