Note: Supplemental materials are not guaranteed with Rental or Used book purchases.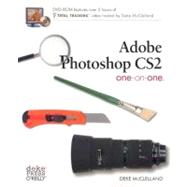 Questions About This Book?
What version or edition is this?
This is the 2nd edition with a publication date of 8/31/2005.
What is included with this book?
The New copy of this book will include any supplemental materials advertised. Please check the title of the book to determine if it should include any CDs, lab manuals, study guides, etc.
Summary
If you work with Adobe Photoshop, you've already tasted how powerful a graphics tool it can be. Universally recognized as the standard for image editing and production, Photoshop is used by close to 20 million people worldwide. But how many can say they've fully tapped its vast functionality? Whether you're a first-timer looking to learn Photoshop, or a seasoned Photoshopper interested in the cool new features of CS2, Deke McClelland's Adobe Photoshop CS2 One on Onewill have you completing rewarding projects in no time at all. A Photoshop expert, sought-after computer graphics and design lecturer and author of over 70 books, Deke brings his passion and easy, conversational style to the new edition of his bestselling Photoshop tutorial, updated for CS2. A straightforward, step-by-step guide to the features and functions of Photoshop-with plenty of real-world projects and insider tips applied along the way- Adobe Photoshop CS2 One on Onealso covers the new features of CS2 in depth, including Adobe Bridge, the new file browser that makes it possible to process multiple images at once. Learn how to use new workflow and file handling features, how to batch process digital camera raw files, search metadata, quickly review images in Slideshow mode, and much more. If that sounds like Greek to you, don't worry. Deke uses highly effective One-on-One teaching methods and creates a classroom environment that combines written instruction with more than two hours of video training (provided on DVD). As host of the "Best of Photoshop" disk that ships with every Photoshop order, he's uniquely qualified to present the material in this dynamic, interactive format. Whatever your skill level, Adobe Photoshop CS2 One on Onewill soon have you speaking fluent Photoshop CS2.
Author Biography
Deke McClelland

Electronic publishing pioneer Deke McClelland is a popular lecturer on Adobe Photoshop and the larger realm of computer graphics and design. He has hosted the interactive "Video Workshop" CD that shipped with Photoshop Versions 7, CS, and CS2, as well as hundreds of hours of tutorial-style video training for industry leaders lynda.com and Total Training. In addition to his video work, Deke has written 84 books translated into 24 languages, with more than 4 million copies in print.

One of the most award-winning writers in the technology market, Deke received the Benjamin Franklin Award for Best Computer Book in 1989. Since then, he has garnered more than 20 honors, including seven independent citations from the Computer Press Association. In 2002, he was inducted into the Photoshop Hall of Fame.

In 2004 Deke created the One-on-One™ book series, which uses video, step-by-step exercises, and hundreds of full-color illustrations to provide readers with the closest thing possible to private instruction from a recognized expert. These ambitious, self-paced guides include the bestselling Adobe Photoshop CS2 One-on-One and Adobe InDesign CS2 One-on-One. Late in 2006 Deke teamed up with vanguard online training company http://lynda.com to bring the One-on-One training strategy to a line of video products, beginning with Photoshop CS3 Beta One-on-One Preview, the first series available for the public beta of Photoshop CS3. In addition to the full 20-plus hour Photoshop CS3 One-on-One, his plans include Illustrator One-on-One and InDesign One-on-One. Among Deke's current http://lynda.com videos are Photoshop Elements 5 Essentials and the #1 ranked Photoshop CS2 Channels and Masks (available for immediate viewing at http://www.lynda.com/deke).

Deke is an Adobe Certified Expert, a member of the PhotoshopWorld Instructor Dream Team, and a regular speaker for the Photoshop Fling cruise seminars. Deke lives in Boulder, Colorado with his wife and two super-powered boys.
Table of Contents
Preface. How One-on-One Works
xiii
3
(30)
5
(1)
5
(5)
10
(7)
17
(6)
23
(3)
26
(7)

| | |
| --- | --- |
| | Highlights, Midtones, and Shadows |

33
(28)
35
(1)

| | |
| --- | --- |
| | Automatic Image Correction |

36
(6)

| | |
| --- | --- |
| | Adjusting Brightness Levels |

42
(7)
49
(6)

| | |
| --- | --- |
| | Compensating for Flashand Backlighting |

55
(6)
61
(36)

| | |
| --- | --- |
| | What Are Hue and Saturation? |

63
(1)
64
(6)
70
(3)

| | |
| --- | --- |
| | Colorizing a Grayscale Image |

73
(6)
79
(18)
97
(38)

| | |
| --- | --- |
| | Isolating an Image Element |

99
(1)

| | |
| --- | --- |
| | Selecting Colored Areas with the Magic Wand |

100
(8)
108
(7)

| | |
| --- | --- |
| | Selecting an Irregular Image |

115
(9)
124
(11)

| | |
| --- | --- |
| | Crop, Straighten, and Size |

135
(26)

| | |
| --- | --- |
| | Whole-Image Transformations |

135
(3)

| | |
| --- | --- |
| | The Order in Which We Work |

138
(1)
138
(3)

| | |
| --- | --- |
| | Straightening a Crooked Image |

141
(5)
146
(7)
153
(8)
161
(46)

| | |
| --- | --- |
| | The Essential Eight, Plus Three |

163
(1)
163
(1)

| | |
| --- | --- |
| | Coloring Scanned Line Art |

164
(9)

| | |
| --- | --- |
| | Adding Fills and Textures |

173
(10)

| | |
| --- | --- |
| | Dodge, Burn, Sponge, and Smudge |

183
(11)
194
(13)

| | |
| --- | --- |
| | Creating and Applying Masks |

207
(40)

| | |
| --- | --- |
| | Seeing through Photoshop's Eyes |

207
(4)

| | |
| --- | --- |
| | Using the Color Range Command |

211
(5)

| | |
| --- | --- |
| | Refining a Selection with a Quick Mask |

216
(9)

| | |
| --- | --- |
| | Extracting a Photographic Element |

225
(7)

| | |
| --- | --- |
| | Defining a Mask from Scratch |

232
(8)
240
(7)
247
(36)

| | |
| --- | --- |
| | The Subterfuge of Sharpness |

249
(1)
250
(10)

| | |
| --- | --- |
| | Using the Vanishing Point Filter |

260
(23)

| | |
| --- | --- |
| | Building Layered Compositions |

283
(48)

| | |
| --- | --- |
| | The Benefits and Penalties of Layers |

283
(3)
286
(1)

| | |
| --- | --- |
| | Arranging and Modifying Layers |

287
(7)

| | |
| --- | --- |
| | Importing, Transforming, and Warping Layers |

294
(15)

| | |
| --- | --- |
| | Masks, Knockouts, and Luminance Blending |

309
(12)
321
(10)
331
(46)
333
(1)

| | |
| --- | --- |
| | Creating and Formatting Text |

334
(19)

| | |
| --- | --- |
| | Drawing and Editing Shapes |

353
(13)
366
(11)

| | |
| --- | --- |
| | Styles and Specialty Layers |

377
(54)

| | |
| --- | --- |
| | The Amazing World of Live Effects |

377
(4)

| | |
| --- | --- |
| | Layer Attributes Versus Layers |

381
(1)
381
(7)

| | |
| --- | --- |
| | Applying Strokes and Glows |

388
(5)

| | |
| --- | --- |
| | Simulating Reflections with Bevel and Emboss |

393
(7)
400
(7)

| | |
| --- | --- |
| | Creating and Modifying Adjustment Layers |

407
(14)

| | |
| --- | --- |
| | Working with Smart Objects |

421
(10)
431
(34)

| | |
| --- | --- |
| | Local Printing Versus Commercial Reproduction |

433
(1)
434
(1)

| | |
| --- | --- |
| | Printing to an Inkjet Printer |

435
(11)

| | |
| --- | --- |
| | Preparing a CMYK File for Commercial Reproduction |

446
(11)

| | |
| --- | --- |
| | Packing Multiple Pictures onto a Single Page |

457
(8)
Index.
465