Note: Supplemental materials are not guaranteed with Rental or Used book purchases.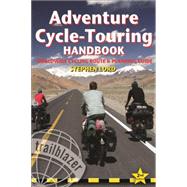 Adventure Cycle-Touring Handbook, 2nd Worldwide Cycling Route & Planning Guide
ISBN13:
9781905864256
by
Lord, Stephen
Summary
Worldwide Cycling Route & Planning Guide Every cyclist dreams of making the Big Trip, the Grand Cycle Tour abroad. TheAdventure Cycling Handbookis the comprehensive manual that will make that dream a reality whether it's riding the Karakoram Highway, cycling in Tibet or pedalling from Patagonia to Alaska. So whether you're planning your own Big Trip or just enjoy reading about other people's adventures, the Handbook is guaranteed to illuminate, entertain and above all, inspire. Practical information Which bike to take, Top ten internationally-available bikes, Setting up your bike for the Big Ride, Load carrying, Bike Equipment Checklist (Tools, Spares & Repairs), Clothing, Camping Gear , Health and Survival Trans-continental route outlines across Europe, Africa, Asia, North and South America . Tales from the Saddle first-hand accounts of spoke-bending biking adventures worldwide; battling against the elements on epic journeys. 10 new tales for this new edition.
Author Biography
Stephen Lord spent the first ten years of his working life as a banker in the City of London before getting on his bike in the 1990s to cycle the world.
Table of Contents
Introduction
Practical Information
What kind of bike? (Touring , MTB, Trekking, Tandem, Recumbent, Which frame material- steel or aluminium, Folding bikes)
Buying new: Top ten internationally available bikes, Setting up your bike for the Big Ride (Wheels, Tyres, Gears, Pedals, Saddle, Comfort, Seat position, Saddle position, Handlebars - type, adjustment, padding)
Load carrying (Racks, Panniers, Trailers, Bar bag and other add-ons), Bike Equipment Checklist (Tools, Spares & Repairs)
Clothing (Bike shorts, Footwear, General clothing suggestions & lists)
Camping Gear (Tent, Bag & Mat, Stove, Filter)
Other gear (bike computer, altimeter, GPS, headlights. Electronics & Communications)
Health and ailments (Vaccinations, First Aid kit, bikers ailments, Stress & fatigue, Survival rules),
Trans-Continental Route Outlines
Europe (France & Spain, Mediterranean route, Northern Europe, Danube, Alps. Eastern Europe)
Asia (Overland - Central Asian route, Southern route (Turkey, Iran, Pakistan etc.), India, Central Asia, China & Tibet, Himalaya and Karakoram, SE Asia, Japan)
North America (Classic routes, East to West, West coast, Great Divide MTB route, Baja California)
Central & South America, Australasia (Gold Coast, Nullarbor & South coast, Biking NZ)
Africa, Capetown to Mombassa
Tales From The Saddle
10 new tales of contributors' adventures
Appendices
Index
Table of Contents provided by Ingram. All Rights Reserved.
Excerpts
Introduction
Adventure cycle-touring
Why are so many people going bike touring these days? A minority pastime during the heyday of the car, cycling has once again become a popular choice for travelling – especially for long overseas trips.
Britain's CTC, the Cyclists' Touring Club, began life over 125 years ago during the first cycle-touring craze in the 1870s. Then, as now, the bicycle offered a revolutionary way of touring: you go exactly where you want, when you want, and all under your own steam. This was before the age of the car and walking or riding a horse were the only other options until the bicycle. In 1885 the Rover Safety Bicycle came along, and for all the innovation since then, most modern touring bicycles would be recognizable to a Victorian, as would their derailleur gears.
Bike touring is undergoing a boom at the moment but it is really one of many periodic rediscoveries. Bicycle design, components and gear are evolving to suit the changing needs and tastes of people. It's a combination of experimentation and using tried and tested designs, such as the 'diamond' frame of the Rover Safety Bicycle. The Adventure Cycle-Touring Handbook is all about looking at what people are choosing and using: what kind of bikes, what gear and what destinations are being chosen by today's bike tourers.
There are many reasons for taking a bike on your next long trip. My own guess as to why bike touring is back in fashion is that many travellers get burned out by backpacking, which really amounts to travelling by bus and train for most of the time. Buses are certainly fast but they go from one noisy town to another, leaving little possibility of exploring the spaces in between, the places where the bus doesn't stop.
Others use bikes to go even further off the beaten track: they want to go where buses don't go at all and perhaps where other vehicles cannot get to either. Paul Woloshansky built his own racks to carry extra gear after being told all too often: 'There's a prettier way to go but there's nothing out there at all'. Other adventurers, such as Sweden's Janne Corax (see p122), have said the same thing: there were times when there was no other way of getting to where they wanted to go. You couldn't get there on foot and you couldn't get there in a truck. It was possible only on a bicycle.
Half the adventure, though, is in the riding itself. Being out in the fresh air and seeing much more than is possible from a bus or train window is always a good feeling, whether you are wandering around France or riding across India. A lot of today's cycle tourists are interested in the riding but not that interested in bikes. It's a means of transport and a way to carry bags comfortably, while sitting down and enjoying the view. Not everyone is drawn to the high passes of the Andes or the Himalaya but they are all enjoying that same sense of freedom and all that comes with it – unexpected discoveries, off-route detours or an impromptu day off when you find a great place to stay. Trips like these are not as arduous as some expeditions but they are every bit as satisfying – and they are still adventures, for they allow for spontaneity. And if you are carrying a tent and camping gear, you're prepared for just about any eventuality because you've always got a place to spend the night.
This book looks at the possibilities out there, the different styles of travelling and the basic gear and know-how that you need. We also look at some of the more exciting cycling destinations around the world, complete with suggestions as to which routes to take and what you need to plan a trip in that region. The Adventure Cycle-Touring Handbook does not set out to tell you exactly where to go: it's your adventure, after all. But it's good to have a general idea of a destination and what you're likely to find when you're there and this is what this book aims to do.
In the final part of this book we include stories from all around the world, not just about the biking but also about the adventures cyclists had on their journeys. It's the old idea that a bike ride isn't just about the riding but also about the places you were able to get to and the people you got to meet – and all because you decided to travel by bicycle.
---

Excerpted from Adventure Cycle-Touring Handbook, 2nd: Worldwide Cycling Route and Planning Guide by Stephen Lord
All rights reserved by the original copyright owners. Excerpts are provided for display purposes only and may not be reproduced, reprinted or distributed without the written permission of the publisher.