Note: Supplemental materials are not guaranteed with Rental or Used book purchases.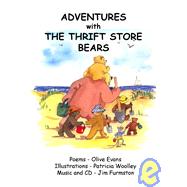 Summary
"Adventures with The Thrift Store Bears" is the second in "The Thrift Store Bears" series, written for children ages 4 to 8 years of age and for teddy bear lovers of all ages. The bears introduced in "The Thrift Store Bears" have fun and adventures during the four seasons of a year. There are 49 large color illustrations with an illustration on every page. Included with the book is a 22-minute CD with each poem narrated, with music and sound effects written for each poem.In "Spring Song" Duffy bear decides that he really must write a poem and that it should be easy. Of course, he finds it very hard to write poetry but in a dream the poem comes to him and he decides to put it in a song. All his friends like the song and sing and dance to the tune when they spring clean their home under the watchful eye of Daisy Bear.In "Summer Games" the bears find that they are bored and have no energy because it's too hot. Big Bear comes to visit them for a few weeks and realizes that they need some adventures and fun using their imagination. They search for strange creatures in the house's attic, in the local park and also at the beach. They never find the creatures but have lots of fun in their searches, and when Big Bear has to go home, they are very sad to see him leave but they had learned that using imagination is a great way to play and have fun."Autumn Show" has the bears rehearsing for a play about princesses, knights and a dragon, directed by Brighton. Everything seems to be going wrong at the final rehearsal; the paint on sets isn't dry and the sets can't stand on their own; the bears march completely out of step and in the wrong direction. BelLa bear is temperamental and doesn't like her costume so turns up in a cheerleader's costume. But the performance goes off very well. The dragon gets chased by the knights but is saved by the princesses, who persuade the queen to give the creature a home. The performance draws "oohs" and "aahs" -- thunderous applause at the end to the delight of the actors.In "Winter Surprises" a very severe storm with howling winds and heavy rain leave a big mess where the bears live. Trash cans are blown all around tipping trash and worst of all, disgarded toys in the street. The bears find a very battered, disgarded teddy bears, take him home, clean him up and give him a hot drink. The old bear is very unhappy because his best friend and other toys are missing in the storm. The Thrift Store Bears get together and form a search party to find and rescue the lost toys. They have to act with speed because the garbage truck is coming and if they are not rescued soon, the toys will be lost forever. After a search the toys are found and join the Thrift Store Bears at their home. But the Thrift Store Bears are very surprised by what they saved.
Author Biography
Olive Evans graduated from Goldsmiths College, London University with a degree in education and California State University Dominguez Hills, with a degree in English Literature. She taught primary school in the United Kingdom and in California where she also taught educationally and emotionally handicapped children. Evans has had children's stories published in the UK and USA The BBC Radio (UK) also accepted stories for children's radio broadcasts. ˘Adventures with The Thrift Store Bears÷ is the follow on book to ˘The Thrift Store Bears.÷ Evans spent many years as a drama teacher and running a theater group for young people aged five to thirteen years. During this time Evans wrote many plays to accommodate the children's abilities and ages. Her play ˘Secrets of the Forrest÷ was published by Players Press and is in circulation. As well as writing and teaching, Evans took professional training as an actress and 'voice over' artist and acted in many plays including 'The Merry Wives of Winsor" and "Macbeth" at the Sabta Cruz Shakespear Festival. As a proffesional 'children's story teller' Evans performed extensively in schools, churches and at private children's functions, throughout Southern California.