Note: Supplemental materials are not guaranteed with Rental or Used book purchases.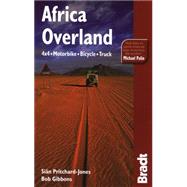 Summary
Be vigilant when driving through Africa: camels are careless when crossing the road and women carrying waterpots are little more watchful warn the authors of this fifth edition of Africa Overland. They also give updated information on each country's political and security situation (Angola, Sierra Leone and Liberia are on the up; since this guide's last edition, security in Western Sudan and Eastern Chad has turned sour); provide an expanded Route Outlines section including information on border crossings; and offer revised recommendations on vehicles including practical coverage on buying a vehicle, maintenance and driving.
Author Biography
Siân Pritchard-Jones and Bob Gibbons have been travelling in Africa for 30 years. They are the authors of many guidebooks, including the Bradt guides to the Maldives and Cape Verde.
Table of Contents
General Information
Background information
Practical information
The Guide
Budapest
Around Budapest and the Danube Bend
Northern Uplands
Northern Great Plain
Southern Great Plain
Southern Transdanubia
Central and Western Tansdanubia
Lake Balaton
Language
Further Reading
Index
Table of Contents provided by Publisher. All Rights Reserved.
Excerpts
Be very careful when you first reach the continent and watch out for the local drivers. Some car drivers drive phenomenally fast, including those share-taxis that have eleven people crammed inside and screech around corners with bald tyres! Buses are not always much slower, and are equally overloaded. The African travelling public have a lot to put up with.
You need to anticipate the driver's actions; many do not do the obvious. In fact expecting the unexpected should become second nature. Some vehicles are grossly overloaded; many don't have mirrors. Even with those that do have mirrors, the drivers may take no notice. You will soon learn how Africans drive!
Remember that a lot of African roads are quiet most of the time, and therefore people will not expect vehicles to be passing continually. This means you must drive very slowly through villages and towns; children run out unexpectedly, women with heavy waterpots on their heads may not be looking out for traffic. If you should be so unfortunate as to knock someone down, it will always be your fault, whatever the circumstances. Animals are also a potential threat much of the time. Camels in particular, with their noses high in the air, seem oblivious to other road users.
Although some main roads are mostly good, there is always the possible threat at any time of large unmarked pot-holes; uncovered manholes aren't totally unknown and surfaces can be suddenly rough. With so many different road surfaces, gravel tracks, sandy pistes and muddy holes, driving in Africa can be great fun. But don't get carried away by the thrill of the moment; Africa will punish you severely. Always drive with great caution.
---

Excerpted from Africa Overland, 5th: 4x4, Motorbike, Bicycle, Truck by Bob Gibbons, Sian Pritchard-Jones
All rights reserved by the original copyright owners. Excerpts are provided for display purposes only and may not be reproduced, reprinted or distributed without the written permission of the publisher.