Note: Supplemental materials are not guaranteed with Rental or Used book purchases.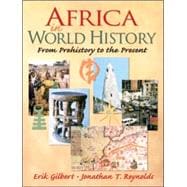 Questions About This Book?
What version or edition is this?
This is the 1st edition with a publication date of 1/1/2004.
What is included with this book?
The New copy of this book will include any supplemental materials advertised. Please check the title of the book to determine if it should include any CDs, lab manuals, study guides, etc.
Related Products
Summary
For surveys of African History at the undergraduate level. This comprehensive survey is the first to provide a view of African history in the wider context of World History. The text illustrates how Africans have influenced regions beyond the continent's borders, how they have been influenced from outside, and how internal African developments can be compared and contrasted to those elsewhere in the world. Identifying and presenting key debates within the field of African history, this volume encourages students to address the many oversimplified myths regarding the continent and its people.
Table of Contents
Africa and Human Origins
Physical Context of African History: Geography and Environment
North and Northeast Africa in Early World History
Migrations, Technology and Culture in Ancient Africa
Africa and the Early Christian World
North Africa, the Soudan, and the Spread of Islam
East Africa and the Advent of Islam
Slavery and the Creation of the Atlantic World
West and West-Central Africa: 1500-1880
North Africa and the Soudan: 1500-1880
East Africa and the Indian Ocean World: 1500-1880
Southern Africa, 1500-1870
Colonialism and Africa Resistance
Modern Africa in the Global Industrial Economy
Political Change in the Time of Colonialism
African Culture in the Modern World
Politics in the Era of Decolonization and Independence
Contemporary Africa
Table of Contents provided by Publisher. All Rights Reserved.
Excerpts
Notions of Africa Always something new out of Africa(Greek Proverb Quoted by Pliny the Elder, first century C.E.) Africa is no historical part of the world; it has no movement or development to exhibit.(George Hegel, Lectures on the Philosophy of History, early nineteenth century) Africa has, for generations now, been viewed through a web of myth . . . only when the myth is stripped away can the reality of Africa emerge.(Paul Bohannan,Africa and Africans,1964) Perhaps, in the future, there will be some African history to teach. But at present there is none, or very little: there is only the history of the Europeans in Africa. The rest is largely darkness, like the history of pre European, pre-Colombian America ....(Hugh Trevor-Roper,The Rise of Christian Europe,1965) There is a desire--one might say the need--in Western psychology to set Africa up as a foil to Europe, as a place of negations at once remote and vaguely familiar, in comparison with which Europe's own state of spiritual grace will be manifest.(Chinua Achebe,Hopes and Impediments. Selected Essays 1965-1987,1988) Far from being a kind of Museum of Barbarism whose populations had stayed outside the laws of human growth and change through some natural failing or inferiority, Africa is now seen to possess a history which demands as serious an approach as that of any other continent. (Basil Davidson, Africa in History, 1991) For many students,Africa in World Historyand the course for which it was purchased will be your very first introduction to thestudyof Africa and Africans. We hope that the material presented in this text will be both surprising and challenging. Why? A simple glance at the preceding quotes should give you some insight into the answer to this question. The meaning of both Africa and African History is deeply contested--even more so than that of most world regions. This is in no small part a result of the historical agendas and biases that have influenced the way Africa has been represented. As typified in the quotes by Hegel and Trevor-Roper, for hundreds of years Western scholars openly discounted the idea that Africa even had a history that could be recorded and studied. Since the 1950s these views have been challenged by Africanists as typified by Bohannan, Achebe, and Davidson. These more modern views of African History have adamantly argued that Africans have a very real and dynamic history. Perhaps you might not even be familiar with the various academic views listed above. Nonetheless, you have certainly been influenced by the way they have been manifested in more popular media. Most of us grow up unwittingly observing and accepting myriad myths about Africa. Many of the blatantly negative representations of Africa and Africans can be found in popular novels, magazines, films, and even television commercials. On the opposite end of the spectrum can be found notions of Africa that present a much more idealized perspective of the continent and its inhabitants. Indeed, there are many notions of Africa--sometimes mutually reinforcing and sometimes completely contradictory. Here are some that might be familiar. Primitive Africa--As evidenced by some of the earlier quotes, there is a popular idea that Africa has somehow failed to "develop" along with the rest of the world. This might also be thought of as a "Static Africa," a place without change. In this view, simply by going to Africa one can travel back in time and view how people once lived in the "deep dark past." Have you ever heard of African societies described as "Ancient Tribes?" Ever thought of Africa as "Stone Age?" As a land without writing? All these elements are hallmarks of the "Primitive Africa" perspective. Wild and Dangerous Africa--These are among the most common images of Africa presen