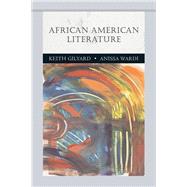 List Price: $57.20
Usually Ships in 2-3 Business Days
Currently Available, Usually Ships in 24-48 Hours

More New and Used
from Private Sellers
Questions About This Book?
What version or edition is this?
This is the 1st edition with a publication date of 1/21/2004.
What is included with this book?
The New copy of this book will include any supplemental materials advertised. Please check the title of the book to determine if it should include any CDs, lab manuals, study guides, etc.
The Used copy of this book is not guaranteed to inclue any supplemental materials. Typically, only the book itself is included.
Summary
African-American Literatureis thematically arranged, comprehensive survey of African-American Literature.The unique thematic organization of the anthology allows for a concise and coherent assessment of African American literature. The thematic approach gives readers a better sense of the intertextuality that binds a literary tradition together rather than a chronological approach that organizes material strictly on the basis of an author's birth date.Those interested in African-American literature.
Table of Contents
Preface
xxi

| | |
| --- | --- |
| | The Middle Passage, Mourning, and Survival |

1
(116)
5
(1)

| | |
| --- | --- |
| | Olaudah Equiano (1745-1797) |

| | |
| --- | --- |
| | from The Interesting Narrative |

6
(14)

| | |
| --- | --- |
| | Robert Hayden (1913-1980) |

20
(5)
25
(12)
37
(4)
41
(4)

| | |
| --- | --- |
| | from Joe Turner's Come and Gone |

45
(4)
49
(3)
52
(4)
56
(1)

| | |
| --- | --- |
| | W. E. B. Du Bois (1868-1963) |

| | |
| --- | --- |
| | from The Souls of Black Folk |

57
(5)

| | |
| --- | --- |
| | Paul Laurence Dunbar (1872-1906) |

62
(1)

| | |
| --- | --- |
| | Countee Cullen (1903-1946) |

63
(1)

| | |
| --- | --- |
| | Arna Bontemps (1902-1973) |

64
(8)

| | |
| --- | --- |
| | Zora Neale Hurston (1891-1960) |

| | |
| --- | --- |
| | from Their Eyes Were Watching God |

72
(7)

| | |
| --- | --- |
| | from In Search of Our Mothers' Gardens |

79
(17)
96
(3)

| | |
| --- | --- |
| | ``View from Rosehill Cemetery'' |

99
(1)

| | |
| --- | --- |
| | from A Gathering of Old Men |

100
(7)

| | |
| --- | --- |
| | from Daughters of the Dust |

107
(9)
116
(1)

| | |
| --- | --- |
| | The Influence of the Spirituals |

117
(120)
121
(1)

| | |
| --- | --- |
| | ``God's Going to Trouble the Water'' |

122
(1)

| | |
| --- | --- |
| | ``Didn't My Lord Deliver Daniel?'' |

122
(3)

| | |
| --- | --- |
| | ``Swing Low, Sweet Chariot'' |

125
(1)
126
(1)

| | |
| --- | --- |
| | Jupiter Hammon (1711-1806) |

127
(3)

| | |
| --- | --- |
| | Phillis Wheatley (1753?-1784) |

| | |
| --- | --- |
| | ``On Being Brought from Africa to America'' |

130
(1)

| | |
| --- | --- |
| | ``Letter to Samson Occum'' |

130
(1)
131
(5)

| | |
| --- | --- |
| | Frances E.W. Harper (1825-1911) |

| | |
| --- | --- |
| | from ``Moses: A Story of the Nile'' |

136
(23)

| | |
| --- | --- |
| | Paul Laurence Dunbar (1872-1906) |

| | |
| --- | --- |
| | ``An Ante-Bellum Sermon'' |

159
(2)

| | |
| --- | --- |
| | ``God's Gonna Set This World on Fire'' |

161
(1)
162
(1)

| | |
| --- | --- |
| | James Weldon Johnson (1871-1938) |

| | |
| --- | --- |
| | ``O Black and Unknown Bards'' |

163
(1)
164
(3)

| | |
| --- | --- |
| | Robert Hayden (1913-1980) |

167
(3)
170
(1)

| | |
| --- | --- |
| | ``Walk Together Children'' |

171
(2)

| | |
| --- | --- |
| | John Oliver Killens (1916-1987) |

173
(31)

| | |
| --- | --- |
| | William Melvin Kelley (1937-) |

204
(18)

| | |
| --- | --- |
| | ``When We'll Worship Jesus'' |

222
(3)
225
(3)
228
(1)

| | |
| --- | --- |
| | ``There's No Hiding Place Down There'' |

229
(1)

| | |
| --- | --- |
| | Curtis Mayfield (1942-1997) |

230
(1)
231
(1)
232
(1)
233
(1)

| | |
| --- | --- |
| | ``The New Miz Praise De Lawd'' |

234
(1)
235
(2)

| | |
| --- | --- |
| | The South as Literary Landscape |

237
(94)
240
(1)

| | |
| --- | --- |
| | Frederick Douglass (1818-1895) |

| | |
| --- | --- |
| | from Narrative of the Life of Frederick Douglass, American Slave, Written by Himself |

241
(19)

| | |
| --- | --- |
| | Margaret Walker (1915-1988) |

260
(1)
261
(11)

| | |
| --- | --- |
| | Richard Wright (1908-1960) |

272
(34)

| | |
| --- | --- |
| | Zora Neale Hurston (1891-1960) |

| | |
| --- | --- |
| | from Their Eyes Were Watching God |

306
(5)
311
(8)

| | |
| --- | --- |
| | from Gather Together in My Name |

319
(8)

| | |
| --- | --- |
| | Billie Holiday (1915-1959) |

327
(1)
328
(2)
330
(1)
331
(120)
335
(1)

| | |
| --- | --- |
| | ``The Signifying Monkey'' |

336
(2)

| | |
| --- | --- |
| | Charles W. Chesnutt (1858-1932) |

338
(12)
350
(9)
359
(1)

| | |
| --- | --- |
| | ``Railroad Bill, A Conjure Man'' |

360
(6)
366
(8)
374
(1)

| | |
| --- | --- |
| | ``The Sinking of the Titanic'' |

375
(2)

| | |
| --- | --- |
| | Etheridge Knight (1931-1991) |

377
(1)
378
(4)

| | |
| --- | --- |
| | Melvin B. Tolson (1898-1966) |

| | |
| --- | --- |
| | ``The Birth of John Henry'' |

382
(1)
383
(6)

| | |
| --- | --- |
| | from Sassafrass, Cypress & Indigo |

389
(39)

| | |
| --- | --- |
| | Tina McElroy Ansa (1949-) |

428
(21)
449
(2)

| | |
| --- | --- |
| | Expressions of Blues and Jazz |

451
(110)
454
(1)
455
(2)
457
(1)

| | |
| --- | --- |
| | Langston Hughes (1902-1967) |

458
(1)
459
(1)
460
(1)
460
(1)
461
(1)
462
(1)
462
(1)
463
(1)
464
(1)
464
(2)

| | |
| --- | --- |
| | Sterling Brown (1901-1989) |

466
(1)
467
(3)

| | |
| --- | --- |
| | ``River Town Packin House Blues'' |

470
(3)
473
(1)
474
(2)

| | |
| --- | --- |
| | James Baldwin (1924-1987) |

476
(29)
505
(1)
506
(1)
506
(2)
508
(1)
508
(1)
509
(6)
515
(3)
518
(3)
521
(1)

| | |
| --- | --- |
| | Xam Wilson Cartier (1949-) |

522
(12)

| | |
| --- | --- |
| | ``Law Giver in the Wilderness'' |

534
(3)
537
(5)
542
(2)
544
(4)
548
(1)
549
(1)
550
(2)
552
(1)
553
(7)
560
(1)
561
(134)
565
(1)

| | |
| --- | --- |
| | Paul Laurence Dunbar (1872-1906) |

| | |
| --- | --- |
| | from The Sport of the Gods |

566
(91)
657
(1)

| | |
| --- | --- |
| | Bessie Smith (1894-1937) and Clara Smith (1894-1935) |

658
(1)
659
(11)
670
(5)

| | |
| --- | --- |
| | Ralph Ellison (1913-1994) |

675
(10)

| | |
| --- | --- |
| | from Another Good Loving Blues |

685
(7)
692
(3)
695
(100)
698
(1)

| | |
| --- | --- |
| | from Makes Me Wanna Holler |

699
(15)

| | |
| --- | --- |
| | John Edgar Wideman (1941-) |

| | |
| --- | --- |
| | from Brothers and Keepers |

714
(9)

| | |
| --- | --- |
| | Eugene B. Redmond (1937-) |

723
(1)

| | |
| --- | --- |
| | ``We're Tight, Soul-Tight---Like Lincolnites'' |

724
(4)

| | |
| --- | --- |
| | ``Indigenous Daughter Awake in the Dreams of Nana'' |

728
(1)

| | |
| --- | --- |
| | ``Choreo-Empress' Leg-a-cy Lands on East Saint Earth, 2nd Take'' |

729
(2)
731
(1)
732
(8)
740
(3)

| | |
| --- | --- |
| | ``Maple Valley Branch Library, 1967'' |

743
(2)

| | |
| --- | --- |
| | ``My Mother Enters the Work Force'' |

745
(1)
746
(1)

| | |
| --- | --- |
| | ``Flight of the California Condor (2)'' |

747
(2)
749
(1)
750
(1)
751
(1)

| | |
| --- | --- |
| | ``South Central Los Angeles Deathtrip 1982'' |

752
(5)

| | |
| --- | --- |
| | Lamont B. Steptoe (1949-) |

757
(1)
758
(1)
759
(1)
759
(1)
760
(1)
761
(1)

| | |
| --- | --- |
| | Mursalata Muhammad (1969-) |

762
(1)
763
(1)

| | |
| --- | --- |
| | ``Women at the House of Braids Discuss Flo Jo'' |

764
(2)
766
(4)

| | |
| --- | --- |
| | ``Anyone Heard from Manuel?'' |

770
(11)
781
(13)
794
(1)

| | |
| --- | --- |
| | A Strand of Social Protest |

795
(136)
798
(1)

| | |
| --- | --- |
| | Richard Wright (1908-1960) |

799
(16)

| | |
| --- | --- |
| | Chester Himes (1909-1984) |

| | |
| --- | --- |
| | from If He Hollers Let Him Go |

815
(10)
825
(14)

| | |
| --- | --- |
| | Langston Hughes (1902-1967) |

839
(1)
839
(1)

| | |
| --- | --- |
| | Lorraine Hansberry (1930-1965) |

840
(88)
928
(3)
931
(106)
936
(1)

| | |
| --- | --- |
| | Article III of the Appeal |

937
(8)

| | |
| --- | --- |
| | Frederick Douglass (1818-1895) |

| | |
| --- | --- |
| | ``The Blood of the Slave on the Skirts of the Northern People'' |

945
(4)

| | |
| --- | --- |
| | ``Emancipation, Racism, and the Work Before Us'' |

949
(11)

| | |
| --- | --- |
| | Booker T. Washington (1856-1915) |

| | |
| --- | --- |
| | ``Speech at the Atlanta Exposition'' |

960
(3)

| | |
| --- | --- |
| | from The Future of the American Negro |

963
(14)

| | |
| --- | --- |
| | Ida B. Wells-Barnett (1862-1931) |

977
(4)

| | |
| --- | --- |
| | from Mob Rule in New Orleans |

981
(2)

| | |
| --- | --- |
| | W. E. B. Du Bois (1868-1963) |

983
(3)
986
(1)

| | |
| --- | --- |
| | from The Autobiography of W. E. B. Du Bois |

987
(6)

| | |
| --- | --- |
| | Mary McLeod Bethune (1875-1955) |

| | |
| --- | --- |
| | ``Certain Unalienable Rights'' |

993
(10)

| | |
| --- | --- |
| | Martin Luther King, Jr. (1929-1968) |

| | |
| --- | --- |
| | ``Speech at Holt Street Baptist Church'' |

1003
(4)
1007
(4)

| | |
| --- | --- |
| | from Where Do We Go From Here? |

1011
(6)

| | |
| --- | --- |
| | ``Beyond Multiculturalism & Eurocentrism'' |

1017
(14)

| | |
| --- | --- |
| | ``A Twilight Civilization'' |

1031
(3)
1034
(3)

| | |
| --- | --- |
| | Discourses of Black Nationalism |

1037
(104)
1041
(1)

| | |
| --- | --- |
| | Preamble plus Articles I and II of the Appeal |

1041
(28)

| | |
| --- | --- |
| | Maria Stewart (1803-1879) |

| | |
| --- | --- |
| | ``Address at the African Masonic Hall'' |

1069
(7)

| | |
| --- | --- |
| | Martin Robison Delany (1812-1885) |

| | |
| --- | --- |
| | ``A Glance at Ourselves'' |

1076
(7)

| | |
| --- | --- |
| | ``A Project for an Expedition of Adventure, to the Eastern Coast of Africa'' |

1083
(4)

| | |
| --- | --- |
| | W. E. B. Du Bois (1868-1963) |

| | |
| --- | --- |
| | ``The Conservation of Races'' |

1087
(11)

| | |
| --- | --- |
| | Marcus Garvey (1887-1940) |

| | |
| --- | --- |
| | ``Africa for the Africans'' |

1098
(4)

| | |
| --- | --- |
| | ``The Future as I See It'' |

1102
(5)

| | |
| --- | --- |
| | ``First Speech after Release from Tombs Prison Delivered at Liberty Hall, New York City, September 13, 1923'' |

1107
(5)
1112
(6)

| | |
| --- | --- |
| | ``The Ballot or the Bullet'' |

1118
(18)

| | |
| --- | --- |
| | ``Standing as an African Man'' |

1136
(3)
1139
(2)
1141
(108)
1146
(1)

| | |
| --- | --- |
| | Sojourner Truth (1797-1883) |

| | |
| --- | --- |
| | ``Speech Delivered to the Woman's Rights Convention, Akron, Ohio'' (Campbell and Gage versions) |

1147
(3)

| | |
| --- | --- |
| | ``Speech Delivered to the First Annual Meeting of the American Equal Rights Association'' |

1150
(2)

| | |
| --- | --- |
| | Anna Julia Cooper (1858-1964) |

| | |
| --- | --- |
| | ``Womanhood: A Vital Element in the Regeneration and Progress of a Race (1886)'' |

1152
(19)

| | |
| --- | --- |
| | Victoria Earle Matthews (1861-1907) |

| | |
| --- | --- |
| | ``The Awakening of the Afro-American Woman'' |

1171
(6)

| | |
| --- | --- |
| | Georgia Douglas Johnson (1877-1966) |

1177
(1)
1178
(1)
1178
(5)

| | |
| --- | --- |
| | Gwendolyn Brooks (1917-2000) |

1183
(8)

| | |
| --- | --- |
| | ``A Song of Sojourner Truth'' |

1191
(2)
1193
(6)

| | |
| --- | --- |
| | ``A New Politics of Sexuality'' |

1199
(5)

| | |
| --- | --- |
| | ``Report from the Bahamas'' |

1204
(10)
1214
(11)

| | |
| --- | --- |
| | ``A Name Is Sometimes an Ancestor Saying Hi, I'm With You'' |

1225
(1)

| | |
| --- | --- |
| | ``Feminism: It's a Black Thing'' |

1226
(9)

| | |
| --- | --- |
| | ``The Master's Tools Will Never Dismantle the Master's House'' |

1235
(3)
1238
(9)
1247
(2)
1249
(82)
1253
(1)

| | |
| --- | --- |
| | Langston Hughes (1902-1967) |

1253
(1)

| | |
| --- | --- |
| | Countee Cullen (1903-1946) |

1254
(3)
1257
(1)
1258
(1)
1259
(1)
1259
(1)

| | |
| --- | --- |
| | Helene Johnson (1906-1995) |

1260
(1)

| | |
| --- | --- |
| | ``Sonnet to a Negro in Harlem'' |

1261
(1)

| | |
| --- | --- |
| | Margaret Walker (1915-1998) |

1262
(1)

| | |
| --- | --- |
| | Gwendolyn Brooks (1917-2000) |

1263
(2)
1265
(1)

| | |
| --- | --- |
| | ``Old Black Ladies Standing on Bus Stop Corners #2'' |

1265
(3)

| | |
| --- | --- |
| | ``A Poem Some People Will Have to Understand'' |

1268
(1)
1269
(1)

| | |
| --- | --- |
| | ``A Poem for Black Hearts'' |

1270
(2)

| | |
| --- | --- |
| | from The Man Who Cried I Am |

1272
(4)
1276
(1)

| | |
| --- | --- |
| | ``We Walk the Way of the New World'' |

1277
(3)
1280
(1)
1280
(1)
1281
(3)
1284
(1)

| | |
| --- | --- |
| | ``One Spark Can Light a Prairie Fire'' |

1285
(2)

| | |
| --- | --- |
| | Sarah Webster Fabio (1928-1979) |

1287
(1)

| | |
| --- | --- |
| | ``Evil Is No Black Thing'' |

1288
(2)

| | |
| --- | --- |
| | ``Tripping with Black Writing'' |

1290
(8)

| | |
| --- | --- |
| | Toni Cade Bambara (1939-1995) |

1298
(7)

| | |
| --- | --- |
| | ``Listenen to Big Black at S.F. State'' |

1305
(1)

| | |
| --- | --- |
| | ``This Is Not a Small Voice'' |

1306
(1)

| | |
| --- | --- |
| | ``From a Black Feminist Conference Reflections on Margaret Walker: Poet'' |

1307
(2)

| | |
| --- | --- |
| | ``Remembering and Honoring Toni Cade Bambara'' |

1309
(3)

| | |
| --- | --- |
| | ``The Revolution Will Not Be Televised'' |

1312
(2)

| | |
| --- | --- |
| | Derrick I. M. Gilbert (1970-) |

| | |
| --- | --- |
| | ``The Revolution Will Be on the Big Screen'' |

1314
(2)
1316
(4)

| | |
| --- | --- |
| | ``Why I Would Never Buy a Jeep Cherokee'' |

1320
(3)
1323
(1)

| | |
| --- | --- |
| | ``The Movie I Would Make'' |

1324
(1)

| | |
| --- | --- |
| | ``This Week's Ebony/Jet Showcase's Top Ten Hip Hop Video Singles'' |

1325
(1)
1325
(2)

| | |
| --- | --- |
| | ``On Watching the Republican Convention'' |

1327
(1)
1327
(3)
1330
(1)
Select Chronology of African American Literature
1331
(6)
Credits
1337
(10)
Index
1347