Note: Supplemental materials are not guaranteed with Rental or Used book purchases.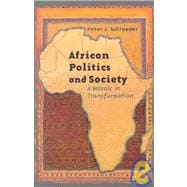 African Politics and Society A Continental Mosaic in Transformation
ISBN13:
9780312076030
by
Schraeder, Peter J.
Questions About This Book?
What version or edition is this?
This is the 1st edition with a publication date of 8/11/1999.
What is included with this book?
The New copy of this book will include any supplemental materials advertised. Please check the title of the book to determine if it should include any CDs, lab manuals, study guides, etc.
Summary
AFRICAN POLITICS AND SOCIETY is the first comprehensive, single-authored textbook to examine African politics and society from the pre-colonial era to the present. The book surveys the theoretical, historical, political, and cultural forces that have shaped contemporary Africa, with special emphasis on trends in the post-Cold War era.
Author Biography
Peter J. Schraeder is an associate professor in the department of political science at Loyola University, Chicago.
Table of Contents
Preface
v

| | |
| --- | --- |
| | Illustrations, Tables, and Boxes |

xix
About the Author
xxi
PART I INTRODUCTION

| | |
| --- | --- |
| | Understanding the African Renaissance |

1
(22)

| | |
| --- | --- |
| | Approaching the Study of African Politics and Society |

2
(10)

| | |
| --- | --- |
| | African Continent Is a Rich Mosaic of Diversity |

2
(1)

| | |
| --- | --- |
| | Necessity of a Continental Perspective |

3
(1)

| | |
| --- | --- |
| | To Understand the Present, One Must Understand the Past |

4
(1)

| | |
| --- | --- |
| | Influential Impact of the International System |

5
(4)

| | |
| --- | --- |
| | Central Importance of the Domestic Dimension |

9
(3)

| | |
| --- | --- |
| | Balancing Afro-Pessimism and Afro-Optimism |

12
(1)
12
(1)
12
(8)
20
(1)
21
(2)
PART II RIVAL THEORETICAL PERSPECTIVES

| | |
| --- | --- |
| | Study of Africa within the Liberal Tradition |

23
(20)

| | |
| --- | --- |
| | Predominance of Modernization Theory (1950s--Early 1960s) |

24
(2)

| | |
| --- | --- |
| | Rise of Modernization Revisionism (Late 1960s) |

26
(4)

| | |
| --- | --- |
| | Concern with Stability and the ``Politics of Order'' (Late 1960s--Early 1970s) |

30
(4)

| | |
| --- | --- |
| | Demands for Policy Relevance and Public Policy Research (Mid-1970s--1980s) |

34
(2)

| | |
| --- | --- |
| | New Directions in the Post--Cold War Era (Late 1980s--Present) |

36
(3)
39
(1)
39
(1)
40
(3)

| | |
| --- | --- |
| | Study of Africa within the Critical Tradition |

43
(20)

| | |
| --- | --- |
| | Classical Marxism (Nineteenth Century) as Precursor to Contemporary Critical Thought |

44
(2)

| | |
| --- | --- |
| | Dependency Theory and the ``Development of Underdevelopment'' Thesis (Late 1960s--Early 1970s) |

46
(2)

| | |
| --- | --- |
| | ``Circulationist'' Revisions of Dependency Theory (1970s) |

48
(3)

| | |
| --- | --- |
| | Emergence of Neo-Marxist Forms of Scholarship (Late 1970s--1980s) |

51
(5)

| | |
| --- | --- |
| | New Directions in the Post--Cold War Era (Late 1980s--Present) |

56
(2)
58
(1)
58
(1)
59
(4)
PART III HISTORICAL CONTEXT

| | |
| --- | --- |
| | Politics and Economics of the Precolonial Independence Era (Prior to 1884) |

63
(24)

| | |
| --- | --- |
| | Diversity of Segmented Political Systems |

64
(7)
64
(2)

| | |
| --- | --- |
| | Classical Segmented System |

66
(3)

| | |
| --- | --- |
| | Universalistic Segmented System |

69
(1)

| | |
| --- | --- |
| | Ritually Stratified Segmented System |

69
(1)

| | |
| --- | --- |
| | Autonomous Village System |

70
(1)

| | |
| --- | --- |
| | Diversity of Centralized Political Systems |

71
(3)
71
(1)
72
(1)
73
(1)

| | |
| --- | --- |
| | Regional Diplomatic Practices |

74
(3)

| | |
| --- | --- |
| | Economic Diversity and Trade |

77
(6)
83
(1)
83
(1)
84
(3)

| | |
| --- | --- |
| | Political and Economic Impacts of Colonialism (1884--1951) |

87
(29)

| | |
| --- | --- |
| | Early Contacts with Europe and the Arab World |

88
(6)

| | |
| --- | --- |
| | Imposition of Direct Colonial Rule |

94
(4)

| | |
| --- | --- |
| | Political Impacts of Colonialism |

98
(7)

| | |
| --- | --- |
| | Application of the European Nation-State System to Africa |

98
(1)

| | |
| --- | --- |
| | Division of African Nations among Several States |

99
(2)

| | |
| --- | --- |
| | Incorporation of Several African Nations into One State |

101
(2)

| | |
| --- | --- |
| | Destruction of Traditional Checks-and-Balances |

103
(1)

| | |
| --- | --- |
| | Authoritarian Political Legacy |

103
(2)

| | |
| --- | --- |
| | Economic Impacts of Colonialism |

105
(6)

| | |
| --- | --- |
| | Creation of Closed Economic Systems |

106
(1)

| | |
| --- | --- |
| | Creation of Export-Oriented, Mono-Crop or Mono-Mineral Economies |

107
(1)

| | |
| --- | --- |
| | Evolution of Perverse Infrastructural Development |

108
(2)

| | |
| --- | --- |
| | Authoritarian Legacy of the State |

110
(1)
111
(1)
111
(1)
112
(4)

| | |
| --- | --- |
| | Nationalism and the Emergence of the Contemporary Independence Era (1951--Present) |

116
(21)

| | |
| --- | --- |
| | Trends in African Nationalism |

117
(3)

| | |
| --- | --- |
| | Domestic Influences on the Rise of Nationalism |

120
(6)

| | |
| --- | --- |
| | Creation of Administrative Centers and the Rise of Urbanization |

121
(1)

| | |
| --- | --- |
| | Educational Training and Development |

121
(4)

| | |
| --- | --- |
| | Formation and Spread of Voluntary Associations |

125
(1)

| | |
| --- | --- |
| | International Influences on the Rise of Nationalism |

126
(6)
126
(1)

| | |
| --- | --- |
| | Involvement of African Soldiers in World War I and World War II |

127
(2)

| | |
| --- | --- |
| | Demonstration Effect of Decolonization in Asia |

129
(2)

| | |
| --- | --- |
| | Shifting Structure of the International System |

131
(1)

| | |
| --- | --- |
| | Self-Determination and the Rise of Secessionist Movements |

132
(1)
133
(1)
133
(1)
134
(3)
PART IV SOCIOCULTURAL ENVIRONMENT
137
(31)

| | |
| --- | --- |
| | Ethnic Dimension of African Politics and Society |

138
(2)

| | |
| --- | --- |
| | Ethnic Intermediaries and the Creation of Ethnic Compacts |

140
(3)

| | |
| --- | --- |
| | Ethnic Violence and the Breakdown of Ethnic Compacts |

143
(4)

| | |
| --- | --- |
| | Class Dimension of African Politics and Society |

147
(2)

| | |
| --- | --- |
| | Class Divisions within African Society |

149
(3)

| | |
| --- | --- |
| | Class Cooperation and Conflict |

152
(4)

| | |
| --- | --- |
| | Competing Explanations of the Nigerian Civil War (1967--70) |

156
(4)

| | |
| --- | --- |
| | Perceiving Events through an Ethnic Lens |

157
(2)

| | |
| --- | --- |
| | Perceiving Events through a Class Lens |

159
(1)
160
(1)
161
(1)
162
(1)
163
(5)

| | |
| --- | --- |
| | Ideology and the Politics of Development |

168
(26)

| | |
| --- | --- |
| | Evolution of African Ideologies of Development |

169
(3)

| | |
| --- | --- |
| | Ideology and Development Choice |

172
(8)

| | |
| --- | --- |
| | Primary Purpose of Development |

173
(1)

| | |
| --- | --- |
| | Primary Engine of Development |

174
(1)

| | |
| --- | --- |
| | Role of Agriculture in National Development |

175
(3)

| | |
| --- | --- |
| | Perception of the Rural Peasantry |

178
(1)

| | |
| --- | --- |
| | Role of Foreign Powers and Investment |

179
(1)

| | |
| --- | --- |
| | Ideology and Development Performance |

180
(8)
182
(1)
182
(1)

| | |
| --- | --- |
| | Autonomy from Foreign Control |

183
(2)
185
(1)
186
(2)

| | |
| --- | --- |
| | Toward a Capitalist Hybrid? |

188
(1)
189
(1)
190
(1)
190
(4)

| | |
| --- | --- |
| | Politics of the African Novel |

194
(23)

| | |
| --- | --- |
| | Political Dilemmas Faced by the African Novelist |

195
(2)

| | |
| --- | --- |
| | Political Themes of the African Novel |

197
(4)

| | |
| --- | --- |
| | Re-creation of Africa's Past |

197
(1)
198
(1)
199
(1)

| | |
| --- | --- |
| | Nationalism and Independence |

200
(1)

| | |
| --- | --- |
| | Disenchantment with Elites |

200
(1)
200
(1)

| | |
| --- | --- |
| | Politically Committed African Novelists |

201
(2)

| | |
| --- | --- |
| | Neglected Popular Elements of Society |

201
(1)

| | |
| --- | --- |
| | Destructive Nature of Societal Divisions |

202
(1)

| | |
| --- | --- |
| | Status of Women in African Society |

202
(1)

| | |
| --- | --- |
| | Nuruddin Farah and the Politics of Commitment in Somalia |

203
(9)

| | |
| --- | --- |
| | Early Years as Critic of Social Injustice |

204
(1)

| | |
| --- | --- |
| | Qualified Optimism after the 1969 Military Coup d'Etat |

205
(1)

| | |
| --- | --- |
| | Opposition to the Dictatorship of Siad Barre |

206
(4)

| | |
| --- | --- |
| | Evolving African Identity |

210
(2)

| | |
| --- | --- |
| | Politics of the African Novel in Perspective |

212
(1)
212
(1)
212
(1)
213
(4)
PART V CONTINUITY AND CHANGE IN GOVERNANCE
217
(27)

| | |
| --- | --- |
| | Concentration of State Power at the Expense of Civil Society |

218
(9)

| | |
| --- | --- |
| | Africanization of the State |

219
(1)

| | |
| --- | --- |
| | Bureaucratic Expansion and the Growth of Parastatals |

220
(1)

| | |
| --- | --- |
| | Dismantling of Institutional Checks-and-Balances |

221
(2)

| | |
| --- | --- |
| | Co-optation and Silencing of Civil Society |

223
(2)

| | |
| --- | --- |
| | Expansion of the Coercive Apparatus |

225
(1)

| | |
| --- | --- |
| | Creation of Personal Rule Networks |

226
(1)

| | |
| --- | --- |
| | Crisis of the State and the Resurgence of Civil Society |

227
(9)

| | |
| --- | --- |
| | Deepening Economic Crisis |

228
(1)

| | |
| --- | --- |
| | Growing Inability to Provide Social Goods |

229
(2)

| | |
| --- | --- |
| | Resurgence of Civil Society |

231
(1)

| | |
| --- | --- |
| | Intensification of Domestic Violence and Conflict |

232
(4)

| | |
| --- | --- |
| | Toward a State-Society Balance? |

236
(3)
239
(1)
239
(1)
240
(4)

| | |
| --- | --- |
| | Military Coups d'Etat and Military Governance |

244
(23)

| | |
| --- | --- |
| | Trends in Military Coups d'Etat |

245
(3)

| | |
| --- | --- |
| | Role of the Military in Political Governance |

248
(4)
248
(1)
249
(1)
249
(1)
250
(1)

| | |
| --- | --- |
| | Social Transformation Model |

251
(1)

| | |
| --- | --- |
| | Myths Concerning the Effectiveness of Military Governance |

252
(6)

| | |
| --- | --- |
| | Military Enjoys Greater Legitimacy |

252
(1)

| | |
| --- | --- |
| | Military Rule Is More Efficient |

253
(1)

| | |
| --- | --- |
| | Military Is Best Able to Maintain Stability |

254
(1)

| | |
| --- | --- |
| | Military Constitutes a Better Unifying Structure |

255
(2)

| | |
| --- | --- |
| | Military Is Best Prepared to Promote Development |

257
(1)

| | |
| --- | --- |
| | Demilitarization and Transitions to Civilian Rule |

258
(4)
262
(1)
262
(1)
263
(4)

| | |
| --- | --- |
| | Democratic Experiments and Multiparty Politics |

267
(24)

| | |
| --- | --- |
| | Establishment of Single-Party Political Systems |

268
(3)

| | |
| --- | --- |
| | Experimentation with Multiparty Politics |

271
(10)

| | |
| --- | --- |
| | Change via Multiparty Elections |

273
(1)

| | |
| --- | --- |
| | Change via the National Conference |

274
(1)
275
(2)
277
(1)
278
(2)

| | |
| --- | --- |
| | Civil War and Contested Sovereignty |

280
(1)

| | |
| --- | --- |
| | Democratic Consolidation or Decay? |

281
(5)
286
(1)
287
(1)
288
(3)
PART VI FOREIGN RELATIONS

| | |
| --- | --- |
| | Foreign Policy Making and the Pursuit of Pan-Africanism |

291
(26)

| | |
| --- | --- |
| | Understanding the Foreign Policy--Making Context |

292
(7)

| | |
| --- | --- |
| | President and Bureaucracies of the Executive Branch |

292
(3)

| | |
| --- | --- |
| | Role of National Legislatures in Foreign Policy |

295
(1)

| | |
| --- | --- |
| | Foreign Policy Impact of Nongovernmental Actors |

296
(3)

| | |
| --- | --- |
| | Pan-Africanism and the Organization of African Unity |

299
(7)

| | |
| --- | --- |
| | Inviolability of Inherited Frontiers |

300
(1)

| | |
| --- | --- |
| | Noninterference in Domestic Affairs |

301
(1)

| | |
| --- | --- |
| | Peaceful Settlement of Disputes |

302
(4)

| | |
| --- | --- |
| | Opposition to Colonialism and White Minority Rule |

306
(1)

| | |
| --- | --- |
| | Regional Economic Cooperation and Integration |

306
(5)
311
(1)
311
(1)
312
(5)
317
(30)
318
(1)

| | |
| --- | --- |
| | Cooperation and Conflict during the Cold War |

319
(6)

| | |
| --- | --- |
| | Complementary Interests among the Western Great Powers |

320
(2)

| | |
| --- | --- |
| | Africa as a Proxy Battlefield for East-West Conflict |

322
(1)

| | |
| --- | --- |
| | Indiscriminate Support for Allies |

323
(2)

| | |
| --- | --- |
| | Emergence of the Cold Peace and Economic Competition |

325
(9)

| | |
| --- | --- |
| | Transformation of Foreign Policy Interests |

325
(1)

| | |
| --- | --- |
| | Rising Economic Competition among the Great Powers |

326
(2)

| | |
| --- | --- |
| | Rhetoric versus Reality in Support for Democratization |

328
(2)

| | |
| --- | --- |
| | Reassessments of Unilateral Interventions |

330
(4)

| | |
| --- | --- |
| | Involvement in the United Nations |

334
(2)

| | |
| --- | --- |
| | Influence of International Financial Institutions |

336
(4)
340
(1)
340
(1)
341
(6)
Appendix 1 List of Acronyms
347
(8)
Appendix 2 Country Name Changes in Africa during the Contemporary Independence Era
355
(4)
Appendix 3 Political Leadership in Africa during the Contemporary Independence Era
359
(10)
Index
369