Note: Supplemental materials are not guaranteed with Rental or Used book purchases.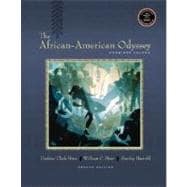 Questions About This Book?
What version or edition is this?
This is the 2nd edition with a publication date of 3/8/2002.
What is included with this book?
The Used copy of this book is not guaranteed to include any supplemental materials. Typically, only the book itself is included.
Summary
This book is the first comprehensive survey of the African-American experience. It draws on recent research to present black history in a clear and direct manner, within a broad social, cultural, and political framework. Life in sixteenth-century Africa, the antislavery movement, The Civil War, the building of black community institutions, the equal rights movement, and African-American military service. For anyone who is interested in an in-depth exploration of African-American history as it relates to U.S. history.
Author Biography
Darlene Clark Hine is John A. Hannah Professor of American History at Michigan State University and President of the Organization of American Historians (20012002). Hire received her BA at Roosevelt University in Chicago, and her MA and Ph.D. from Kent State University, Kent, Ohio. Hire has taught at South Carolina State University and at Purdue University. In 2000-2001 she was a fellow at the Center for Advanced Study in the Behavioral Sciences at Stanford University. She is the author and/or editor of fifteen books, most recently The Harvard Guide to African American History (Cambridge: Harvard University Press, 2000) coedited with Evelyn Brooks Higginbotham and Leon Litwack. She coedited a two volume set with Earnestine Jerkins, A Question of Manhood: A Reader in Black Men's History and Masculinity (Bloomington: Indiana University Press, 1999, 2001); and with Jacqueline McLeod, Crossing Boundaries: Comparative History of Black People in Diaspora (Bloomington: Indiana University Press, 2000pk). With Kathleen Thompson she wrote A Shining Thread of Hope: The History of Black Women in America (New York: Broadway Books, 1998), and edited with Barry Gaspar, More Than Chattel: Black Women and Slavery in the Americas (Bloomington: Indiana University Press, 1996). She won the Dartmouth Medal of the American Library Association for the reference volumes coedited with Elsa Barkley Brown and Rosalyn Terborg-Penn, Black Women in America: An Historical Encyclopedia (New York: Carlson Publishing, 1993). She is the author of Black Women in White: Racial Conflict and Cooperation in the Nursing Profession, 1890-1950 (Bloomington: Indiana University Press, 1989). Her forthcoming book is entitled Black Professional Class and Race Consciousness: Physicians, Nurses, Lawyers, and the Origins of the Civil Rights Movement, 1890-1955. She is president-elect of the Southern Historical Association (2002-2003) .
William C. Hine received his undergraduate education at Bowling Green State University, his master's degree at the University of Wyoming, and his Ph.D. at Kent State University. He is a professor of history at South Carolina State University. He has had articles published in several journals, including Agricultural History, Labor History, and the Journal of Southern History. He is currently writing a history of South Carolina State University.
Stanley Harrold, Professor of History at South Carolina State University, received his bachelor's degree from Allegheny College and his master's and Ph.D. degrees from Kent State University. He is coeditor of Southern Dissent, a book series published by the University Press of Florida. He received during the 1990s two National Endowment for the Humanities Fellowships to pursue research dealing with the antislavery movement. Professor Harrold is a historian of nineteenth-century American reform. His books include: Gamaliel Bailey and Antislavery Union (1986), The Abolitionists and the South (1995), Antislavery Violence: Sectional, Racial, and Cultural Conflict in Antebellum America (co-edited with John R. McKivigan, 1999) and American Abolitionists (2001). He has published articles in Civil War History, Journal of Southern History, Radical History Review, and Journal of the Early Republic. His most recent book, Subversives: Antislavery Community in Washington, D.C., 1828-1865, will be published in 2002.
Table of Contents
PART I Becoming African American
1
(119)
2
(22)
24
(22)

| | |
| --- | --- |
| | Black People in Colonial North America, 1526--1763 |

46
(26)

| | |
| --- | --- |
| | Rising Expectations: African Americans and the Struggle for Independence, 1763--1783 |

72
(22)

| | |
| --- | --- |
| | African Americans in the New Nation, 1783--1820 |

94
(26)
PART II Slavery, Abolition, and the Quest for Freedom: The Coming of the Civil War, 1793--1861
120
(110)

| | |
| --- | --- |
| | Life in the Cotton Kingdom |

122
(24)

| | |
| --- | --- |
| | Free Black People in Antebellum America |

146
(24)

| | |
| --- | --- |
| | Opposition to Slavery, 1800--1833 |

170
(18)

| | |
| --- | --- |
| | Let Your Motto Be Resistance, 1833--1850 |

188
(16)

| | |
| --- | --- |
| | ``And Black People Were at the Heart of It'': The United States Disunites over Slavery |

204
(26)
PART III The Civil War, Emancipation, and Black Reconstruction: The Second American Revolution
230
(76)

| | |
| --- | --- |
| | Liberation: African Americans and the Civil War |

232
(26)

| | |
| --- | --- |
| | The Meaning of Freedom: The Promise of Reconstruction, 1865--1868 |

258
(26)

| | |
| --- | --- |
| | The Meaning of Freedom: The Failure of Reconstruction |

284
(22)
PART IV Searching for Safe Spaces
306
(120)

| | |
| --- | --- |
| | White Supremacy Triumphant: African Americans in the South in the Late Nineteenth Century |

308
(26)

| | |
| --- | --- |
| | Black Southerners Challenge White Supremacy |

334
(30)

| | |
| --- | --- |
| | Conciliation, Agitation, and Migration: African Americans in the Early Twentieth Century |

364
(36)

| | |
| --- | --- |
| | African Americans and the 1920s |

400
(26)
PART V The Great Depression and World War II
426
(84)

| | |
| --- | --- |
| | The Great Depression and The New Deal |

428
(26)

| | |
| --- | --- |
| | Black Culture and Society in the 1930s and 1940s |

454
(26)

| | |
| --- | --- |
| | The World War II Era and Seeds of a Revolution |

480
(30)
PART VI The Black Revolution
510
(98)

| | |
| --- | --- |
| | The Freedom Movement, 1954--1965 |

512
(30)

| | |
| --- | --- |
| | The Struggle Continues, 1965--1980 |

542
(34)

| | |
| --- | --- |
| | Modern Black America, 1980 to Present |

576
(32)
Epilogue: ``A Nation Within a Nation''
608
Excerpts
"One ever feels his two-ness,--an American, a Negro; two souls, two thoughts, two unreconciled strivings; two warring ideals in one dark body." So wrote W.E.B. Du Bois in 1897. African-American history, Du Bois maintained, was the history of this double-consciousness. Black people have always been part of the American nation that they helped to build. But they have also been a nation unto themselves, with their own experiences, culture, and aspirations. African-American history cannot be understood except in the broader context of American history. American history cannot be understood without African-American history. Since Du Bois''s time our understanding of both African-American and American history has been complicated and enriched by a growing appreciation of the role of class and gender in shaping human societies. We are also increasingly aware of the complexity of racial experiences in American history. Even in times of great racial polarity some white people have empathized with black people and some black people have identified with white interests. It is in light of these insights that The African-American Odysseytells the story of African Americans. That story begins in Africa, where the people who were to become African Americans began their long, turbulent, and difficult journey, a journey marked by sustained suffering as well as perseverance, bravery, and achievement. It includes the rich culture--at once splendidly distinctive and tightly intertwined with a broader American culture--that African Americans have nurtured throughout their history. And it includes the many-faceted quest for freedom in which African Americans have sought to counter white oppression and racism with the egalitarian spirit of the Declaration of Independence that American society professes to embody. Nurtured by black historian Carter G. Woodson during the early decades of the twentieth century African-American history has blossomed as a field of study since the 1950s. Books and articles have appeared on almost every facet of black life. Yet this survey is the first comprehensive college textbook of the African-American experience. It draws on recent research to present black history in a clear and direct manner, within a broad social, cultural, and political framework. It also provides thorough coverage of African-American women as active builders of black culture. The African-American Odysseybalances accounts of the actions of African-American leaders with investigations of the lives of the ordinary men and women in black communities. This community focus helps make this a history of a people rather than an account of a few extraordinary individuals. Yet the book does not neglect important political and religious leaders, entrepreneurs, and entertainers. And it gives extensive coverage to African-American art, literature, and music. African-American history started in Africa, and this narrative begins with an account of life on that continent to the sixteenth century and the beginning of the forced migration of millions of Africans to the Americas. Succeeding chapters present the struggle of black people to maintain their humanity during the slave trade and as slaves in North America during the long colonial period. The coming of the American Revolution during the 1770s initiated a pattern of black struggle for racial justice in which periods of optimism alternated with times of repression. Several chapters analyze the building of black community institutions, the antislavery movement, the efforts of black people to make the Civil War a war for emancipation, their struggle for equal rights as citizens during Reconstruction, and the strong opposition these efforts faced. There is also substantial coverage of African-American military service, from the War for Independence through American wars of the nineteenth and twentieth centuries. During the late nineteenth century and much of the twentieth century, racial segregation and racially motivated violence that relegated African Americans to second-class citizenship provoked despair, but also inspired resistance and commitment to change. Chapters on the late nineteenth and early twentieth centuries cover the great migration from the cotton fields of the South to the North and West, black nationalism, and the Harlem Renaissance. Chapters on the 1930s and 1940s--the beginning of a period of revolutionary change for African Americans--tell of the economic devastation and political turmoil caused by the Great Depression, the growing influence of black culture in America, the racial tensions caused by black participation in World War II, and the dawning of the civil rights movement. The final chapters tell the story of African Americans during the second half of the twentieth century. They relate the successes of the civil rights movement at its peak during the 1950s and 1960s and the efforts of African Americans to build on those successes during the more conservative 1970s and 1980s. Finally, there are portrayals of black life during the concluding decades of the twentieth century and of the continuing impact of African Americans on life in the United States. In all, The African American Odysseytells a compelling story of survival, struggle, and triumph over adversity. It will leave students with an appreciation of the central place of black people and black culture in this country and a better understanding of both African-American and American history. The Second Edition With the generous assistance and advice of many colleagues, we have enhanced, strengthened, and updated this Second Edition. We have added material on stateless societies in West Africa and on contacts between peoples of African and American Indian descent. There is new information on Africans at Jamestown as well as those who were in Spanish Florida and French Louisiana. There is more coverage of the underground railroad and on black homesteaders. Anna Julia Cooper and black feminism, the American Negro Academy, the 1900 New Orleans riot, and the elimination of Rosewood, Florida in 1923 are new to this edition. We have expanded coverage of religion with more information on black Roman Catholics and black Episcopalians. There is a fresh discussion of the impact of black Christianity on the civil rights movement. There are new biographical profiles of Billie Holiday, Mabel Staupers, Rosa Parks, Eleanor Holmes Norton, and a new dual profile of nineteenth century black entrepreneurs Stephen Smith and William Whipper. There is an analysis of the Clinton presidency and coverage of the 2000 election as well as the 2000 census. The odyssey of African Americans has been extended into the twenty-first century with discussions of racial profiling, reparations for slavery, and the events of September 11, 2001. Special Features The many special features and pedagogical tools integrated within The African American Odysseyare designed to make the text accessible to students. They include a variety of tools to reinforce the narrative and help students grasp key issues. Outlines provide students with a brief overview of the material they are about to read. Introductory quotations set the theme for each chapter. NEW-- Part-opening Timelines thematically organize events in African-American history. "Voices" boxes provide students with first-person perspectives on key events in African-American history. Brief introductions and study questions help students analyze these primary source documents and relate them to the text. The biographical sketches in the "Profiles" boxes highlight the contributions and personalities of both prominent individuals and ordinary people, illuminating common experiences among African Americans at various times and place