Note: Supplemental materials are not guaranteed with Rental or Used book purchases.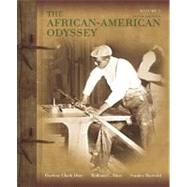 Questions About This Book?
What version or edition is this?
This is the 5th edition with a publication date of 10/25/2010.
What is included with this book?
The Used copy of this book is not guaranteed to include any supplemental materials. Typically, only the book itself is included.
Summary
More than any other text, The African-American Odysseyilluminates the central place of African Americans in U.S. history #x13; not only telling the story of what it has meant to be black in America, but also how African-American history is inseparably weaved into the greater context of American history and vice versa. #xA0; Told through a clear, direct, and flowing narrative by leading scholars in the field, The African-American Odysseydraws on recent research to present black history within broad social, cultural, and political frameworks.#xA0; From Africa to the Twenty-First Century, this book follows their long, turbulent journey, including the rich culture that African Americans have nurtured throughout their history and the many-faceted quest for freedom in which African Americans have sought to counter oppression and racism.#xA0; This text also recognizes the diversity within the African-American sphere - providing coverage of all class and of women and balancing the lives of ordinary men and women with the accounts and actions of black leaders and individuals.
Author Biography
Darlene Clark Hine
Darlene Clark Hine is Board of Trustees Professor of African-American Studies and Professor of History at Northwestern University. She is a fellow of the American Academy of Arts and Sciences, past President of the Organization of American Historians and of the Southern Historical Association. Hine received her BA at Roosevelt University in Chicago, and her MA and Ph.D. from Kent State University, Kent, Ohio. Hine has taught at South Carolina State University and at Purdue University. She was a fellow at the Center for Advanced Study in the Behavioral Sciences at Stanford University and at the Radcliffe Institute for Advanced Studies at Harvard University. She is the author and/or co-editor of fifteen books, most recently The Harvard Guide to African American History (Cambridge: Harvard University Press, 2000) co-edited with Evelyn Brooks Higginbotham and Leon Litwack. She co-edited a two volume set with Earnestine Jenkins, A Question of Manhood: A Reader in Black Men's History and Masculinity (Bloomington: Indiana University Press, 1999, 2001); and with Jacqueline McLeod, Crossing Boundaries: Comparative History of Black People in Diaspora (Bloomington: Indiana University Press, 2000pk). With Kathleen Thompson she wrote A Shining Thread of Hope: The History of Black Women in America (New York: Broadway Books, 1998), and edited with Barry Gaspar, More Than Chattel: Black Women and Slavery in the Americas (Bloomington: Indiana University Press, 1996). She won the Dartmouth Medal of the American Library Association for the reference volumes co-edited with Elsa Barkley Brown and Rosalyn Terborg-Penn, Black Women in America: An Historical Encyclopedia (New York: Carlson Publishing, 1993). She is the author of Black Women in White: Racial Conflict and Cooperation in the Nursing Profession, 1890—1950 (Bloomington: Indiana University Press, 1989). Her forthcoming book is entitled The Black Professional Class: Physicians, Nurses, Lawyers, and the Origins of the Civil Rights Movement, 1890—1955.
William C. Hine
William C. Hine received his undergraduate education at Bowling Green State University, his master's degree at the University of Wyoming, and his Ph.D. at Kent State University. He is a professor of history at South Carolina State University. He has had articles published in several journals, including Agricultural History, Labor History, and the Journal of Southern History. He is currently writing a history of South Carolina State University.
Stanley Harrold
Stanley Harrold, Professor of History at South Carolina State University, received his bachelor's degree from Allegheny College and his master's and Ph.D. degrees from Kent State University. He is coeditor of Southern Dissent, a book series published by the University Press of Florida. In 1991-1992 and 1996-1997 he had National Endowment for the Humanities Fellowships. In 2005 he received an NEH Faculty Research Award. His books include: Gamaliel Bailey and Antislavery Union (Kent, Ohio: Kent State University Press, 1986), The Abolitionists and the South (Lexington: University Press of Kentucky, 1995), Antislavery Violence: Sectional, Racial, and Cultural Conflict in Antebellum America (co-edited with John R. McKivigan; Knoxville: University of Tennessee Press, 1999), American Abolitionists (Harlow, U.K.: Longman, 2001), Subversives: Antislavery Community in Washington, D.C., 18280-1865 (Baton Rouge: Louisiana State University Press, 2003), The Rise of Aggressive Abolitionism: Addresses to the Slaves (Lexington: University Press of Kentucky, 2004), Civil War and Reconstruction: A Documentary Reader (Oxford, U.K.: Blackwell, 2007) and Border War: Fighting over Slavery before the Civil War (Chapel Hill: University of North Carolina Press, 2010). He has published articles in Civil War History, Journal of Southern History, Radical History Review, and Journal of the Early Republic.
Table of Contents
PART I Becoming African American
1 Africa
A Huge and Diverse Land
The Birthplace of Humanity
Ancient Civilizations and Old Arguments
West Africa
Kongo and Angola
West African Society and Culture
2 Middle Passage
The European Age of Exploration and Colonization
The Slave Trade in Africa
The Origins of the Atlantic Slave Trade
Growth of the Atlantic Slave Trade
The African-American Ordeal from Capture to Destination
Landing and Sale in the West Indies
Seasoning
The End of the Journey: Masters and Slaves in the Americas
The Ending of the Atlantic Slave Trade
3 Black People in Colonial North America, 1526–1763
The Peoples of Eastern North America
Black Servitude in the Chesapeake
Plantation Slavery, 1700–1750
Slave Life in Early America
Miscegenation and Creolization
The Origins of African-American Culture
Slavery in the Northern Colonies
Slavery in Spanish Florida and French Louisiana
Black Women in Colonial America
Black Resistance and Rebellion
4 Rising Expectations: African Americans and the Struggle for Independence, 1763–1783
The Crisis of the British Empire
The Declaration of Independence and African Americans
Black Enlightenment
African Americans in the War for Independence
The Revolution and Emancipation
5 African Americans in the New Nation, 1783–1820
Forces for Freedom
Forces for Slavery
The Emergence of Free Black Communities
The War of 1812
PART II Slavery, Abolition, and the Quest for Freedom: The Coming of the Civil War, 1793–1861
6 Life in the Cotton Kingdom
The Expansion of Slavery
Slave Labor in Agriculture
House Servants and Skilled Slaves
Slave Families
The Socialization of Slaves
Religion
The Character of Slavery and Slaves
7 Free Black People in Antebellum America, 1820-1861
Demographics of Freedom
The Jacksonian Era
Limited Freedom in the North
Black Communities in the Urban North
African-American Institutions
Free African Americans in the Upper South
Free African Americans in the Deep South
8 Opposition to Slavery, 1800–1833
Abolitionism Begins in America
From Gabriel to Denmark Vesey
A Country in Turmoil
Black Abolitionist Women
The Baltimore Alliance
David Walker and Nat Turner
9 Let Your Motto Be Resistance, 1833–1850
A Rising Tide of Racism and Violence
Black Community Institutions
The American and Foreign Anti-Slavery Society and the Liberty Party
A More Aggressive Abolitionism
Black Militancy
10 "And Black People Were at the Heart of It": The United States Disunites Over Slavery
The Lure of the West
Fugitive Slaves
The Rochester Convention, 1853
Nativism and the Know-Nothings
Uncle Tom's Cabin
The Kansas-Nebraska Act
Preston Brooks Attacks Charles Sumner
The Dred Scott Decision
White Northerners and Black Americans
The Lincoln-Douglas Debates
Abraham Lincoln and Black People
John Brown and the Raid on Harpers Ferry
The Election of Abraham Lincoln
PART III The Civil War, Emancipation, and Black Reconstruction: The Second American Revolution
11 Liberation: African Americans and the Civil War
Lincoln 's Aims
Black Men Volunteer and Are Rejected
Union Policies toward Confederate Slaves
The Preliminary Emancipation Proclamation
The Emancipation Proclamation
Black Men Fight for the Union
The Confederate Reaction to Black Soldiers
Black Men in the Union Navy
Liberators, Spies, and Guides
Violent Opposition to Black People
Refugees
Black People and the Confederacy
12 The Meaning of Freedom: The Promise of Reconstruction, 1865–1868
The End of Slavery
Land
The Freedmen's Bureau
Southern Homestead Act
Sharecropping
The Black Church
Education
Violence
The Crusade for Political and Civil Rights
Presidential Reconstruction under Andrew Johnson
Black Codes
Black Conventions
The Radical Republicans
The Fourteenth Amendment
Radical Reconstruction
The Reaction of White Southerners
13 The Meaning of Freedom: The Failure of Reconstruction, 1868–1877
Constitutional Conventions
Elections
Black Political Leaders
The Issues
Economic Issues
Black Politicians: An Evaluation
Republican Factionalism
Opposition
The Fifteenth Amendment
The Enforcement Acts
The North Loses Interest
The Freedmen's Bank
The Civil Rights Act of 1875
The End of Reconstruction