Note: Supplemental materials are not guaranteed with Rental or Used book purchases.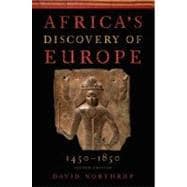 Africa's Discovery of Europe 1450-1850
ISBN13:
9780195340532
by
Northrup, David
Related Products
Summary
What did Africans think of the first Europeans they saw? Why did some Africans seek political and religious alliances with Europeans? How successful were African traders in acquiring what they wanted from Europeans in the new Atlantic trade? Africa's Discovery of Europe: 1450-1850 providessurprising answers to these and many other questions.This groundbreaking book on African-European interactions is the first to look broadly at the subject from an African perspective rather than from a European one. David Northrup explores the African side of this cultural collision as it unfolded in Africa, Europe, and the Atlantic world between 1450and 1850. Featuring extensive use of life stories and quotations from Africans, the text is organized thematically with chapters devoted to first impressions, religion and politics, commerce and culture, imported goods and technology, the Middle Passage, and Africans in Europe. Northrup examinesAfricans' intellectual, commercial, cultural, and sexual relations with Europeans and describes how the patterns of behavior that emerged from these encounters shaped pre-colonial Africa. The book concludes with an examination of the roles of race, class, and culture in early modern times, andsuggests which themes in Africa's continuing discovery of Europe after 1850 were similar to earlier patterns, and why some themes were different.
Author Biography
David Northrup is Professor of History at Boston College.
Table of Contents
List of Maps and Illustrations
p. vii
Preface
p. ix
First Sights-Lasting Impressions
p. 1
Elite Africans in Europe to 1650
p. 3
Enslaved Africans in Europe
p. 6
Discovering Europeans in Africa
p. 11
Southeast Africa, 1589-1635
p. 17
Kongo Cosmology
p. 20
Politics and Religion
p. 26
The Meanings of Religious Conversion
p. 29
Benin and Warri
p. 32
The Kingdom of Kongo
p. 37
Swahili and Mutapa
p. 43
Ethiopia
p. 45
Conclusion
p. 48
Commerce and Culture
p. 54
African Trading Strategies
p. 55
The Eighteenth Century
p. 61
Language, Trade, and Culture
p. 64
Sexual Encounters
p. 69
Conclusion
p. 75
Atlantic Imports and Technology
p. 83
Evaluating Inland Trade
p. 84
Textiles and Metals
p. 87
Tobacco and Distilled Spirits
p. 92
Guns and Politics
p. 96
Economic and Social Consequences
p. 105
Africans in Europe, 1650-1850
p. 115
African Delegates and Students
p. 118
Servants High and Low in Continental Europe
p. 123
Anglo-Africans
p. 128
Scholars and Churchmen
p. 139
Conclusion
p. 149
Passages in Slavery
p. 158
Capture in Africa
p. 161
The Middle Passage
p. 164
New Identities
p. 173
Creolization
p. 175
Africanization
p. 179
Conclusion
p. 185
Epilogue: Trends after 1850
p. 191
Index
p. 197
Table of Contents provided by Ingram. All Rights Reserved.