Note: Supplemental materials are not guaranteed with Rental or Used book purchases.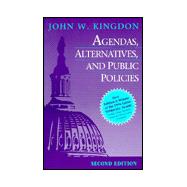 Agendas, Alternatives and Public Policies
ISBN13:
9780673523891
by
Kingdon, John W.
Related Products
Summary
This text remains the authoritative work on agenda setting and policy formation. This report on original research includes many dow-to-earth illustrations and quotations from interviews, creating enjoyable and informative reading for undergraduate students.
Table of Contents
Preface to the First Edition
xi
(2)
Preface to the Second Edition
xiii

| | |
| --- | --- |
| | CHAPTER 1 How Does An Idea's Time Come? |

1
(20)
2
(2)

| | |
| --- | --- |
| | A Brief Account of the Research |

4
(1)
5
(10)
15
(3)

| | |
| --- | --- |
| | A Brief Preview of the Book |

18
(3)

| | |
| --- | --- |
| | CHAPTER 2 Participants on the Inside of Government |

21
(24)
21
(9)

| | |
| --- | --- |
| | By Contrast: Civil Servants |

30
(4)
34
(8)
42
(3)

| | |
| --- | --- |
| | CHAPTER 3 Outside of Government, But Not Just Looking In |

45
(26)
46
(7)

| | |
| --- | --- |
| | Academics, Researchers, and Consultants |

53
(4)
57
(4)

| | |
| --- | --- |
| | Elections-Related Participants |

61
(4)
65
(2)
67
(4)

| | |
| --- | --- |
| | CHAPTER 4 Processes: Origins, Rationality, Incrementalism, and Garbage Cans |

71
(19)
71
(6)

| | |
| --- | --- |
| | Comprehensive, Rational Decision Making |

77
(2)
79
(4)

| | |
| --- | --- |
| | The Federal Government and Garbage Cans |

83
(7)
90
(26)
90
(4)

| | |
| --- | --- |
| | Focusing Events, Crises, and Symbols |

94
(6)
100
(3)
103
(2)

| | |
| --- | --- |
| | Budgets: A Special Problem |

105
(4)
109
(4)
113
(3)

| | |
| --- | --- |
| | CHAPTER 6 The Policy Primeval Soup |

116
(29)
117
(4)
121
(10)
131
(8)
139
(4)
143
(2)

| | |
| --- | --- |
| | CHAPTER 7 The Political Stream |

145
(20)
146
(4)

| | |
| --- | --- |
| | Organized Political Forces |

150
(3)

| | |
| --- | --- |
| | Government in the Political Stream |

153
(6)

| | |
| --- | --- |
| | Consensus Building in the Political Stream |

159
(3)
162
(3)

| | |
| --- | --- |
| | CHAPTER 8 The Policy Window, and Joining the Streams |

165
(31)

| | |
| --- | --- |
| | What Policy Windows Are and Why They Open |

166
(6)
172
(7)
179
(5)
184
(6)
190
(4)
194
(2)

| | |
| --- | --- |
| | CHAPTER 9 Wrapping Things Up |

196
(13)
197
(3)

| | |
| --- | --- |
| | Alternative Specification |

200
(1)
201
(3)
204
(1)
205
(4)

| | |
| --- | --- |
| | CHAPTER 10 Some Further Reflections |

209
(22)
209
(13)

| | |
| --- | --- |
| | Thoughts About the Modelling |

222
(9)
Appendix on Methods
231
(14)
The Interviews
232
(5)
Coding
237
(3)
Case Studies
240
(2)
Noninterview Measures of Agenda Status
242
(3)
Index
245