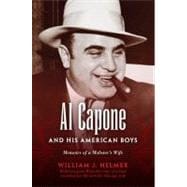 Summary
When her husband was murdered on the orders of Chicago mobster Frank Nitti, Georgette Winkler -- wife of one of Al Capone's "American Boys" -- set out to expose the Chicago Syndicate. After an attempt to publish her story was squelched by the mob, she offered it to the FBI in the mistaken belief that they had the authority to strike at the racketeers who had killed her husband Gus. Discovered 60 years later in FBI files, the manuscript describes the couple's life on the run, the St. Valentine's Day Massacre (Gus was one of the shooters), and other headline crimes of that period. Prepared for publication by mob expert William J. Helmer, Al Capone and His American Boys is a compelling contemporary account of the heyday of Chicago crime by a woman who found herself married to the mob.
Table of Contents
Foreword
p. xi
Foreword
p. xiii
About This Book
p. xvii
Acknowledgments
p. xxi
A Note
p. 1
˘A Voice from the Grave÷: The Memoir of Georgette Winkeler
p. 6
The Seventh Child
p. 8
˘For Better or for Worse÷
p. 13
Heist Guy-Egan's Rats and the Cuckoo Gang
p. 25
The Bad Pennies
p. 28
Affairs with the Police
p. 31
Fugitives on the Lam
p. 34
Workhouse Widow
p. 39
Gratitude-and Murder
p. 42
Flight from St. Louis
p. 45
Meet Al Capone
p. 50
The Toledo Killing
p. 62
Frankie Yale
p. 71
Murphy's Tough Skull
p. 77
The St. Valentine's Day Massacre
p. 80
Hiding Out
p. 93
On the Run
p. 98
˘Killer÷ Burke and the Policeman's Murder
p. 101
New Face and New Fingerprints
p. 110
˘Killer÷ Burke on the Lam
p. 114
The Car Crash
p. 124
Capone to the Rescue
p. 132
The Greatest Bank Robbery
p. 136
Chicago's ˘Secret Six÷
p. 140
Enter Father Dwyer
p. 149
The Shooting of Frank Nitti
p. 153
Nitti's Revenge
p. 159
˘The Informer÷
p. 164
The Boom Days
p. 168
A promise Kept
p. 172
Gus and the Planted Gun
p. 175
Legal Beer at Last
p. 179
Gus Winkeler and the New North Side
p. 184
The Kansas City Massacre
p. 187
Gus and the ˘Miller Massacre÷
p. 197
Beginning of the End
p. 201
The Syndicate Closes In
p. 206
Tie Police Called It Suicide
p. 211
˘They've Taken Him to the Morgue÷
p. 216
Gus Goes Home
p. 220
Who Killed My Husband?
p. 224
The Widow and Her World
p. 228
˘The Gas Lisped Its Song of Death÷
p. 233
Rebirth and Revenge
p. 237
End of the Empire
p. 240
˘Do You See This Gun?÷
p. 245
Confronting the Mob
p. 249
On the Spot
p. 252
Resolution
p. 255
Georgette Talks to the FBI
p. 259
Biographies and Historical Notes
p. 295
Index
p. 363
Table of Contents provided by Ingram. All Rights Reserved.