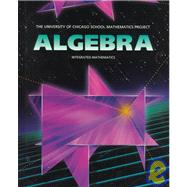 Algebra: The University of Chicago School Mathematics Project
by
McConnell, John W.
;
Brown, Susan
;
Usiskin, Zalman
;
Senk, Sharon L.
;
Widerski, Ted
;
Hackworth, Margaret
;
Hirschhorn, Daniel
;
Polonsky, Lydia
;
Sachs, Leroy
;
Woodward, Ernest
PRENTICE HALL SCHOOL GROUP
Questions About This Book?
What version or edition is this?
This is the edition with a publication date of 4/1/1997.
What is included with this book?
The New copy of this book will include any supplemental materials advertised. Please check the title of the book to determine if it should include any CDs, lab manuals, study guides, etc.
The Used copy of this book is not guaranteed to include any supplemental materials. Typically, only the book itself is included.
Table of Contents
Acknowledgments
ii
The University of Chicago School Mathematics Project
iv
vi
To the Student
1
(3)
4
(66)
6
(5)
11
(6)
17
(6)
23
(4)
27
(4)

| | |
| --- | --- |
| | Square Roots and Variables |

31
(6)
37
(8)

| | |
| --- | --- |
| | In-class Activity: Patterns with Squares and Right Triangles |

44
(1)
45
(8)

| | |
| --- | --- |
| | In-class Activity: Variables and Tables |

52
(1)
53
(17)
60
(2)
62
(1)
63
(2)
65
(4)
69
(1)

| | |
| --- | --- |
| | Multiplication in Algebra |

70
(70)

| | |
| --- | --- |
| | Areas, Arrays, and Volumes |

72
(7)

| | |
| --- | --- |
| | Special Numbers in Multiplication |

79
(6)

| | |
| --- | --- |
| | In-class Activity: Multiplying Algebraic Fractions |

84
(1)

| | |
| --- | --- |
| | Multiplying Algebraic Fractions |

85
(6)
91
(5)

| | |
| --- | --- |
| | Products and Powers with Negative Numbers |

96
(6)
102
(7)

| | |
| --- | --- |
| | Special Numbers in Equations |

109
(5)
114
(5)

| | |
| --- | --- |
| | The Multiplication Counting Principle |

119
(6)

| | |
| --- | --- |
| | Factorials and Permutations |

125
(15)
131
(2)
133
(1)
134
(2)
136
(3)
139
(1)
140
(74)

| | |
| --- | --- |
| | Models and Properties of Addition |

142
(7)

| | |
| --- | --- |
| | More Properties of Addition |

149
(6)
155
(8)
163
(7)
170
(7)

| | |
| --- | --- |
| | In-class Activity: Using Algebra Tiles to Add Expressions |

176
(1)

| | |
| --- | --- |
| | The Distributive Property and Adding Like Terms |

177
(6)

| | |
| --- | --- |
| | The Distributive Property and Removing Parentheses |

183
(5)

| | |
| --- | --- |
| | Writing Linear Expressions |

188
(7)

| | |
| --- | --- |
| | Adding Algebraic Fractions |

195
(5)
200
(14)
205
(2)
207
(1)
208
(2)
210
(3)
213
(1)
214
(68)

| | |
| --- | --- |
| | Subtraction of Real Numbers |

216
(5)
221
(6)

| | |
| --- | --- |
| | Solving Sentences Involving Subtraction |

227
(5)
232
(8)

| | |
| --- | --- |
| | The Opposite of a Sum or Difference |

240
(6)

| | |
| --- | --- |
| | Graphing x + y = k and x - y = k |

246
(7)

| | |
| --- | --- |
| | Sums and Differences in Geometry |

253
(7)

| | |
| --- | --- |
| | In-class Activity: The Triangle Inequality |

259
(1)
260
(7)
267
(15)
274
(2)
276
(1)
277
(1)
278
(4)
282
(66)

| | |
| --- | --- |
| | Horizontal and Vertical Lines |

284
(7)

| | |
| --- | --- |
| | Using Tables to Compare Linear Expressions |

291
(6)
297
(7)

| | |
| --- | --- |
| | Using Graphs to Compare Linear Expressions |

304
(6)

| | |
| --- | --- |
| | Using an Automatic Grapher |

310
(7)
317
(5)
322
(5)

| | |
| --- | --- |
| | Advanced Solving Technique I: Multiplying Through |

327
(6)

| | |
| --- | --- |
| | Advanced Solving Technique II: Chunking |

333
(15)
338
(2)
340
(1)
341
(2)
343
(4)
347
(1)
348
(68)

| | |
| --- | --- |
| | The Algebraic Definition of Division |

350
(6)
356
(6)
362
(8)

| | |
| --- | --- |
| | In-class Activity: Relative Frequencies and Probabilities |

368
(2)

| | |
| --- | --- |
| | Relative Frequency and Probability |

370
(6)

| | |
| --- | --- |
| | Solving Percent Problems Using Equations |

376
(5)

| | |
| --- | --- |
| | Probability Without Counting |

381
(6)
387
(7)
394
(8)

| | |
| --- | --- |
| | In-class Activity: Similar Figures |

401
(1)
402
(14)
408
(2)
410
(1)
411
(1)
412
(4)
416
(68)
418
(7)
425
(7)
432
(7)

| | |
| --- | --- |
| | Slope-Intercept Equations for Lines |

439
(6)

| | |
| --- | --- |
| | Equations for Lines with a Given Point and Slope |

445
(5)

| | |
| --- | --- |
| | Equations for Lines Through Two Points |

450
(8)

| | |
| --- | --- |
| | In-class Activity: Latitude and Temperature |

456
(2)
458
(5)
463
(6)

| | |
| --- | --- |
| | Graphing Linear Inequalities |

469
(15)
476
(2)
478
(1)
479
(1)
480
(4)
484
(62)
486
(6)
492
(6)

| | |
| --- | --- |
| | Comparing Constant Increase and Exponential Growth |

498
(7)
505
(5)

| | |
| --- | --- |
| | Products and Powers of Powers |

510
(5)
515
(6)
521
(6)

| | |
| --- | --- |
| | Powers of Products and Quotients |

527
(6)

| | |
| --- | --- |
| | Remembering Properties of Exponents and Powers |

533
(13)
539
(2)
541
(1)
542
(1)
543
(3)

| | |
| --- | --- |
| | Quadratic Equations and Square Roots |

546
(68)
548
(6)

| | |
| --- | --- |
| | Graphing y = ax2 + bx + c |

554
(8)

| | |
| --- | --- |
| | In-class Activity: Graphing Parabolas with an Automatic Grapher |

561
(1)

| | |
| --- | --- |
| | Graphing Parabolas with an Automatic Grapher |

562
(5)

| | |
| --- | --- |
| | Quadratic Equations and Projectiles |

567
(6)
573
(6)

| | |
| --- | --- |
| | Analyzing Solutions to Quadratic Equations |

579
(7)

| | |
| --- | --- |
| | Square Roots and Products |

586
(7)

| | |
| --- | --- |
| | Absolute Value, Distance, and Square Roots |

593
(6)
599
(15)
605
(2)
607
(2)
609
(1)
610
(4)
614
(50)
616
(5)

| | |
| --- | --- |
| | Investments and Polynomials |

621
(6)

| | |
| --- | --- |
| | Multiplying a Polynomial by a Monomial |

627
(6)
633
(6)

| | |
| --- | --- |
| | In-class Activity: Modeling Multiplication of Binomials with Tiles |

638
(1)
639
(7)

| | |
| --- | --- |
| | Special Binomial Products |

646
(5)
651
(13)
657
(2)
659
(1)
660
(1)
661
(3)
664
(54)

| | |
| --- | --- |
| | An Introduction to Systems |

666
(6)

| | |
| --- | --- |
| | Solving Systems Using Substitution |

672
(4)

| | |
| --- | --- |
| | More Uses of Substitution |

676
(5)

| | |
| --- | --- |
| | Solving Systems by Addition |

681
(6)

| | |
| --- | --- |
| | Solving Systems by Multiplication |

687
(7)

| | |
| --- | --- |
| | Systems and Parallel Lines |

694
(5)

| | |
| --- | --- |
| | Situations Which Always or Never Happen |

699
(5)
704
(14)
711
(2)
713
(1)
714
(1)
715
(3)
718
(54)

| | |
| --- | --- |
| | Factoring Integers into Primes |

720
(6)

| | |
| --- | --- |
| | Common Monomial Factoring |

726
(7)

| | |
| --- | --- |
| | In-class Activity: Factoring Trinomials |

732
(1)
733
(5)

| | |
| --- | --- |
| | Solving Some Quadratic Equations by Factoring |

738
(6)
744
(5)

| | |
| --- | --- |
| | How Was the Quadratic Formula Found? |

749
(5)

| | |
| --- | --- |
| | Rational Numbers and Irrational Numbers |

754
(5)

| | |
| --- | --- |
| | Which Quadratic Expressions Are Factorable? |

759
(13)
765
(2)
767
(1)
768
(1)
769
(3)
772
(52)
774
(4)
778
(6)
784
(5)
789
(6)

| | |
| --- | --- |
| | In-class Activity: Results of Tossing Two Dice |

794
(1)
795
(5)
800
(7)

| | |
| --- | --- |
| | In-class Activity: Ratios of Sides in Right Triangles |

806
(1)
807
(5)

| | |
| --- | --- |
| | Functions on Calculators and Computers |

812
(12)
817
(2)
819
(1)
820
(1)
821
(3)
Appendix A: Scientific Calculators
824
(5)
Appendix B: Scientific Notation
829
(5)
Appendix C: BASIC
834
(4)
Selected Answers
838
(28)
Glossary
866
(8)
Index
874
(11)
List of Symbols
885
(1)
Photo Acknowledgments
886