Note: Supplemental materials are not guaranteed with Rental or Used book purchases.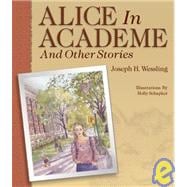 Summary
"Alice in Academe" is the musings of Joe Wessling, a veteran of thirty-four years in the fields of language and literature. In "Alice in Academe" and Other Stories, the author strives to restore common sense to the upper echelons of academe.In the novella of the title, Wessling uses fantasy to expose reality. Lewis Carroll's Alice, now a young woman, reappears (don't ask how) as a doctoral student in English at a major American university and experiences a new kind of wonderland with many echoes of the first Wonderland. The foibles of academe prove frustrating but also delicious. Wessling's muse is never meanspirited. There are no villains and few heroes, but this writer, like Chekhov, "could not resist the clowns," who are in these pages, not to be despised, but to be enjoyed.If you are a member of the university scene--administrator, faculty, or student--this book will strike home again and again. But this is not a book only for the in-crowd. Whoever you are, whatever your background, just bring to these stories your sense of absurdity. It will serve you well."Alice in Academe" and Other Stories is greatly enhanced by the superb illustrations of Holly Schapker, and the author shall be eternally grateful."Alice in Academe" and Other Stories is available online. It makes a great gift for the academic in your life or for anyone who likes to laugh.
Author Biography
Joe Wessling, a native of Northern Kentucky, is Professor Emeritus of English at Xavier University, where he wrote fiction and poetry in addition to his scholarly articles. Since his retirement in 2000, Joe continues to serve Xavier as a volunteer program facilitator in Ignatian Programs. He resides in Cincinnati, Ohio, with his wife of 47 years, Adelaide.