Note: Supplemental materials are not guaranteed with Rental or Used book purchases.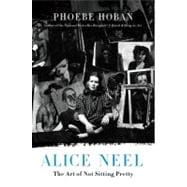 Alice Neel The Art of Not Sitting Pretty
ISBN13:
9780312607487
by
Hoban, Phoebe
Questions About This Book?
What version or edition is this?
This is the edition with a publication date of 12/7/2010.
What is included with this book?
The New copy of this book will include any supplemental materials advertised. Please check the title of the book to determine if it should include any CDs, lab manuals, study guides, etc.
Summary
Bestselling author Phoebe Hoban chronicles Alice Neel¿s colourful and chaotic life, from her turn-of-the-century upbringing through her later years as an art world outsider when, with the help of the feminist movement, she was finally given her rightful place as one of the greatest painters of the 20th century. Educated at the Philadelphia School of Design for Women, Alice was drawn to the darker and edgier side of painting in an era when abstract expressionism reigned supreme. Considered a quintessential Bohemian and complex genius, Alice Neel was a wife, lover, reluctant mother, long time Communist, raconteur, and painter who captured such icons as Joe Gould and Andy Warhol, as well as members of her family, many of whom she convinced to pose nude. In Phoebe Hoban¿s captivating biography, the great Alice Neel lives again.
Author Biography
PHOEBE HOBAN is the bestselling author of  Basquiat: A Quick Killing in Art. She has written about culture and the arts for Vogue, Vanity Fair, GQ, Harper's Bazaar, New York Magazine, The New York Times, GQ and multiple other publications. She lives in New York City.
Table of Contents
Studio Still Life
p. 1
Childhood's Canvas
p. 6
Designing Women
p. 20
En Plein Air
p. 30
Limbo
p. 35
Tropical Soul
p. 40
(You Can go) Home Again
p. 52
Futility of Effort
p. 63
The Bell Jar
p. 70
Resurrection
p. 78
Next Stop, Greenwich Village
p. 86
The Easel Project
p. 103
A Man's a Man for all that
p. 119
Moving on
p. 126
José and Spanish Harlem
p. 133
More Truth
p. 143
Enter Sam
p. 157
Painting in Oblivion
p. 169
Domestic Dramas
p. 179
Monsters and Victims
p. 187
In the Middle of the Road
p. 211
Romancero Guajiro
p. 229
Pull my Daisy (From Flower to Power)
p. 240
Their Balls are Just Higher up
p. 263
Vindication
p. 294
Bowing out
p. 328
Last Look
p. 367
Coda
p. 373
Epilogue
p. 375
Notes
p. 393
Acknowledgments
p. 481
Index
p. 485
Table of Contents provided by Ingram. All Rights Reserved.
Excerpts
Alice Neel

CHAPTER ONE
Studio Still Life
Her paint brushes and glasses still rest by the easel in the apartment on 300 West 107th Street, where Alice Neel spent the last twenty-two years of her life. The living room overlooking Broadway, which also served as her studio, is filled with furniture circa 1950. In the next room, lying on top of a dresser, is a faded snapshot of José Santiago Negron--the father of her oldest son, Richard--a handsome Puerto Rican musician who later became a priest. The surfaces are strewn with artifacts: two animal skulls, an odd menorah with five, instead of the standard seven candleholders, and three sitting ducks--wooden decoys which Neel humorously referred to as herself, Sam Brody, the filmmaker and photographer who was her longtime companion and fathered her second son, Hartley, and John Rothschild, her erstwhile lover and close friend. There are paintings everywhere--on the walls, stacked in the hall. Everything has been left just as it was when Neel lived and worked here, covering hundreds of canvases with ruthlessly honest portraits of the people who intrigued her, from neighborhood children to Andy Warhol.
Like the Pollock-Krasner House in the Springs, where Pollock's half-filled gallons of paint and cans of brushes remain in suspended animation, Neel's place has been frozen in time since her death in 1984. But unlike Pollock's studio, which has been carefully preserved as a temple to its former resident genius, no effort has been made to sanctify the Neel home; like the artist who lived there, it remains strikingly uncontrived. All that's missing is the powerful presence of Neel herself.
The quintessential Bohemian, Neel spent more than half a century, from her early days as a WPA artist living in the heart of the Village, through her Whitney retrospective in 1974, until her death ten years later, painting, often in near obscurity, an extraordinarily diverse population--from young black sisters in Harlem to the elderly Jewishtwin artists Raphael and Moses Soyer to the American Communist Party chairman Gus Hall to Linus Pauling--creating an indelible portrait of twentieth-century America.
An avowed sensualist, Neel painted unflinchingly naked (often literally) pictures of her lovers and the contemporary movers and shakers of the time, including many fellow members of the left-wing, activist art world. "I'm cursed to be in this Mother Hubbard body," she once said. "I'm a real sexy person." At the same time, she was a resourceful single parent, raising two sons, first in Spanish Harlem, then on the Upper West Side near Columbia University. Neel was highly attuned to complex issues of motherhood, and her raw, intimate nudes of pregnant women, from friends and neighbors to her own daughter-in-law, are among her signature works.
In every aspect of her life, Neel dictated her own terms--whether it was defiantly painting figurative pieces at the height of Abstract Expressionism, convincing her subjects to disrobe (which many of them did, including, surprisingly, Andy Warhol), or finessing scholarships for her sons at the Rudolf Steiner School. No wonder she became the de facto artist of the feminist movement. (WhenTimemagazine put Kate Millet on its cover in 1970, she was asked to paint the portrait.) Very much in touch with her time, Neel was also always ahead of it. Although she herself would probably have rejected such labels, she was America's first feminist, multicultural artist, a populist painter for the ages.
Neel managed to transcend her often tragic circumstances, surviving the death from diphtheria of her infant daughter Santillana, her first child by the Cuban painter Carlos Enríquez, with whom she lived in Havana for a year before returning to the United States, where Carlos later joined her; the breakup of her marriage; a nervous breakdown and several suicide attempts when she was thirty, for which she was institutionalized for over a year; and the terrible separation from her second child, Isabetta, whom Carlos took back to Havana, where she was brought up by the Enríquez family. Neel also lost much of her work when Kenneth Doolittle, her lover from her Village days, burned and slashed some three hundred of her pieces.
Although Neel suffered enormously, she never became a victim. Unlike Frida Kahlo, whose work brilliantly fetishized her personal pain, Neel transformed her deepest wounds into her most humanistic work. And unlike Mary Cassatt, who beautifully chronicled family life in the nineteenth century but never married or had children, Neel painted from firsthand experience of the vicissitudes--and rewards--of marriage and motherhood. She accurately called herself a "collector of souls," and spoke of heroeuvre, in hommage to Balzac, as "the Human Comedy." "I paint my time using the people as evidence," she once said.
The story of Alice Neel is the story of a fiercely unconventional woman and artist who, without ever being a careerist, managed to carve out a significant niche in art history through sheer tenacity, a keen intellect, and a tireless drive to paint the truth. Her prolific output captures a universe of powerful personalities--and documents an age. Neel painted through the Depression, McCarthyism, the revolution of the sixties, and the feverish eighties. She was in her late sixties before she began to receive serious critical acclaim. Today she is widely considered a major twentieth-century artist.
Neel's life is not just the saga of a great American painter; it is a great American saga. Born into a proper Victorian family at the turn of the century, Neel came of age during suffrage, struggled through the Depression, and lived through the women's liberation movement and the sexual revolution, reaching her prime in a time when she was finally permitted to do--and even celebrated for doing--just what she had strived to do all along: forge the life of an independent woman who was first and foremost an artist. Neel's personal and artistic growth was often at odds with the century that shaped both her and her work. But when the antiestablishment sixties arrived, Neel, then herself in her sixties, arrived, too. The lifelong iconoclast and rebel against institutional values was finally at one with her era.
Neel knew many of the important political and art thinkers of her day, as evidenced by her portraits of people as wide-ranging as Meyer Schapiro, Linus Pauling, Kenneth Fearing, the Beat legend Joe Gould, apocryphal author of an "Oral History of the World" (whom she famously painted with three penises), Frank O'Hara, Robert Smithson, and Andy Warhol.
She was also enough of a cultural character to have appeared as a cameo in two movies and in several books. Neel is the basis for a feisty WPA artist played by Elsa Lancaster in the 1948 filmThe Big Clock,from Fearing's 1946 novel by the same name; Susan Sarandon played Neel inJoe Gould's Secret(2000), in which her infamous portrait of Gould appears; and the novelist Millen Brand portrayed Neel in two of his best-sellers,The Outward Room,1937, andSome Love, Some Hunger,1955.
From the start her work was both personal and political: Neel participated in the first Washington Square Outdoor Art Exhibit (one piece,Degenerate Madonna,drew protests from the Catholic Church and had to be withdrawn). She was a member of the Artists' Union, and in 1936, she created an audacious work calledNazis Murder Jewsof a Communist torchlightparade. Neel was a long-term member of the Communist Party USA (with an FBI file to prove it) and painted many Party leaders. In 1953, Neel commented on Cold War policy in her powerful paintingEisenhower, McCarthy, Dulles,portraying a terrible trio hovering over the western half of the globe. She was also highly aware of issues of race, and painted members of the civil rights movement as well as other influential black figures.
But Neel was no naïve folk artist. A witty, well-educated, and worldly woman, she studied at the country's first all-woman art school--the Philadelphia School of Design for Women (now Moore College of Art & Design)--receiving awards for two consecutive years in her portrait class. Robert Henri, a founder of the Ashcan School (and one of Edward Hopper's mentors) had taught at the Philadelphia School in the late 1800s and was still considered its foremost artist. His book,The Art Spirit,inspired a whole generation of artists. Neel's work followed in the realist tradition of Henri and Thomas Eakins in its effort to portray the essential truth of its subject and to explore social diversity. But Neel pushed this envelope to its utmost edge, into a realm uniquely her own.
Neel's portraits are incisive psychological studies of her models. Indeed, posing for Neel was an experience in itself. In a reverse form of "talking cure," Neel entertained her subjects--and disarmed them--with a nonstop stream of racy stories, politics, and philosophical musings. Curator John Perreault had a vivid recollection of modeling for Neel. "I'm posing stark naked; Nancy, her daughter-in-law, is coming in and out of the room; Alice is chatting away about the Depression and this boyfriend, and that boyfriend. She looked like a grandmother--aSaturday Evening Postgrandmother. She had that beauty that an older woman can have. She had great eyes; she had the devil in her eyes. She had a foul mouth, and she was a vicious gossip. So there I was, lying naked in front of a vicious gossip."
Another model, artist Benny Andrews, described Neel's clever ploy for capturing her prey in its most vulnerable state. "It was interesting because she would just come up with these stories. In fact, that was one of the things that was so effective about her, because then you were listening, and you were interested in what she was telling you, so you got involved in that. I always said she was looking at you like an X-ray, and you were sitting up there laughing at her jokes while she was seeing right through you, and you didn't even realize it."
One of the last paintings Neel made was one of her rare self-portraits. At eighty, Neel cast as relentless an eye on herself as on the hundreds of subjects of her long career. Perched on a chair, the artist known for her scathing nudeportraits is stripped down to her quintessence. Naked but for her glasses, a paintbrush, and a rag, she bravely renders herself with neither clothing nor props, her aging body equipped just with the tools of her craft--her vision and her deftly wielded implements--as if to make the definitive statement of self-expression: "I paint, therefore I am." The flesh may sag, may, as Neel put it, be "dropping off the bone," but the artist and her ability to paint remain forcefully intact. It is a radical departure from the standard artist's self-portrait, and in its stark veracity beautifully illustrates Neel's original and enduring American vision.
"The road that I pursued, and the road that I think keeps you an artist, is that no matter what happens to you, you still keep on painting," she once said.
ALICE NEEL. Copyright © 2010 by Phoebe Hoban. All rights reserved. For information, address St. Martin's Press, 175 Fifth Avenue, New York, N.Y. 10010.