Note: Supplemental materials are not guaranteed with Rental or Used book purchases.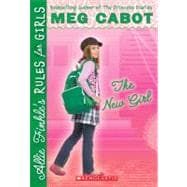 Allie Finkle's Rules for Girls Book 2: The New Girl
ISBN13:
9780545040426
by
Cabot, Meg
Summary
Allie Finkle is the new girl at Pine HeightsElementary, and she's very excited. She alreadyknows she likes her new fourth grade teacher, Mrs.Hunter, and she's already friends with classmatesErica, Caroline, and Sophie. There is only one flyin the ointment of Allie's perfect new life: one ofthe girls in Allie's new class, Rosemary, doesn't likeher. In fact, Rosemary says she's going to beat Allieup after school.Everybody around Allie tells her their rules fordealing with bullies. Her mom wants to go to Mrs.Hunter about it, her dad suggests a counterstrike(much to her mom's dismay), and Uncle Jaycoaches nonviolent conflict resolution.In the end, it's Allie who comes up with her own rulefor dealing with Rosemary the bully, and in her owncharacteristically outgoing, friendly way. Sometimesyour own rules are the best ones to follow!Visit Allie online at www.alliefinklerules.com.
Author Biography
MEG CABOT\u2019S many series and books for adults, teens, and tweens have included multiple #1 New York Times bestsellers and have sold more than fifteen million copies worldwide. Her Princess Diaries series has been published in more than thirty-eight countries and was made into two hit films by Disney. Meg also wrote the New York Times bestselling Mediator, Airhead, and Allie Finkle\u2019s Rules for Girls series, Insatiable, as well as the award-winning novels All-American Girl and Avalon High. Meg lives in Key West with her husband and two cats. Visit Meg online at www.megcabot.com.