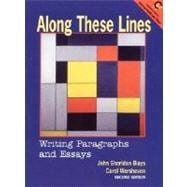 Questions About This Book?
Why should I rent this book?
Renting is easy, fast, and cheap! Renting from eCampus.com can save you hundreds of dollars compared to the cost of new or used books each semester. At the end of the semester, simply ship the book back to us with a free UPS shipping label! No need to worry about selling it back.
How do rental returns work?
Returning books is as easy as possible. As your rental due date approaches, we will email you several courtesy reminders. When you are ready to return, you can print a free UPS shipping label from our website at any time. Then, just return the book to your UPS driver or any staffed UPS location. You can even use the same box we shipped it in!
What version or edition is this?
This is the 2nd edition with a publication date of 7/1/2000.
What is included with this book?
The Used copy of this book is not guaranteed to include any supplemental materials. Typically, only the book itself is included.
The Rental copy of this book is not guaranteed to include any supplemental materials. You may receive a brand new copy, but typically, only the book itself.
Summary
For developmental writing courses at the paragraph to essay level. This comprehensive text/workbook focuses on the paragraph and introduces the essay by taking students step-by-step through the writing processgenerating ideas, planning and focusing, drafting and revising, and polishing and proofreading. User-friendly for both students and instructors, it is filled with diverse exercisesmany collaborativethat actively involve students in learning to write. Content includes self-contained chapters on patterns of paragraph development, a section on writing essays, a chapter on reading critically and writing from reading. The text also features timely reading selections and a separate, self-contained grammar section.
Table of Contents
Preface
xvii
Supplements
xxi
WRITING IN STAGES The Process Approach
1
(300)
1
(2)
3
(36)

| | |
| --- | --- |
| | Beginning the Thought Lines |

3
(8)

| | |
| --- | --- |
| | Freewriting, Brainstorming, Keeping a Journal |

4
(1)
5
(1)

| | |
| --- | --- |
| | Adding Details to an Idea |

6
(5)

| | |
| --- | --- |
| | Focusing the Thought Lines |

11
(7)
11
(1)
12
(1)
12
(1)

| | |
| --- | --- |
| | Writing Good Topic Sentences |

13
(5)
18
(3)
18
(1)

| | |
| --- | --- |
| | Adding Details When There Are Not Enough |

18
(1)

| | |
| --- | --- |
| | Eliminating Details That Do Not Relate to the Topic Sentence |

19
(1)
19
(2)

| | |
| --- | --- |
| | Coherence: Putting Your Details in Proper Order |

21
(4)

| | |
| --- | --- |
| | Rough Lines for a Paragraph |

25
(3)
25
(1)
25
(3)

| | |
| --- | --- |
| | Final Lines for a Paragraph |

28
(3)

| | |
| --- | --- |
| | Giving Your Paragraph a Title |

29
(1)

| | |
| --- | --- |
| | The Final Version of a Paragraph |

29
(1)

| | |
| --- | --- |
| | Reviewing the Writing Process |

30
(1)

| | |
| --- | --- |
| | Lines of Detail: A Walk-Through Assignment |

31
(2)

| | |
| --- | --- |
| | Writing Your Own Paragraph |

33
(2)

| | |
| --- | --- |
| | Peer Review Form for a Paragraph |

35
(1)

| | |
| --- | --- |
| | Writing From Reading: Illustration |

36
(3)
36
(2)

| | |
| --- | --- |
| | Writing from Reading: ``Spanglish'' |

38
(1)
39
(26)
39
(6)

| | |
| --- | --- |
| | Hints for Writing a Descriptive Paragraph |

39
(4)

| | |
| --- | --- |
| | Using Sense Words in Your Descriptions |

43
(2)

| | |
| --- | --- |
| | Writing the Description Paragraph in Steps |

45
(13)
45
(1)
46
(2)
48
(5)
53
(2)
55
(1)
56
(2)

| | |
| --- | --- |
| | Lines of Detail: A Walk-Through Assignment |

58
(1)

| | |
| --- | --- |
| | Writing Your Own Descriptive Paragraph |

58
(3)

| | |
| --- | --- |
| | Peer Review Form for a Descriptive Paragraph |

61
(1)

| | |
| --- | --- |
| | Writing from Reading: Description |

62
(3)
62
(2)

| | |
| --- | --- |
| | Writing from Reading: ``A Present for Popo'' |

64
(1)
65
(26)
65
(6)

| | |
| --- | --- |
| | Give the Narrative a Point |

65
(4)

| | |
| --- | --- |
| | Hints for Writing a Narrative Paragraph |

69
(1)

| | |
| --- | --- |
| | Using a Speaker's Exact Words in Narrative |

70
(1)

| | |
| --- | --- |
| | Writing the Narrative Paragraph in Steps |

71
(12)
71
(1)

| | |
| --- | --- |
| | Freewriting for a Narrative Topic |

72
(1)

| | |
| --- | --- |
| | Narrowing and Selecting a Suitable Narrative Topic |

73
(2)
75
(3)
78
(1)

| | |
| --- | --- |
| | Revising for Sharper Details |

78
(1)

| | |
| --- | --- |
| | Checking the Topic Sentence |

79
(2)

| | |
| --- | --- |
| | Using Transitions Effectively in Narration |

81
(1)
81
(1)
82
(1)

| | |
| --- | --- |
| | Lines of Detail: A Walk-Through Assignment |

83
(1)

| | |
| --- | --- |
| | Writing Your Own Narrative Paragraph |

84
(2)

| | |
| --- | --- |
| | Peer Review Form for a Narrative Paragraph |

86
(1)

| | |
| --- | --- |
| | Writing From Reading: Narration |

87
(4)
87
(3)

| | |
| --- | --- |
| | Writing from Reading: ``Rocky Rowf'' |

90
(1)
91
(21)
91
(3)

| | |
| --- | --- |
| | A Process Involves Steps in Time Order |

91
(1)

| | |
| --- | --- |
| | Hints for Writing a Process Paragraph |

92
(2)

| | |
| --- | --- |
| | Writing the Process Paragraph in Steps |

94
(10)
94
(1)

| | |
| --- | --- |
| | Writing a Topic Sentence for a Process Paragraph |

95
(1)
96
(4)
100
(1)

| | |
| --- | --- |
| | Using the Same Grammatical Person |

100
(1)

| | |
| --- | --- |
| | Using Transitions Effectively |

101
(2)
103
(1)
103
(1)

| | |
| --- | --- |
| | Lines of Detail: A Walk-Through Assignment |

104
(1)

| | |
| --- | --- |
| | Writing Your Own Process Paragraph |

105
(2)

| | |
| --- | --- |
| | Peer Review Form for a Process Paragraph |

107
(1)

| | |
| --- | --- |
| | Writing from Reading: Process |

108
(4)

| | |
| --- | --- |
| | ``How to Land the Job You Want'' |

108
(3)

| | |
| --- | --- |
| | Writing from Reading: ``How to Land the Job You Want'' |

111
(1)
112
(28)

| | |
| --- | --- |
| | What Is Comparison? What Is Contrast? |

112
(8)

| | |
| --- | --- |
| | Hints for Writing a Comparison or Contrast Paragraph |

112
(2)

| | |
| --- | --- |
| | Organizing Your Comparison or Contrast Paragraph |

114
(3)

| | |
| --- | --- |
| | Hints for Using Patterns of Organization |

117
(1)

| | |
| --- | --- |
| | Using Transitions Effectively for Comparison or Contrast |

117
(3)

| | |
| --- | --- |
| | Writing the Comparison or Contrast Paragraph in Steps |

120
(15)

| | |
| --- | --- |
| | Thought Lines Comparison or Contrast |

120
(1)

| | |
| --- | --- |
| | Getting Points of Comparison or Contrast |

120
(3)

| | |
| --- | --- |
| | Adding Details to Your Points |

123
(2)

| | |
| --- | --- |
| | Outlines Comparison or Contrast |

125
(4)

| | |
| --- | --- |
| | Rough Lines Comparison or Contrast |

129
(1)
129
(2)

| | |
| --- | --- |
| | Final Lines Comparison or Contrast |

131
(1)

| | |
| --- | --- |
| | Contrast Paragraph: Point-by-Point Pattern |

131
(1)

| | |
| --- | --- |
| | The Same Contrast Paragraph: Subject by Subject |

132
(3)

| | |
| --- | --- |
| | Lines of Detail: A Walk-Through Assignment |

135
(1)

| | |
| --- | --- |
| | Writing Your Own Comparison or Contrast Paragraph |

135
(2)

| | |
| --- | --- |
| | Peer Review Form for a Comparison or Contrast Paragraph |

137
(1)

| | |
| --- | --- |
| | Writing from Reading: Comparison or Contrast |

138
(2)

| | |
| --- | --- |
| | ``Against All Odds, I'm Just Fine'' |

138
(1)

| | |
| --- | --- |
| | Writing from Reading: ``Against All Odds, I'm Just Fine'' |

139
(1)
140
(20)
140
(4)

| | |
| --- | --- |
| | Hints for Writing a Classification Paragraph |

140
(4)

| | |
| --- | --- |
| | Writing the Classification Paragraph in Steps |

144
(10)

| | |
| --- | --- |
| | Thought Lines Classification |

144
(1)

| | |
| --- | --- |
| | Brainstorming a Basis for Classification |

144
(1)

| | |
| --- | --- |
| | Matching the Points Within the Categories |

145
(1)

| | |
| --- | --- |
| | Writing a Topic Sentence for a Classification Paragraph |

145
(2)
147
(1)

| | |
| --- | --- |
| | Effective Order in Classifying |

147
(3)

| | |
| --- | --- |
| | Rough Lines Classification |

150
(1)

| | |
| --- | --- |
| | Transitions in Classification |

150
(2)

| | |
| --- | --- |
| | Final Lines Classification |

152
(2)

| | |
| --- | --- |
| | Lines of Detail: A Walk-Through Assignment |

154
(1)

| | |
| --- | --- |
| | Writing Your Own Classification Paragraph |

154
(2)

| | |
| --- | --- |
| | Peer Review Form for Classification Paragraph |

156
(1)

| | |
| --- | --- |
| | Writing from Reading: Classification |

157
(3)

| | |
| --- | --- |
| | ``Three Disciplines for Children'' |

157
(2)

| | |
| --- | --- |
| | Writing from Reading: ``Three Disciplines for Children'' |

159
(1)
160
(22)
160
(5)

| | |
| --- | --- |
| | Hints for Writing a Definition Paragraph |

160
(5)

| | |
| --- | --- |
| | Writing the Definition Paragraph in Steps |

165
(11)
165
(1)

| | |
| --- | --- |
| | Using Questions to Get Details |

165
(1)
166
(2)
168
(2)
170
(1)
170
(1)
171
(3)
174
(2)

| | |
| --- | --- |
| | Lines of Detail: A Walk-Through Assignment |

176
(1)

| | |
| --- | --- |
| | Writing Your Own Definition Paragraph |

176
(2)

| | |
| --- | --- |
| | Peer Review Form for a Definition Paragraph |

178
(1)

| | |
| --- | --- |
| | Writing from Reading: Definition |

179
(3)

| | |
| --- | --- |
| | Breaking the Bonds of Hate |

179
(2)

| | |
| --- | --- |
| | Writing from Reading: ``Breaking the Bonds of Hate'' |

181
(1)
182
(24)

| | |
| --- | --- |
| | What Is Cause and Effect? |

182
(3)

| | |
| --- | --- |
| | Hints for Writing a Cause or Effect Paragraph |

182
(3)

| | |
| --- | --- |
| | Writing the Cause or Effect Paragraph in Steps |

185
(15)

| | |
| --- | --- |
| | Thought Lines Cause or Effect |

185
(1)
185
(2)

| | |
| --- | --- |
| | Designing a Topic Sentence |

187
(3)
190
(1)

| | |
| --- | --- |
| | The Order of Causes or Effects |

190
(4)

| | |
| --- | --- |
| | Rough Lines Cause or Effect |

194
(1)

| | |
| --- | --- |
| | Linking Ideas in Cause or Effect |

194
(1)
195
(1)
195
(3)

| | |
| --- | --- |
| | Final Lines Cause or Effect |

198
(2)

| | |
| --- | --- |
| | Lines of Detail: A Walk-Through Assignment |

200
(1)

| | |
| --- | --- |
| | Writing Your Own Cause or Effect Paragraph |

200
(2)

| | |
| --- | --- |
| | Peer Review Form for a Cause or Effect Paragraph |

202
(1)

| | |
| --- | --- |
| | Writing from Reading: Cause and Effect |

203
(3)
203
(2)

| | |
| --- | --- |
| | Writing from Reading: ``Students in Shock'' |

205
(1)
206
(25)
206
(4)

| | |
| --- | --- |
| | Hints for Writing an Argument Paragraph |

206
(4)

| | |
| --- | --- |
| | Writing the Argument Paragraph in Steps |

210
(12)
210
(1)
211
(3)
214
(1)

| | |
| --- | --- |
| | The Order of Reasons in an Argument |

214
(4)
218
(1)
218
(1)

| | |
| --- | --- |
| | Explaining the Problem or Issue |

218
(1)

| | |
| --- | --- |
| | Transitions That Emphasize |

219
(1)
219
(2)
221
(1)

| | |
| --- | --- |
| | Lines of Detail: A Walk-Through Assignment |

222
(1)

| | |
| --- | --- |
| | Writing Your Own Argument Paragraph |

223
(1)

| | |
| --- | --- |
| | Peer Review Form for an Argument Paragraph |

224
(1)

| | |
| --- | --- |
| | Writing from Reading: Argument |

225
(6)
225
(2)

| | |
| --- | --- |
| | Writing from Reading: ``Athletic Heroes'' |

227
(1)

| | |
| --- | --- |
| | ``Afrocentric Education Pointless if Girls Are Excluded'' |

228
(1)

| | |
| --- | --- |
| | Writing from Reading: ``Afrocentric Education Pointless If Girls Are Excluded'' |

229
(2)
231
(43)
231
(1)

| | |
| --- | --- |
| | Comparing the Single Paragraph and the Essay |

231
(1)
232
(1)
233
(2)

| | |
| --- | --- |
| | Hints for Writing a Thesis |

233
(2)

| | |
| --- | --- |
| | Writing the Essay in Steps |

235
(9)
235
(1)
236
(1)
236
(3)
239
(1)
240
(1)

| | |
| --- | --- |
| | Revisiting the Thought Lines Stage |

241
(3)
244
(1)
244
(3)

| | |
| --- | --- |
| | Where Does the Thesis Go? |

244
(1)

| | |
| --- | --- |
| | Hints for Writing the Introduction |

244
(3)

| | |
| --- | --- |
| | Writing the Body of the Essay |

247
(2)

| | |
| --- | --- |
| | How Long Are the Body Paragraphs? |

247
(1)

| | |
| --- | --- |
| | Developing the Body Paragraphs |

247
(2)
249
(12)
251
(1)

| | |
| --- | --- |
| | Transitions Within Paragraphs |

251
(1)

| | |
| --- | --- |
| | Transitions Between Paragraphs |

252
(1)
253
(5)
258
(1)
258
(1)

| | |
| --- | --- |
| | The Final Version of an Essay |

258
(3)

| | |
| --- | --- |
| | Lines of Detail: A Walk-Through Assignment |

261
(1)
262
(3)

| | |
| --- | --- |
| | Peer Review Form for an Essay |

265
(1)

| | |
| --- | --- |
| | Writing from Reading: The Essay |

266
(8)
266
(2)

| | |
| --- | --- |
| | Writing from Reading: ``Eleven'' |

268
(1)

| | |
| --- | --- |
| | ``Althea Gibson: Never Give Up'' |

269
(1)

| | |
| --- | --- |
| | Writing from Reading: ``Althea Gibson: Never Give Up'' |

270
(1)

| | |
| --- | --- |
| | ``Send Your Children to the Libraries'' |

271
(2)

| | |
| --- | --- |
| | Writing from Reading: ``Send Your Children to the Libraries |

273
(1)
274
(27)

| | |
| --- | --- |
| | What Is Writing from Reading? |

274
(1)

| | |
| --- | --- |
| | An Approach to Writing from Reading |

274
(9)
274
(1)
275
(1)
275
(1)

| | |
| --- | --- |
| | Forming Questions Before You Read |

276
(1)

| | |
| --- | --- |
| | An Example of the Prereading Step |

276
(3)
279
(1)

| | |
| --- | --- |
| | An Example of the Reading Step |

279
(1)

| | |
| --- | --- |
| | Rereading with Pen or Pencil |

279
(1)

| | |
| --- | --- |
| | An Example of Rereading with Pen or Pencil |

280
(3)
283
(1)

| | |
| --- | --- |
| | Writing a Summary of a Reading |

283
(6)

| | |
| --- | --- |
| | Thought Lines Marking a List of Ideas |

284
(1)
285
(1)
286
(1)

| | |
| --- | --- |
| | Rough Lines Attributing Ideas in a Summary |

287
(1)
288
(1)

| | |
| --- | --- |
| | Writing a Reaction to a Reading |

289
(3)

| | |
| --- | --- |
| | Writing on a Related Idea |

289
(1)

| | |
| --- | --- |
| | Thought Lines Freewriting |

289
(1)
289
(1)

| | |
| --- | --- |
| | Developing Points of Agreement or Disagreement |

290
(1)

| | |
| --- | --- |
| | Outlines Agree or Disagree Paragraph |

290
(1)

| | |
| --- | --- |
| | Rough Lines Agree or Disagree Paragraph |

291
(1)

| | |
| --- | --- |
| | Final Lines Agree or Disagree Paragraph |

291
(1)

| | |
| --- | --- |
| | Writing for an Essay Test |

292
(1)

| | |
| --- | --- |
| | Before the Test: The Steps of Reading |

292
(1)

| | |
| --- | --- |
| | During the Test: The Stages of Writing |

292
(1)
293
(1)

| | |
| --- | --- |
| | Lines of Detail: A Walk-Through Assignment |

293
(1)

| | |
| --- | --- |
| | Writing Your Own Paragraph on ``A Ridiculous Addiction'' |

294
(1)

| | |
| --- | --- |
| | Peer Review Form for Writing from Reading |

295
(1)
296
(5)
296
(2)

| | |
| --- | --- |
| | Writing from Reading: ``Parental Discretion'' |

298
(3)
THE BOTTOM LINE Grammar for Writers
301
(185)
301
(1)
302
(4)
306
(14)
306
(1)
306
(2)
307
(1)
308
(1)

| | |
| --- | --- |
| | More About Recognizing Subjects and Verbs |

309
(1)

| | |
| --- | --- |
| | Prepositions and Prepositional Phrases |

309
(3)
312
(8)
313
(1)
313
(1)

| | |
| --- | --- |
| | Words That Cannot Be Verbs |

314
(1)
314
(1)

| | |
| --- | --- |
| | Verb Forms That Cannot Be Main Verbs |

315
(5)

| | |
| --- | --- |
| | Beyond the Simple Sentence: Coordination |

320
(12)

| | |
| --- | --- |
| | Options for Combining Simple Sentences |

320
(1)

| | |
| --- | --- |
| | Using a Comma with a Coordinating Conjunction |

320
(3)
321
(1)

| | |
| --- | --- |
| | Placing the Comma by Using Subject-Verb S-V Patterns |

322
(1)

| | |
| --- | --- |
| | Avoiding Run-On Sentences |

323
(2)

| | |
| --- | --- |
| | Using a Semicolon Between Two Simple Sentences |

325
(1)
325
(1)

| | |
| --- | --- |
| | Using a Semicolon and a Conjunctive Adverb |

326
(6)

| | |
| --- | --- |
| | Punctuating After a Conjunctive Adverb |

326
(6)

| | |
| --- | --- |
| | Beyond the Simple Sentence: Subordination |

332
(11)

| | |
| --- | --- |
| | More on Combining Simple Sentences |

332
(1)

| | |
| --- | --- |
| | Using a Dependent Clause to Begin a Sentence |

332
(1)

| | |
| --- | --- |
| | Using a Dependent Clause to End a Sentence |

332
(11)

| | |
| --- | --- |
| | Using a Subordinating Conjunction |

333
(1)

| | |
| --- | --- |
| | Punctuating Complex Sentences |

334
(1)

| | |
| --- | --- |
| | Combining Sentences: A Review of Your Options |

335
(8)

| | |
| --- | --- |
| | Avoiding Sentence Fragments |

343
(9)

| | |
| --- | --- |
| | Recognizing Fragments: Step 1 |

343
(2)

| | |
| --- | --- |
| | Recognizing Fragments: Step 2 |

345
(2)
347
(5)

| | |
| --- | --- |
| | Using Parallelism in Sentences |

352
(8)
353
(7)

| | |
| --- | --- |
| | Using Adjectives and Adverbs |

360
(9)
360
(1)

| | |
| --- | --- |
| | Adjectives: Comparative and Superlative Forms |

361
(2)
363
(1)

| | |
| --- | --- |
| | Hints About Adjectives and Adverbs |

364
(5)

| | |
| --- | --- |
| | Don't Confuse Good and Well or Bad and Badly |

365
(1)

| | |
| --- | --- |
| | Not More + -er, or Most + -est |

366
(1)

| | |
| --- | --- |
| | Use Than, not Then, in Comparisons |

366
(1)

| | |
| --- | --- |
| | When Do I Need a Comma Between Adjectives? |

367
(2)

| | |
| --- | --- |
| | Correcting Problems with Modifiers |

369
(8)

| | |
| --- | --- |
| | Correcting Modifier Problems |

370
(5)

| | |
| --- | --- |
| | Correcting Dangling Modifiers |

372
(3)

| | |
| --- | --- |
| | Reviewing the Steps and the Solutions |

375
(2)
377
(12)

| | |
| --- | --- |
| | Using Standard Verb Forms |

377
(1)
378
(1)
379
(1)

| | |
| --- | --- |
| | The Four Main Forms of a Verb: Present, Past, Present Participle, and Past Participle |

380
(1)
381
(8)

| | |
| --- | --- |
| | The Past Tense of Be, Have, Do |

382
(2)

| | |
| --- | --- |
| | More Irregular Verb Forms |

384
(5)

| | |
| --- | --- |
| | More on Verbs: Consistency and Voice |

389
(12)
389
(3)

| | |
| --- | --- |
| | The Present Perfect Tense |

392
(1)
393
(1)
394
(7)

| | |
| --- | --- |
| | Avoiding Unnecessary Shifts in Voice |

396
(2)

| | |
| --- | --- |
| | Small Reminders About Verbs |

398
(3)

| | |
| --- | --- |
| | Making Subjects and Verbs Agree |

401
(13)
402
(1)

| | |
| --- | --- |
| | Special Problems with Agreement |

403
(3)
403
(1)
404
(2)
406
(1)
407
(1)
408
(1)

| | |
| --- | --- |
| | Making Subjects and Verbs Agree: The Bottom Line |

409
(5)

| | |
| --- | --- |
| | Using Pronouns Correctly: Agreement and Reference |

414
(8)
414
(1)

| | |
| --- | --- |
| | Agreement of a Pronoun and Its Antecedent |

415
(1)
415
(2)
416
(1)
417
(3)

| | |
| --- | --- |
| | Pronouns and Their Antecedents: Being Clear |

420
(2)

| | |
| --- | --- |
| | Using Pronouns Correctly: Consistency and Case |

422
(7)

| | |
| --- | --- |
| | Choosing the Case of Pronouns |

424
(2)

| | |
| --- | --- |
| | Problems Choosing Pronoun Case |

425
(1)

| | |
| --- | --- |
| | Common Errors with Case of Pronouns |

426
(3)
429
(16)
429
(1)
429
(1)
429
(2)
431
(4)

| | |
| --- | --- |
| | Other Ways to Use a Comma |

433
(2)
435
(2)
437
(1)
438
(1)
438
(1)
438
(1)
438
(1)
439
(1)
440
(2)
442
(1)
442
(3)
445
(9)
445
(1)

| | |
| --- | --- |
| | Spelling Rule 1: Doubling a Final Consonant |

445
(1)

| | |
| --- | --- |
| | Spelling Rule 2: Dropping the Final e |

446
(1)

| | |
| --- | --- |
| | Spelling Rule 3: Changing the Final y to i |

446
(1)

| | |
| --- | --- |
| | Spelling Rule 4: Adding -s or -es |

447
(1)

| | |
| --- | --- |
| | Spelling Rule 5: Using ie or ei |

448
(1)

| | |
| --- | --- |
| | Do You Spell It as One Word or Two? |

449
(2)

| | |
| --- | --- |
| | Commonly Misspelled Words |

451
(3)

| | |
| --- | --- |
| | Words That Sound Alike/Look Alike |

454
(14)

| | |
| --- | --- |
| | Words That Sound Alike/Look Alike |

454
(6)

| | |
| --- | --- |
| | More Words That Sound Alike/Look Alike |

460
(8)
468
(5)
468
(1)
469
(1)
470
(3)
473
(13)

| | |
| --- | --- |
| | Balancing Long and Short Sentences |

473
(3)

| | |
| --- | --- |
| | Using Different Ways to Begin Sentences |

476
(2)
476
(1)

| | |
| --- | --- |
| | Begin with a Prepositional Phrase |

476
(2)

| | |
| --- | --- |
| | Using Different Ways to Join Ideas |

478
(8)
478
(1)
479
(2)
481
(2)

| | |
| --- | --- |
| | Use a Who, Which, or That Clause |

483
(3)
APPENDIX ESL Grammar for ESL Students
486
(10)
486
(3)

| | |
| --- | --- |
| | Using Articles with Nouns |

487
(2)

| | |
| --- | --- |
| | Nouns or Pronouns Used as Subjects |

489
(1)
489
(4)
489
(1)
490
(1)
490
(1)
491
(1)
492
(1)
493
(3)

| | |
| --- | --- |
| | Prepositions That Show Time |

493
(1)

| | |
| --- | --- |
| | Prepositions That Show Place |

494
(2)
Credits
496
(1)
Index
497