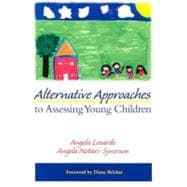 Alternative Approaches to Assessing Young Children
by
LoSardo, Angela
Brookes Publishing Company
Questions About This Book?
What version or edition is this?
This is the 1st edition with a publication date of 3/1/2001.
What is included with this book?
The Used copy of this book is not guaranteed to include any supplemental materials. Typically, only the book itself is included.
Summary
Are you looking for ways to meet the needs of young children who are culturally, linguistically, or developmentally diverse? Do you find traditional assessment methods too confining to accurately assess the needs of all your students? Discover which form of assessment is right for you in this groundbreaking book from the experts! You'll take an in-depth look at six alternative assessment methods such as naturalistic focused performance portfolio dynamic curriculum-based language In each chapter, you'll explore one of these methods and find a detailed description of the approach, a summary of advantages and limitations, specific guidelines for implementation, suggestions for working in inclusive environments, and samples of data collection forms. With this book's innovative strategies, you'll be able to build on your existing traditional assessment skills and provide more comprehensive assessments for young children and their families!
Author Biography
Angela Losardo is Associate Professor in the Department of Language, Reading, and Exceptionalities at Appalachian State University in Boone, North Carolina.
Table of Contents
About the Authors
ix
Foreword
xi
Preface
xv
For the Course Companion Web Site User
xvii
Acknowledgments
xix

| | |
| --- | --- |
| | Historical Perspectives on Alternative Assessment |

1
(12)

| | |
| --- | --- |
| | Importance of Theoretical Frameworks |

2
(1)
3
(5)

| | |
| --- | --- |
| | Traditional Models of Child Development: Nature versus Nurture |

4
(1)
5
(1)

| | |
| --- | --- |
| | Toward a More Comprehensive Approach: Social-Constructivist Model |

6
(2)

| | |
| --- | --- |
| | An Integrated Unified Model: Systems Perspective |

8
(2)

| | |
| --- | --- |
| | Broad Ecological Approach |

9
(1)
10
(2)
12
(1)

| | |
| --- | --- |
| | Traditional and Contemporary Assessment Models |

13
(14)

| | |
| --- | --- |
| | Definitions and Terminology |

14
(1)

| | |
| --- | --- |
| | Assessment Approaches and Tools |

14
(2)
15
(1)
15
(1)
16
(1)

| | |
| --- | --- |
| | Norm-Referenced Assessment |

16
(1)

| | |
| --- | --- |
| | Criterion-Referenced Assessment |

16
(1)
17
(1)

| | |
| --- | --- |
| | Limitations of Traditional Approaches |

18
(5)

| | |
| --- | --- |
| | Complexity and Holistic Nature of Development |

19
(3)

| | |
| --- | --- |
| | Role of Context and Culture on Learning |

22
(1)

| | |
| --- | --- |
| | Framework for Alternative Assessment Models |

23
(2)
25
(1)
26
(1)
27
(22)
29
(1)
30
(4)

| | |
| --- | --- |
| | Advantages and Limitations |

34
(4)
37
(1)
37
(1)

| | |
| --- | --- |
| | Guidelines for Implementation |

38
(5)

| | |
| --- | --- |
| | Suggestions for Practitioners in Inclusive Environments |

43
(2)
44
(1)
44
(1)
45
(1)
45
(1)
45
(2)
47
(2)
49
(22)
51
(4)
55
(4)
58
(1)
59
(2)
59
(1)
60
(1)

| | |
| --- | --- |
| | Transdisciplinary Approach |

60
(1)
61
(2)
62
(1)

| | |
| --- | --- |
| | Advantages and Limitations |

63
(1)
63
(1)
64
(1)

| | |
| --- | --- |
| | Guidelines for Implementation |

64
(1)

| | |
| --- | --- |
| | Suggestions for Practitioners in Inclusive Environments |

65
(3)
66
(1)
66
(1)
66
(1)
66
(2)
68
(1)
69
(2)
71
(22)
81
(1)

| | |
| --- | --- |
| | Social-Constructivist Approach |

81
(1)
81
(1)
82
(4)

| | |
| --- | --- |
| | Advantages and Limitations |

86
(2)
86
(1)
87
(1)

| | |
| --- | --- |
| | Guidelines for Implementation |

88
(1)

| | |
| --- | --- |
| | Suggestions for Practitioners in Inclusive Environments |

89
(2)
90
(1)
90
(1)
90
(1)
90
(1)
91
(1)
92
(1)
93
(24)
100
(1)
101
(1)

| | |
| --- | --- |
| | Social-Constructivist Approach |

101
(1)
101
(4)

| | |
| --- | --- |
| | Criteria for Selecting and Evaluating Content |

102
(2)
104
(1)

| | |
| --- | --- |
| | Advantages and Limitations |

105
(3)
105
(2)
107
(1)

| | |
| --- | --- |
| | Guidelines for Implementation |

108
(3)

| | |
| --- | --- |
| | Suggestions for Practitioners in Inclusive Environments |

111
(3)
111
(1)
112
(1)
113
(1)
113
(1)
114
(1)
115
(2)
117
(32)

| | |
| --- | --- |
| | Cognitive and Metacognitive Processes |

120
(1)

| | |
| --- | --- |
| | Self-Regulation and Socioemotional Processes |

121
(2)
123
(1)
123
(10)

| | |
| --- | --- |
| | Dynamic Assessment and Scaffolding Models |

124
(2)

| | |
| --- | --- |
| | Mediated Learning Approaches |

126
(6)

| | |
| --- | --- |
| | Early Self-Regulation and Neurobehavioral Facilitation |

132
(1)

| | |
| --- | --- |
| | Advantages and Limitations |

133
(3)
133
(2)
135
(1)

| | |
| --- | --- |
| | Guidelines for Implementation |

136
(3)

| | |
| --- | --- |
| | Suggestions for Practitioners in Inclusive Environments |

139
(7)
139
(1)
139
(1)
139
(1)
140
(6)
146
(2)
148
(1)

| | |
| --- | --- |
| | Curriculum-Based Language Assessment |

149
(16)
154
(1)
155
(2)

| | |
| --- | --- |
| | Advantages and Limitations |

157
(1)
157
(1)
158
(1)

| | |
| --- | --- |
| | Guidelines for Implementation |

158
(1)

| | |
| --- | --- |
| | Suggestions for Practitioners in Inclusive Environments |

159
(3)
159
(1)
159
(2)
161
(1)
162
(1)
162
(2)
164
(1)

| | |
| --- | --- |
| | Transdisciplinary Framework |

165
(18)

| | |
| --- | --- |
| | Summary of Alternative Assessment Approaches |

168
(3)

| | |
| --- | --- |
| | Rationale for a Transdisciplinary Framework |

171
(1)
172
(2)

| | |
| --- | --- |
| | System to Plan Early Childhood Services |

173
(1)
173
(1)

| | |
| --- | --- |
| | Barriers to Implementation |

174
(1)

| | |
| --- | --- |
| | Advantages and Limitations |

175
(3)
176
(1)
177
(1)

| | |
| --- | --- |
| | Guidelines for Implementation |

178
(1)
179
(2)
181
(2)
183
(10)
184
(2)

| | |
| --- | --- |
| | Holistic View of Child Development |

184
(1)

| | |
| --- | --- |
| | Role of Context and Culture |

185
(1)

| | |
| --- | --- |
| | Caregiver Involvement in the Assessment Process |

185
(1)

| | |
| --- | --- |
| | Using a Transdisciplinary Framework |

185
(1)

| | |
| --- | --- |
| | Using a Multidimensional Approach |

186
(1)

| | |
| --- | --- |
| | Guidelines for Assessing Children from Diverse Cultural and Linguistic Backgrounds |

186
(3)

| | |
| --- | --- |
| | Alternative Assessment Approaches |

188
(1)
188
(1)

| | |
| --- | --- |
| | Future Directions for Alternative Assessment |

189
(3)
192
(1)
References
193
(14)
Glossary
207
(6)
Data Collection Sheets
213
(26)
Index
239