Note: Supplemental materials are not guaranteed with Rental or Used book purchases.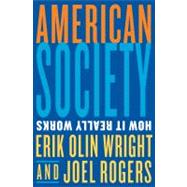 Summary
In American Society: How It Really Works , Erik Olin Wright and Joel Rogers ask several crucial questions: What kind of society is American society? How does it really work? Why is it the way it is? In what ways does it need changing, and how can those changes be brought about?They explore the implications of these questions by examining three key values that most Americans believe our society should realize: Capitalism, Equality, and Democracy. Wright and Rogers ask readers to evaluate to what degree contemporary American society realizes these values and suggest how Americans might solve some of the social problems that confront America today.
Table of Contents
preface
p. ix
Acknowledgments
p. xiii
Prologue: Perspectives and Values
p. 1
What Kind of Society is American Society?
p. 10
Capitalism
The Capitalist Market: How It Is Supposed To Work
p. 35
The Capitalist Market: How It Actually Works
p. 47
The Environment
p. 69
Transportation
p. 85
Consumerism
p. 103
Health Care
p. 124
High-Road Capitalism
p. 153
Inequality
Thinking about Fairness and Inequality
p. 183
Class
p. 195
Persistent Poverty and Rising Inequality
p. 205
Ending Poverty in America
p. 253
Racial Inequality
p. 247
Gender Inequality
p. 296
Democracy
Democracy. How It Works
p. 337
Elections and Voting
p. 353
Taxation and the Attack on the Affirmative State
p. 375
Corporate Control of the Media
p. 396
Militarism and Empire
p. 412
Labor Unions
p. 432
Democracy from Below
p. 446
Conclusion
Possible Futures
p. 465
Credits
p. 477
Index
p. 479
Table of Contents provided by Ingram. All Rights Reserved.