Note: Supplemental materials are not guaranteed with Rental or Used book purchases.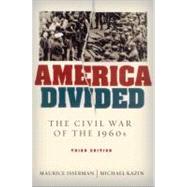 Related Products
Summary
America Divided: The Civil War of the 1960s, Third Edition, is the definitive interpretive survey of the political, social, and cultural history of 1960s America. Written by two top experts on the era--Maurice Isserman, a scholar of the Left, and Michael Kazin, a specialist in Right-wingpolitics and culture--this book provides a compelling tale of this tumultuous era filled with fresh and persuasive insights. For the third edition the authors have updated the text in light of new research, particularly scholarship on the war in Vietnam. They have also expanded the coverage of youth movements and the New Left to include Latino and Asian radical movements, deepened their analysis of the emergence offeminism, and added discussions of the Sixties of other countries. The chapters on religion and the revival of conservatism have been expanded to include recent studies that underscore how broad and deep the conservative movement of the 1960s proved to be. Now featuring new images to betterillustrate the era, America Divided, Third Edition, defines, discusses, and analyzes all sides of the political, social, and cultural conflicts of the 1960s in a swiftly moving narrative. It is ideal for courses in 1960s America and America since 1945, or for anyone interested in the last fiftyyears of American History.
Table of Contents
Preface
p. ix
Introduction
p. 1
Gathering of the Forces
p. 7
Black Ordeal, Black Freedom
p. 23
The New Frontier of American Liberalism
p. 47
Why Did the United States Fight in Vietnam?
p. 67
1963
p. 85
The Rise of the Great Society
p. 107
1965
p. 131
The Making of a Youth Culture
p. 151
The New Left
p. 173
The Fall of the Great Society
p. 197
The Conservative Revival
p. 215
1968
p. 231
Many Faiths: The '60s Reformation
p. 251
No Cease-Fire: 1969-1974
p. 271
Conclusion: Everything Changed
p. 305
Critical Events During the Long 1960s
p. 315
Bibliographical Essay
p. 323
Notes
p. 329
Index
p. 360
Table of Contents provided by Ingram. All Rights Reserved.