Note: Supplemental materials are not guaranteed with Rental or Used book purchases.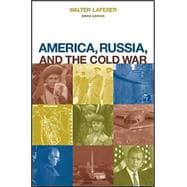 America, Russia, and the Cold War, 1945 - 2000
ISBN13:
9780072417586
by
Lafeber, Walter
Related Products
Summary
Using extensive materials from both published and private sources, this concise text focuses on U.S./Soviet diplomacy to explain the causes and consequences of the Cold War. The thesis allows for use of anecdote and quotation to exemplify the policies.
Table of Contents
Preface to the Ninth Edition
Introduction: The Burden of History (to 1941)
1. Open Doors, Iron Curtains (1941-1945)
2. Only Two Declarations of Cold War (1946)
3. Two Halves of the Same Walnut (1947-1948)
4. The "Different World" of NSC-68 (1948-1950)
5. Korea: The War for Both Asia and Europe (1950-1951)
6. New Issues, New Faces (1951-1953)
7. A Different Cold War (1953-1955)
8. East and West of Suez (1954-1957)
9. New Frontiers and Old Dilemmas (1957-1962)
10. Southeast Asia—and Elsewhere (1962-1966)
11. A New Containment: The Rise and Fall of Détente (1966-1976)
12. From Cold War to Old War: Reagan and Gorbachev (1977-1989)
13. A New World Order—Or the Age of Fragmentation? (1989-1993)
14. The Post-Cold-War Era: Clinton, Yeltsin, and back to a Bush (1993-)
Bibliography for Additional Reading
Index